🍲 Courgettes and Red Peppers with Vinaigrette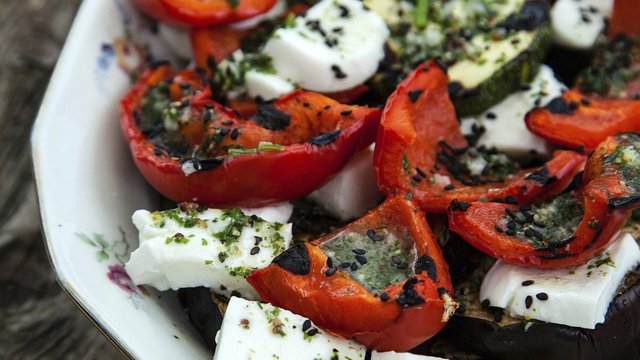 Cooking 10 min Preparation 10 min Number of servings 4
The wonderful thing about these delicate representatives of the vegetable world is that we can create a myriad of dishes. Here we present you an easy to perform but very charming and light dish made of zucchini, cheese and spices.
Ingredients
2 tablespoons Honey
2 pcs. Zucchini
100 g Cow cheese
8 cloves Garlic
1 tablespoon Mustard
1-2 tablespoons Balsamic vinegar
1 tablespoon Lemon juice
2-3 stalks Copper
2-3 pcs. Red peppers
2-3 basil leaves
1 pinch Black pepper
Method of preparation
1. Pumpkins are cleaned and cut into thick slices lengthwise. The peppers are cleaned from the stems and stems and cut into quarters.
2. Prepare the marinade of honey, mustard, vinegar, lemon juice and oil. Season with salt, pepper and finely chopped dill.
3. Vegetables are baked on both sides of the grill.
4. Place them in a serving bowl with cloves and sliced ​​brine cheese and sprinkle with the sauce.
5. Decorate with basil and serve.
Support me and my work by voting for me
@thealpha