Cooked dinner for the family tonight and I think I finally got my falafel recipe down perfect!
Ingredients
2 cups of dried garbanzo beans (chickpeas) soaked over night.
1 cup parsley leaves chopped.
6 green onions scallions finely chopped.
3 - 6 cloves of garlic chopped and minced.
1 tsp cumin
1/2 tsp coriander
1/2 tsp salt
1/2 tsp baking powder
4 tbsp flour
1 - 5 tbsp water to get a moist texture.
Directions
Falafel is super easy to make and sooooo delicious.
Soak dried garbanzo beans (chickpeas) in room temperature water overnight. (canned chickpeas will not work!)
Chop up garlic, parsley, and scallions.
Run soaked chickpeas through a food processor. You want them to be coarse.
Add the chopped garlic, parsley and scallions to the food processor. Add the spices, baking powder and flour. Process one more time. Keeping ingredients coarse.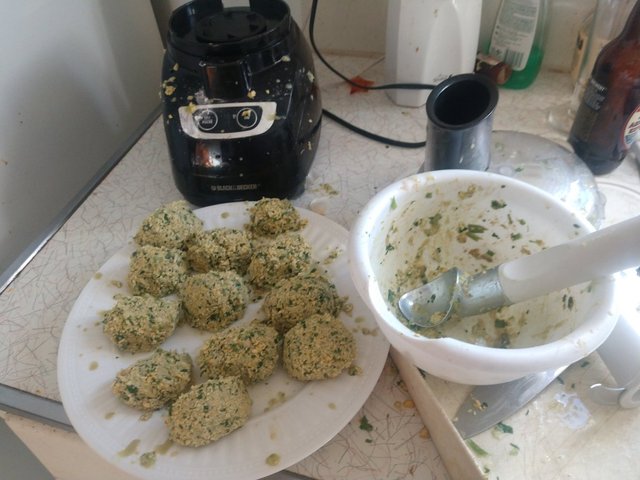 There's really no way to explain this. You want the texture to be coarse and sticky. Add a tablespoon of water at a time till you get the desired consistency. Each time hitting the food processor for a second or two.
Once you get the desired consistency you want to scoop the mixture out and make small balls. I like using a small ice cream scooper for the perfect falafel ball. They actually look more like footballs.
Place the falafel footballs on a plate, then put in freezer for an hour or two to help firm them up a little more.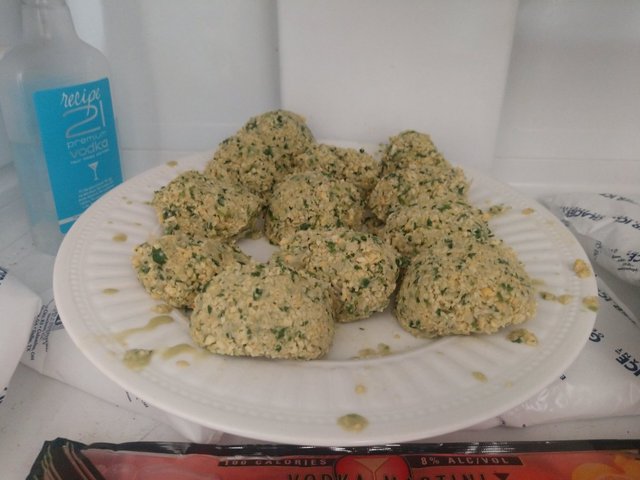 Heat about a half inch of oil in a pan, fry falafels till golden brown.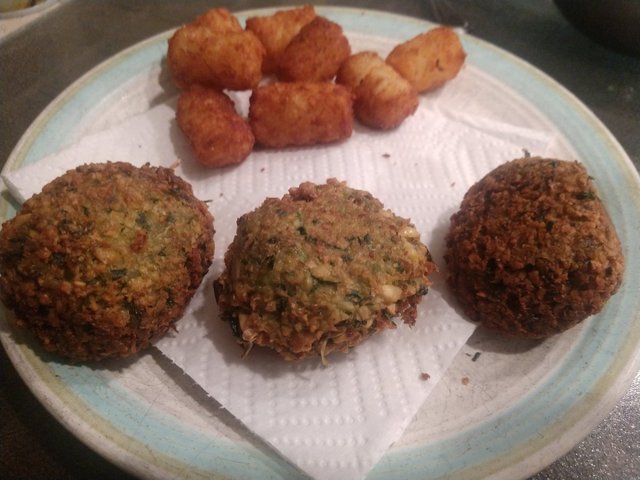 Those are tator tots on the other side of the plate! If there's hot oil, I have to toss some tots in the mix!
Make Sandwiches
Serve in a pita with salad, pickles, and tomatoes. You can also add a dollop of hummus. And drizzle with tahini sauce.
---
Tahini Sauce.
3 or 4 tablespoons tahini. Add a nice squirt of lemon juice and stir into a paste. Now add a tablespoon at a time of water while whisking with a fork till you get a fluffy creamy texture. Add some garlic powder and salt to taste and drizzle over falafel!
Enjoy!
Edit: changed the typo word - course to coarse... LOL I used that word like three or four times too.