…and no, it's not a dance. In English, it's called Tripe Soup.
If I hadn't been taken to the aptly named Mondongo's Restaurant in Laureles (a barrio in Medellin, Colombia) by a new local friend, I'm not sure I would have tried it, but luckily my desire to honor a new culture took precedence over my fear.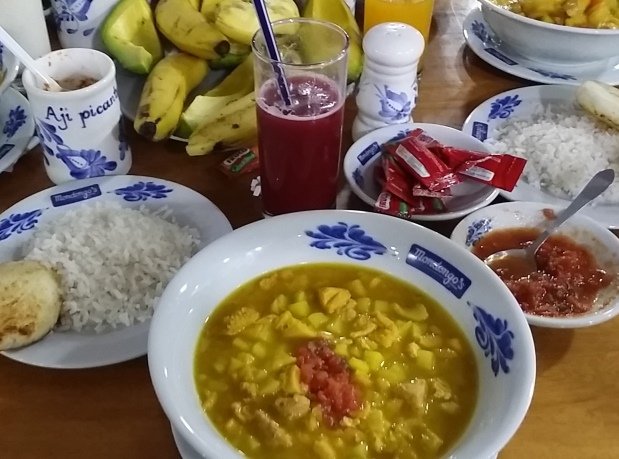 Mondongo Soup with all the sides…and don't forget the cilantro and lime!
Ingredients
The soup itself, I thought, was a little bland, but after adding all the accoutrements that are traditionally served with it, it tasted amazing! In addition to the potatoes, yucca, tripe and bit of pork that are in the soup, the following are served on the side for you to add yourself:
Fresh squeezed lime juice (by you, there at the table)
Avocado
Rice
Cilantro
Salsa - picante for me, but the locals (called Paisas) prefer it mild
Banana
Beverages
Topping off the meal is generally a local beer, a Chilean wine or my favorite, a tall glass of Jugos Naturales (fresh squeezed juice). I love the mora (blackberry) and limonada de coco (coconut lemonade). They never serve it 'straight up'; you always have your choice of mixing it half and half with either water or milk. (Where's the vodka?)
That's one of the joys of travel—tasting new things—and even finding out that you love them, despite your preconceived ideas!
If you like my post, please follow me for more Food and Travel posts [https://steemit.com/@synchronicity].
…and I'd love to hear some suggestions from you about 'weird' or favorite foods you've tried while traveling.
Thanks!