Barley with chicken breast in tomato and cream\Die Gerste mit Hähnchenbrust in Tomaten und Sahne
Hello,my friends!
Today we will cook another delicious barley dish. We will pre-soak the pearl barley in water overnight.
I will add some exoticism to the dish and add masala, green cardamom, cinnamon and other spices to the recipe. Eastern spices will liven up even any seemingly boring dish. What could be more boring than barley? Yes, only millet! But spices can liven up even such a dish.
Let's Go!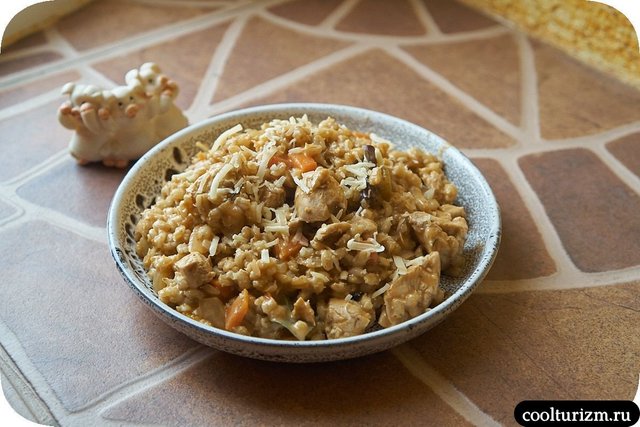 Ingredients:
● Pearl barley -2 glasses
● Chicken breast - 400-500 gr
● Celery stalk -1 pc
● Carrots -1 pc
● Onions -1 pc
● Tomato paste -2-3 tbsp.
● cream 10% -200 ml
● Masala, salt, pepper, green cardamom, cinnamon, bay leaf, coriander seeds, sugar, cloves, butter, herbs - to taste
1.Melt a piece of butter in a hot frying pan. We spread the bay leaf, a cinnamon stick, 1 tsp. masala (if fresh, if it's already exhausted, then 2 tsp is possible), 3-4 boxes of green cardamom, 4-5 carnations, a pinch of coriander seeds. Let the spices warm up a little in the hot butter.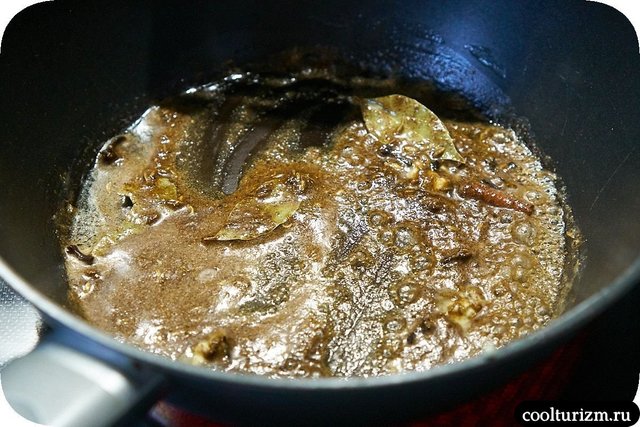 2.Cut the chicken breast into narrow strips. Cut the celery into small pieces. Peel the carrots and cut into small cubes. Peel the onions and cut them into small pieces. Put vegetables in boiling oil. Fry them until the onions are golden, then reduce the heat a little, move the vegetables to the side and lay out the chicken breast. Fry the breast for 5-7 minutes until the color is formed. Mix vegetables and chicken breast. We mix 2-3 tablespoons of good tomato paste in a glass of water. Immediately add a couple of teaspoons of sugar to the glass. Mix and pour into the chicken.
Cooking for 5 minutes.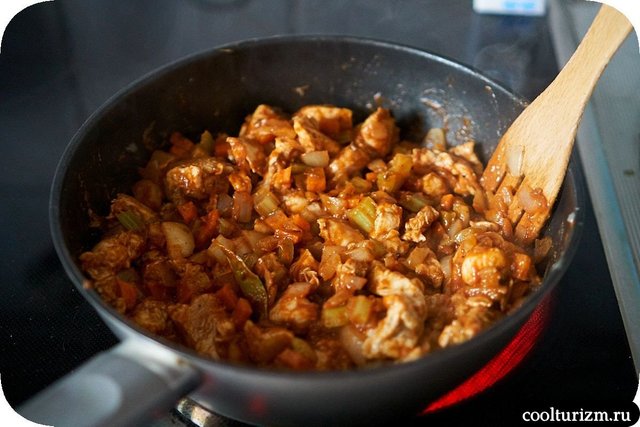 3.By this time, we should already take the pearl barley prepared in the evening (soaked in water), drain the water and put it in salted boiling water. Such barley will cook faster than "dry" barley. In about 20 minutes it will be ready. We drain the water from the pearl barley.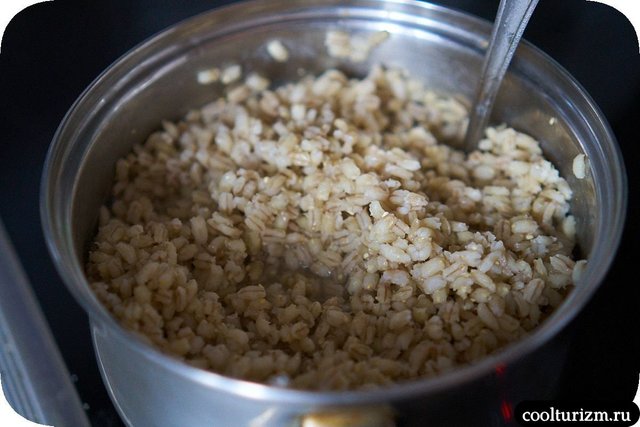 4.Add the cooked barley to vegetables and chicken breast in tomato paste. Gently mix the contents of the pan.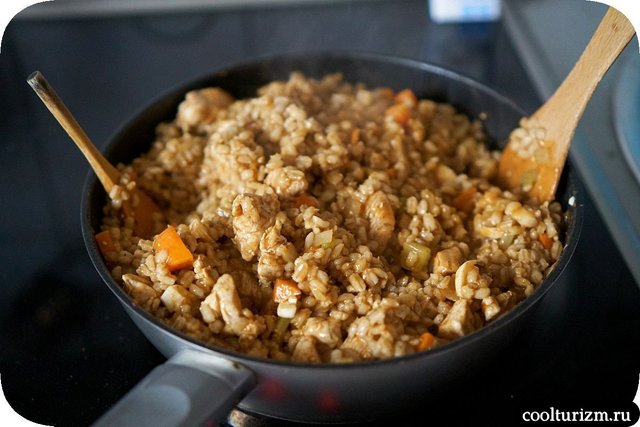 5.Now add the cream at room temperature. Salt and hot pepper to taste. You can add a little more masala, dissolved in 1/2 cup of water. Cover the pan with a lid, reduce the heat to a minimum and leave the barley alone for 10-15 minutes.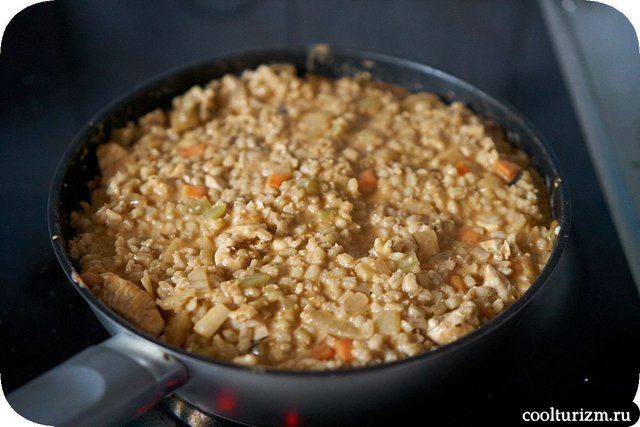 6.Pour the barley with chopped herbs and grated cheese (optional). A very aromatic and satisfying dish. Tasty!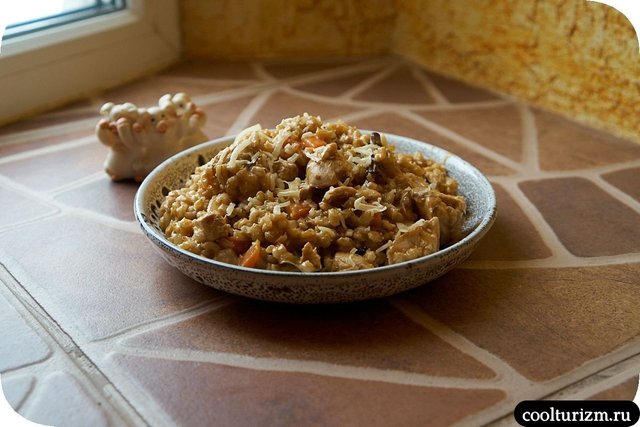 Do you still ignore barley?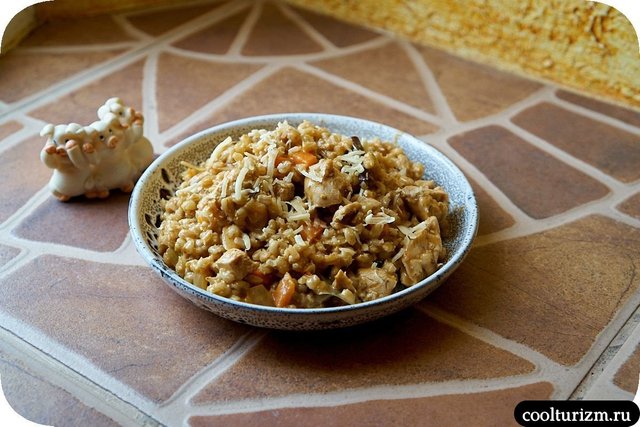 Will We Cook?

Heute kochen wir ein weiteres leckeres Gerstengericht. Wir werden die Graupen über Nacht in Wasser einweichen. Ich werde dem Gericht etwas Exotik hinzufügen und dem Rezept Masala, grünen Kardamom, Zimt und andere Gewürze hinzufügen. Östliche Gewürze werden sogar jedes scheinbar langweilige Gericht beleben. Was könnte langweiliger sein als Gerste? Ja, nur Hirse! Aber Gewürze können selbst ein solches Gericht beleben.
Lass uns gehen!
Zutaten:
● Graupen -2 Gläser
● Hähnchenbrust - 400-500 gr
● Selleriestange -1 Stück
● Karotten -1 Stück
● Zwiebeln -1 Stück
● Tomatenmark -2-3 EL.
● Sahne 10% -200 ml
● Masala, Salz, Pfeffer, grüner Kardamom, Zimt, Lorbeer, Koriandersamen, Zucker, Nelken, Butter, Kräuter - nach Geschmack
1.Ein Stück Butter in einer heißen Pfanne schmelzen. Wir verteilen das Lorbeerblatt, eine Zimtstange, 1 TL. Masala (wenn frisch, wenn es schon aufgebraucht ist, dann können Sie auch 2 TL), 3-4 Kisten grüner Kardamom, 4-5 Nelken, eine Prise Koriandersamen. Lassen Sie die Gewürze im Öl etwas erwärmen.
2.Schneiden Sie die Hähnchenbrust in schmale Streifen. Sellerie in kleine Stücke schneiden. Die Karotten schälen und in kleine Würfel schneiden. Die Zwiebeln schälen und in kleine Stücke schneiden. Gemüse in kochendes Öl geben. Braten bis die Zwiebeln goldbraun sind, dann die Hitze etwas reduzieren, das Gemüse zur Seite stellen und die Hähnchenbrust auslegen. Die Brust 5-7 Minuten braten, bis sich die Farbe gebildet hat. Gemüse und Hähnchenbrust mischen. 2-3 Esslöffel gutes Tomatenmark in einem Glas Wasser mischen. Geben Sie sofort ein paar Teelöffel Zucker in das Glas. Mischen und in das Huhn gießen. 5 Minuten kochen.
3.Zu diesem Zeitpunkt sollten wir bereits die am Abend zubereitete Graupen (in Wasser eingeweicht) nehmen, das Wasser abgießen und in kochendes Salzwasser werfen. Solche Gerste kocht schneller als trockene Gerste. In etwa 20 Minuten ist es fertig. Wir lassen das Wasser aus der Perlgerste ab.
4.Fügen Sie die gekochte Gerste zu Gemüse und Hühnerbrust in Tomatenmark hinzu. Den Inhalt der Pfanne vorsichtig mischen.
5.Und nun die Sahne bei Raumtemperatur dazugeben. Salz und scharfer Pfeffer nach Geschmack. Sie können etwas mehr Masala hinzufügen, aufgelöst in 1/2 Tasse Wasser. Decken Sie die Pfanne mit einem Deckel ab, reduzieren Sie die Hitze auf ein Minimum und lassen Sie die Gerste 10-15 Minuten in Ruhe.
6.Streuen Sie die Gerste mit gehackten Kräutern und geriebenem Käse (optional). Ein sehr aromatisches und sättigendes Gericht. Lecker!
Ignorieren Sie noch Gerste?
Werden wir kochen?