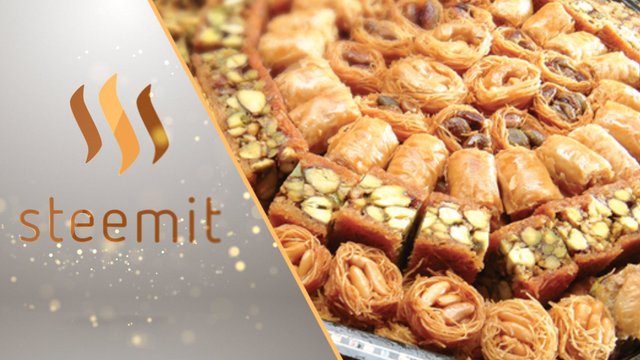 The traditional cuisine from the middle east has its very own, unique flavors - spices like cinnamon, cumin and curry can give dishes that special kick!
Growing up, a lot of my friends were from Turkish origin, so many of these flavours are quite familiar and take me back to my teenage years.
I had decided to try out a new restaurant that offers different kinds of arabic and turkish cuisine, but has actually specialized in oriental desserts.
First, we started off with something quite hearty though, and went for a variety of pastries with different fillings.
One of them was Lahmacun, a kind of turkish pizza, then Pide, a soft dough with meat- and vegetable toppings, and lastly some dough stuffed with lamb meat and spices.
I love how hearty these oriental dishes are, they can satisfy any hunger without being too greasy or heavy.
And the subtle heat of the meat and vegetables fit perfectly with the fluffy, warm pita bread.
But now, the reason why we really came to this specific restaurant - THE DESSERTS!
They offer a mouthwatering selection of different cakes and desserts.
Just look at this display! It's sweets galore!
Cakes, Cookies, dessert, fruit and chocolate as far as the eyes can see.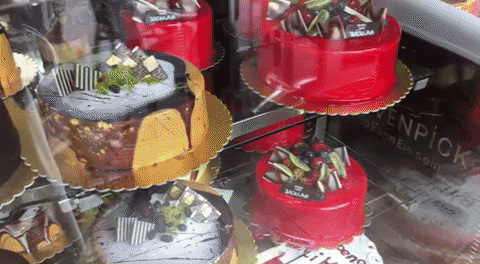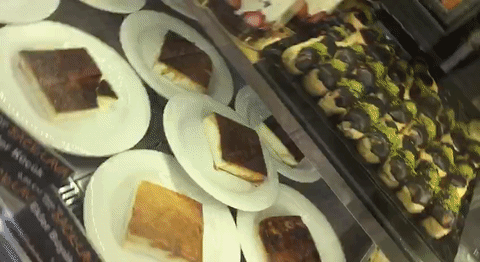 ---
The Restaurant was actually called "Grand Cafe Baklava" so you can already tell that they take their Baklava very serious here!
Of course we had to take a box home so that we could enjoy some more Baklava later on.
In case you didn't know, Baklava is a very sweet oriental dessert made with multiple layers of puff pastry and butter, syrup and nuts in between.
Once you take the first bite, the soft mixture of honey, nuts and syrup just explodes in your mouth... so sweet but so delicious!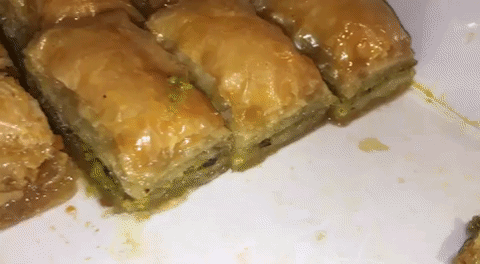 Now on to the real desserts!
First up, something that caught my eye as soon as I walked in to the restaurant - this beautiful dessert with mascarpone, fresh strawberries, and what looked like a chocolate topping.
Without even knowing precisely what it was, I ordered it - and I wasn't disappointed!
The white cream was a mixture between mascarpone, white chocolate and whipped cream, sanwiched between two layers of an extremely soft and chewy brownie. And of course, with added strawberries on the side!
It was the perfect combination between, fruity, chocolatey and mellow/sweet!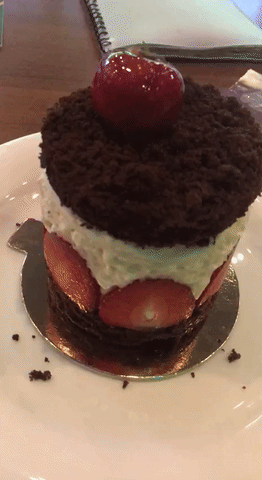 Next up, a very traditional arabic-oriental dessert: Kunafah / Künefe.
The filling is made from a specific kind of cream cheese and kadayif, then wrapped with crispy, sweet dough, topped with sugar syrup and pistachios.
It's very hard to describe something like this if you've never tasted it before - it's warm, sweet and crispy from the outside but mellow and creamy from the inside.
And it goes perfectly with a hot drink, for example traditional apple tee.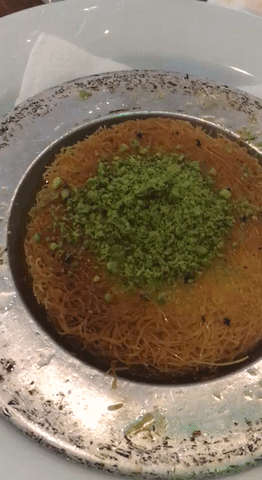 And lastly - some ice cream! But not just any ice cream ...
When I saw this ice cream dessert on the menu, I instantly knew that I had to try it.
It was called "nut indulgence" (which is catchy in German because the words rhyme) and featured some of my favorite ice cream of all time: Häagen Dasz Maple Walnuts!
So it was a trifle of Chocolate, Walnut and Pistachio Ice cream, topped with chocolate sauce, whipped cream, and lots and lots of chopped up walnuts, almonds and pistachios.
This was truly nut galore!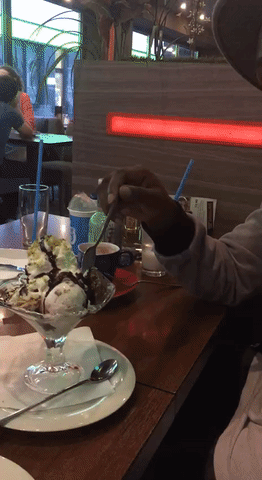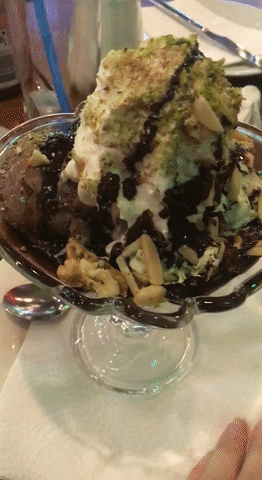 ---
After all of these delicious desserts, it was time to return home (and have some of that delicious Baklava later...)
Until next time!
---
- Instagram -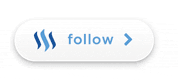 © Sirwinchester