How to make delicious bean sprouts with tofu
---
TWO LANGUAGE ENGLISH AND INDONESIA
---
ENGLISH LANGUAGE
---
Hello all...!!!
Today I want to share recipe with you : How to make delicious bean sprouts with tofu
---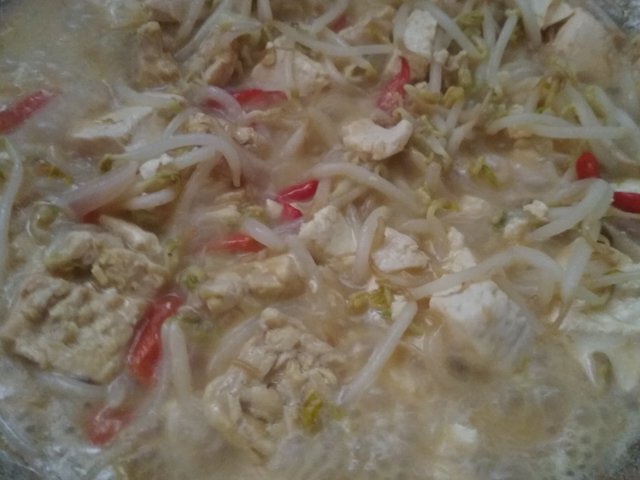 ---
this food looks simple but it feels very delicious, this food when we eat mixed with rice to make it delicious and this is also a side dish of rice to increase our appetite
Have you ever tried to cook a meal like this, if you have not, you should try it, I guarantee you will love the delicacy of the flavors you get from this food
---
How you want to try it, Here are the ingredients and how to cook.
---
---
INGREDIENTS
---
THE MAIN INGREDIENTS :
---
150 grams bean sprouts
200 grams tofu
25 gram cooking oil
1 cupwater
salt to taste
---
INGREDIENTS ARE SLICED :
---
3 cloves Shallot
3 cloves garlic
3 red chilli
1 tomato
---
INGREDIENTS ARE MASHED :
---
10 cayenne pepper
2 cloves Shallot
2 cloves garlic
---
---
HOW TO MAKE :
---
clean up all the ingredients then cut according to taste and rinse thoroughly.
---
Set skillet
heat the oil
stir-fry until fragrant slices of material
enter tofu, shrimp and bean sprouts
wait minute while stirring
enter materials are mashed
wait minute while stirring
enter water
add salt
Cook until cooked

Finished

Mix with rice when we enjoy it
---
---
This recipe I write in Aceh Indonesia in the hope of being useful and you like my work
---
You like it follow me
@silvia
Thank you very much
---
---
---
INDONESIA LANGUAGE
---
Halo semua...!!!
Hari ini saya ingin berbagi resep dengan anda : Cara memasak tauge dengan tahu yang lezat
---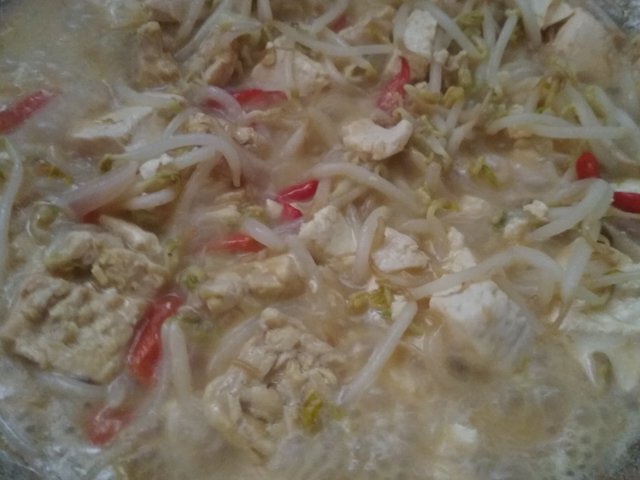 ---
makanan ini terlihat sederhana tapi rasanya sangat lezat, makanan ini saat kita makan dicampur dengan nasi agar lebih enak dan ini juga lauk nasi untuk menambah nafsu makan.
Pernahkah Anda mencoba memasak makanan seperti ini, jika belum pernah, anda harus mencobanya, saya jamin anda akan menyukai kelezatan rasa yang anda dapatkan dari makanan ini.
---
Bagaimana anda ingin mencobanya, Berikut adalah bahan dan cara memasaknya :
---
---
BAHAN YANG DIPERLUKAN
---
BAHAN UTAMA :
---
150 gram tauge
200 gram tahu
25 gram minyak makan
1 cangkir air
garam secukupnya
---
BAHAN YANG DI IRIS :
---
3 siung bawang merah
3 siung bawang putih
3 cabai merah
1 tomat
---
BAHAN YANG DIHALUSKAN :
---
10 cabai rawit
2 siung bawang merah
2 siung bawang putih
---
---
CARA MENGOLAHNYA :
---
Bersihkan semua bahan lalu potong sesuai selera dan bilas sampai bersih
---
siapkan wajan
Panaskan minyak
Tumis sampai irisan harum bahan
Masukkan tahu, udang dan tauge
Tunggu sebentar sambil diaduk
Masukkan bahan yang dihaluskan
Tunggu sebentar sambil diaduk
Masukkan air
Tambahkan garam
Masak sampai matang

Selesai

Campur dengan nasi saat kita menikmatinya
---
---
Resep ini saya tulis di Aceh indonesi dengan harapan bisa bermanfaat dan anda menyukai karya saya ini
---
---
Kamu menyukainya ikuti saya
@silvia
terima kasih banyak