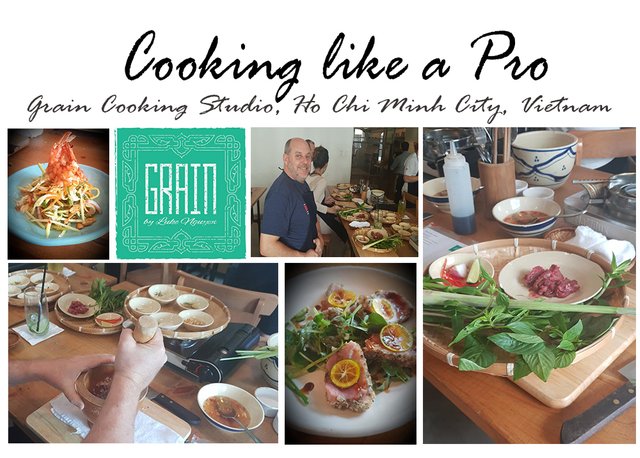 Hello fellow adventurers,


As you know we recently had the opportunity to go to Vietnam to take part in a crypto event. But it wasn't all work. I never miss a good opportunity to explore other countries and cultures - and well if someone was paying for the airfare and accommodation I sure as hell was going to take advantage of it!


I like to think of myself as a bit of a foodie and I've loved Vietnamese food for a long time. One of my favourite Australian chefs is actually a Vietnamese Australian - Luke Nguyen. He does MasterChef Vietnam, has a couple of shows about Vietnamese and French Cuisine, a ton of cookbooks and owns restaurants in Sydney and Brisbane.


He also owns a cooking studio in Ho Chi Minh City - Grain Cooking Studio. So with a couple of days free in HCMC, I booked us into an afternoon of cooking Modern Vietnamese cuisine - with matching wines of course!


We did the afternoon cooking class from 2 til 5. The menu kinda speaks for itself!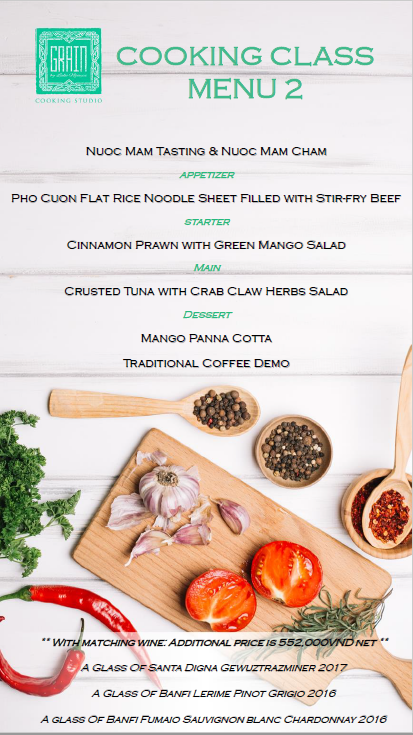 If I could do a half decent job on these I'd be pretty happy!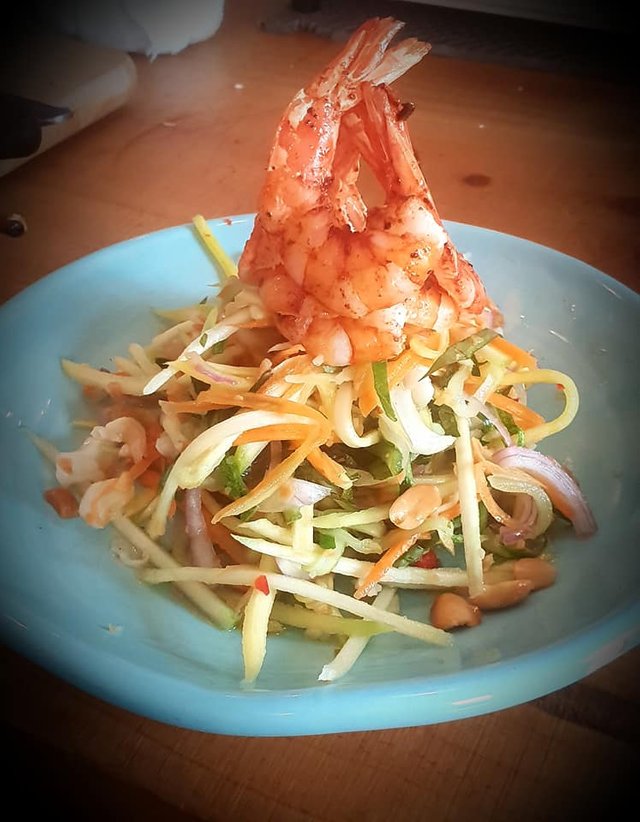 Cinnamon Prawns with Lychee and Mango Salad

Now if you are after a really grass-roots cultural experience then this probably isn't the type of cooking class you are after. (I've done one of those in Thailand - where you visit the local markets buy your food - ignoring the rodents at your feet - and head back to an open-air classroom where you are responsible for all your prep and clean up) This is the luxury version and a bit more of a 'MasterChef" experience - complete with its own MasterChef pantry! and a lot of the food is chopped and everything is cleaned away for you by the attendants. This was learning to make restaurant quality taste and plating - taking traditional Vietnamese food and giving it a modern fine dining twist.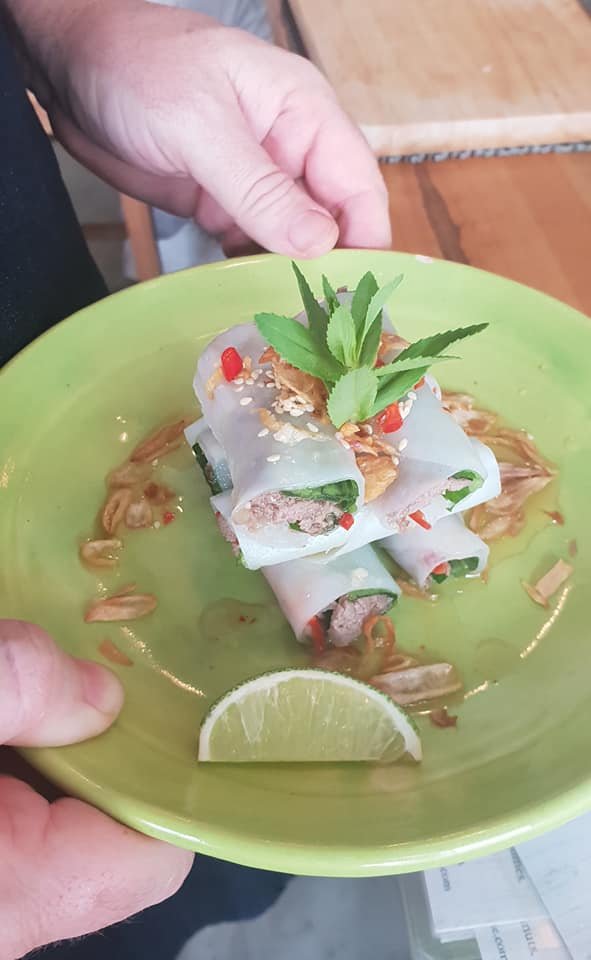 Rice Noodle with Sauteed Beef

We had a great afternoon in a small class - there were only 4 couples and managed to get through the menu with no major disasters! There is a main instructor and then an assistant for each table of two so it's pretty hard to go wrong. Just like MasterChef all the "staples" are under your bench and there is a pantry where everyone races to grab their fresh ingredients!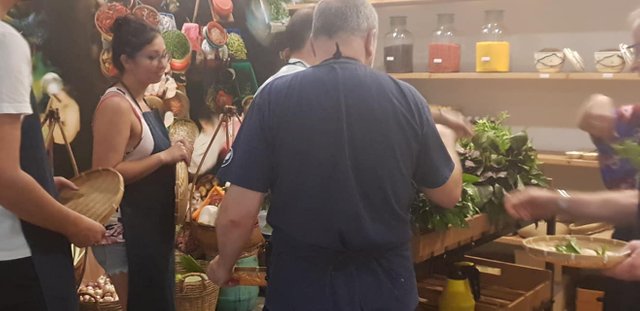 Kitchen Pantry

We were also given the full recipe cards so we can attempt to make the courses once again when we returned home... I'm guessing not quite as fun if you have to do the prep and clean-up yourself though... oh wait.. that's what I have
@cryptoandzen
for!
All in all, it's worth doing if you want a nice afternoon out of the sweltering heat and are a bit of a foodie. The cost was $40 US plus $25 for matching wines. Morning sessions are also available.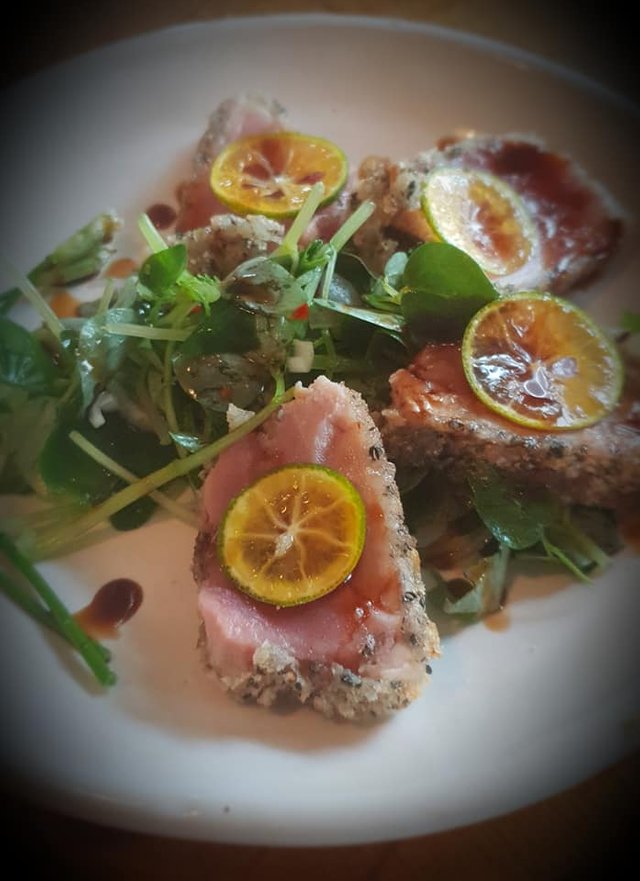 Crusted Tuna with Crab Claw Herb

All that has made me somewhat hungry and ready to go dig up some food!
Til Next time, wishing you Love and Light.
You can find this, and other exciting adventures from some great travelling Steemians at Steemit Worldmap
!steemitworldmap 10.77697641 lat 106.7044379 long Grain Cooking Studio Ho Chi Minh City - D3SCR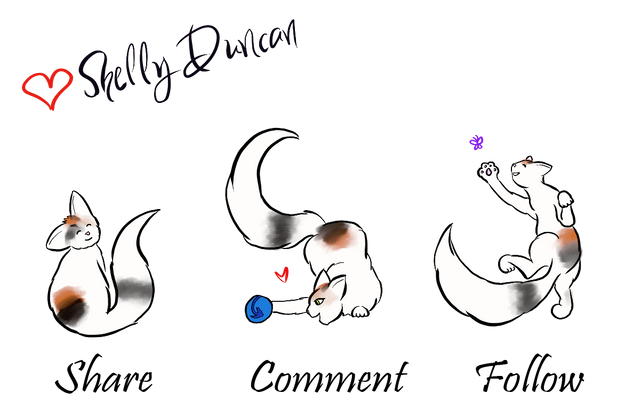 My beautiful UpCats were designed by the one and only beautiful @ryivhnn and are based on my beautiful Ava the Princess Cat.

If you enjoyed this post don't forget to UPVOTE/SHARE, COMMENT and Hit that FOLLOW Button!

Let's All Share the Love!



Don't forget to check out the teamaustralia tag and see what exciting things we are all up to in the land of Oz! It's full of Aussies and Aussie-lovers with great stories from when we are at home or loose in the world!

Thanks to @bearone for creating my beautiful teamaustralia banner which I love sooooo much!