SawadeeThai Buffet 素食泰国不肥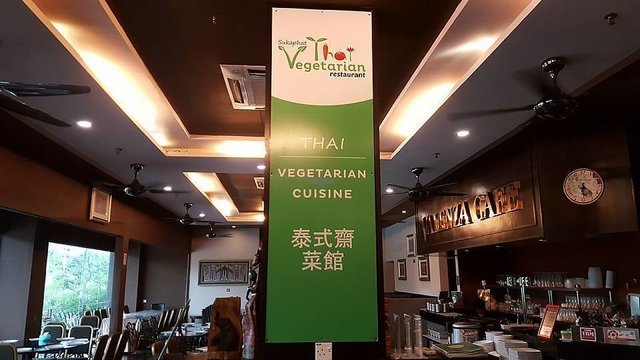 img src
前言
大家好,今天我就不发长篇大论的文章了,看多了也会闷吧,既然如此那我就来发一个说美食的贴好了,不过肉食者要考虑清楚才继续看下去喔,因为今天我要说的跟你们完全没有任何关系,还是想看?那就请你看了告诉身边的素食者吧。
那我们开始喽。
Hi all, previously I had posted quite a number of Chinese posts, but I decided not to do so today, I am going to write an article to talk about foods that I think it is nice. Before I begin, a fair warning to those who can't live without meat, this post is completely not your interest, but if you still want to read, you may share it to your vegetarian friends and family member.
So, let's begin.
Sukaphat Thai Vegetarian Restaurant
这间名为'Sukaphat Thai Vegetarian Restaurant'的泰国素食餐厅坐落于马来西亚吉隆坡的旧巴生路(Jalan Klang Lama)就在谷中城购物广场附近,餐厅是在Valenza Hotel 内的,它平时会提供各种各样的素食菜肴,但是现在他们正式推出了不肥促销,有兴趣的话可以去试看看。
我想大家应该很好奇什么是不肥吧,其实不肥就是自助餐啦,这只是我和女友之间的叫法,直接从英文'buffet'翻译过来,哈哈哈。
那我开始介绍今天的不肥菜式喽。
Around the border of the city centre of Malaysia - Kuala Lumpur, there is a Thai vegetarian cuisine namely 'Sukaphat Thai Vegetarian Restaurant',it's located in the Valenza Hotel at the Old Klang Road (Jalan Klang Lama), it is very near to the Midvalley Megamall Shopping Centre, usually the restaurant will serve various of Thai cuisine, but they officially launched their buffet special, vegetarians may try it out.
Okay now let's start with the buffet dishes.
美食 The Foods
1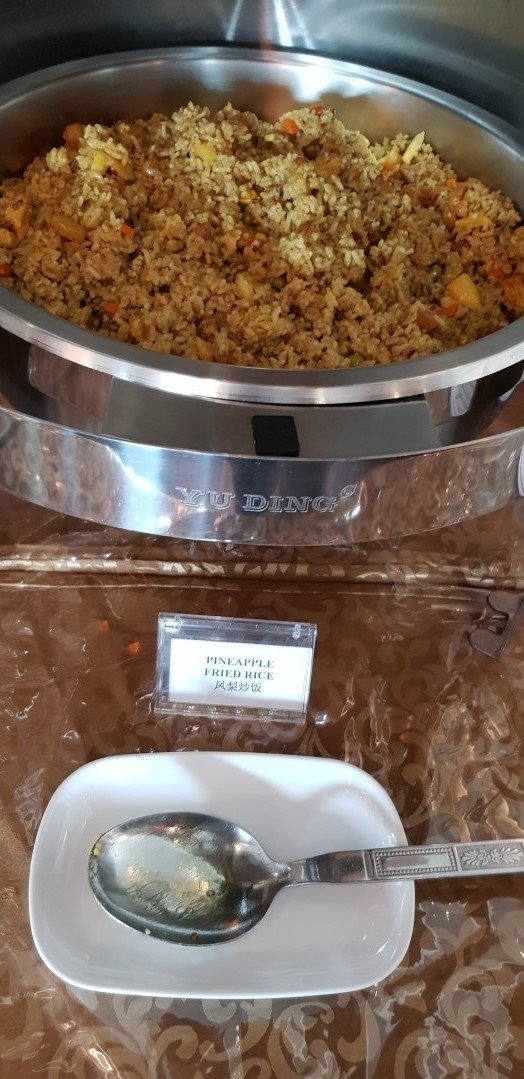 首先是黄梨炒饭,他的黄梨炒饭是用饭(不然是米粉吗?),黄梨(已经说是黄梨炒饭了=_=|||),豆腐还有番茄(应该有吧),他们所用的黄梨不会酸,反而是很甜的,味道很不错。
Firstly, the pineapple fried rice, the ingredients are rice, pineapple (yeah we both knew that =_=|||), bean curd (toufu) and tomatoes (I suppose?). The pineapples is sweeter than I thought and it is not that sour, taste nice.
2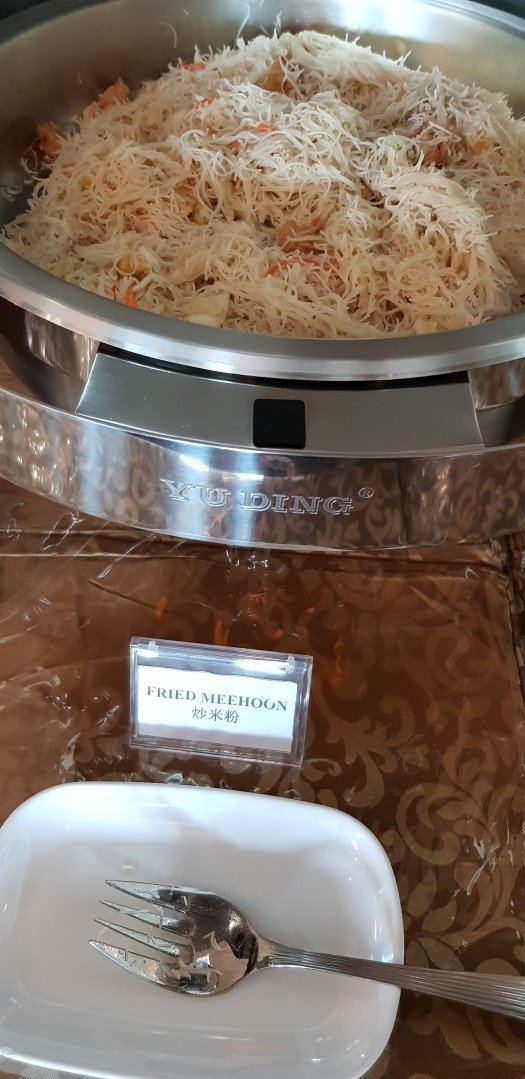 接下来的是泰式米粉,泰式米粉一如既往的白,它的材料包括了豆腐,萝卜和包菜,味道比较淡,适合那些吃不了辣的人。
Next is Thai style fried beehun, white as usual, the ingredients are beehun (of course it is), bean curd (again), carrots and cabbages.
3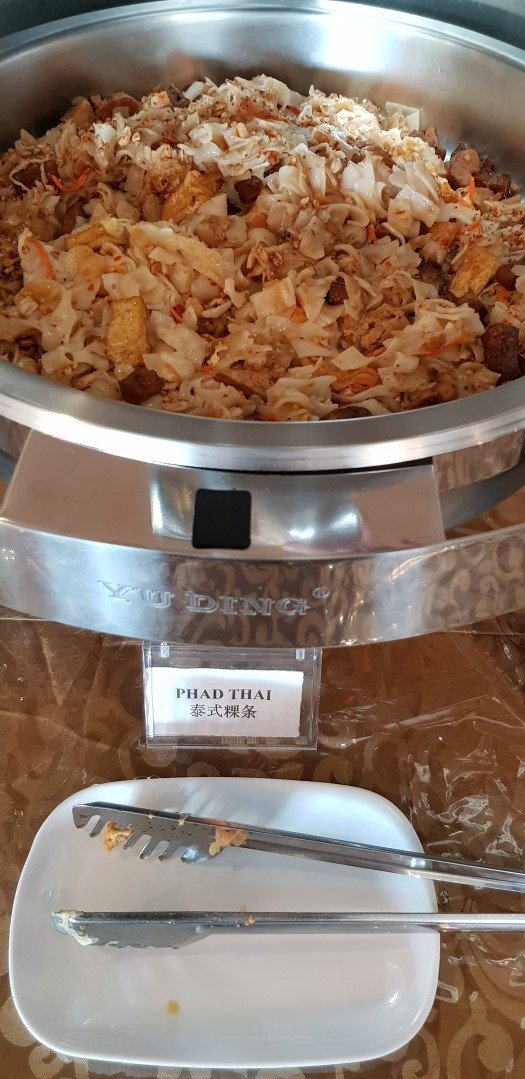 除了米粉当然少不了泰式的粿条喽,通常泰式的粿条和平时我们吃的不太一样,泰式的更有弹性,不像我们吃惯的那样滑溜溜。
Here comes the thai style char kuay tiao, thai style is a little bit different from the usual one, thai style is more chewy, not as smooth as the normal char kuay tiao.
4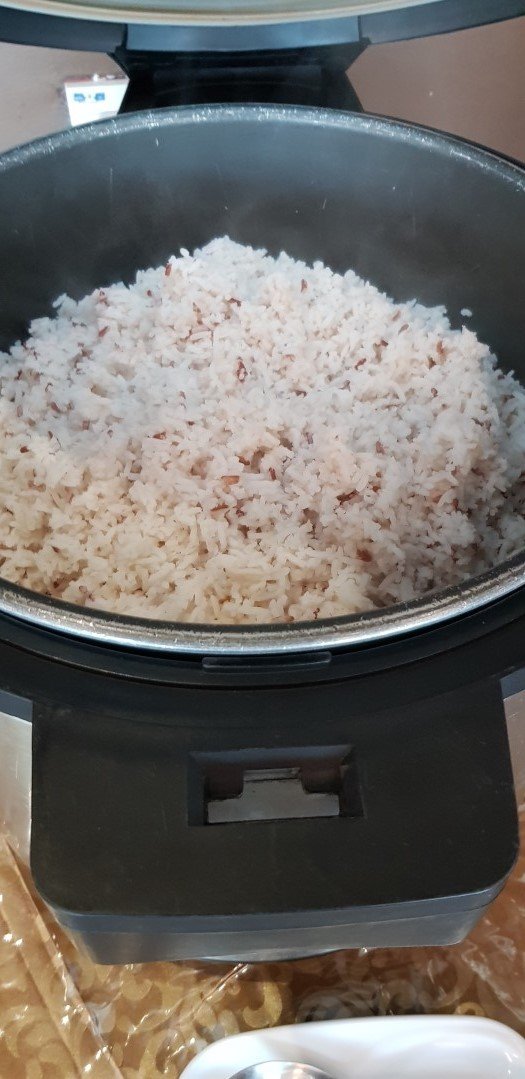 素食当然少不了糙米饭了。
It is unavoidable to have brown rice for vegetarians.
5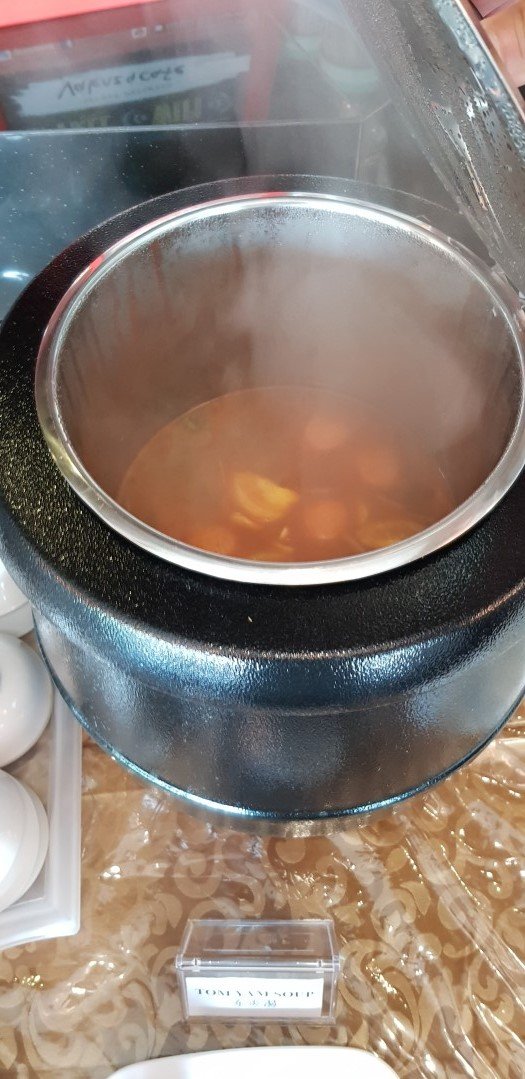 吃泰国餐能错过东炎汤吗?他的东炎汤不会很辣也不会太酸,很适合不吃辣的人。
How can we miss the famous tomyam soup? The tomyam soup is not that spicy nor sour, it is suitable for people who can't take much spice.
6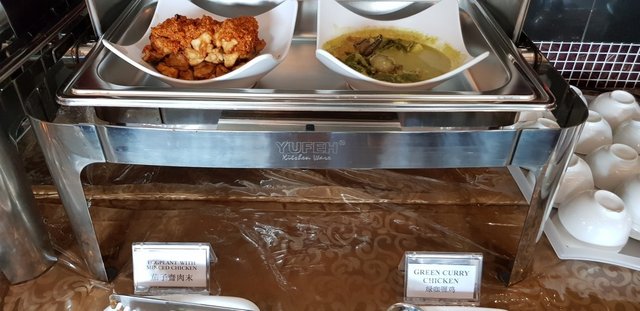 在图片中左首的是茄子斋肉末,茄子不会炸得过头,肉末我没吃不知道味道哈哈;在右首的是绿咖喱鸡,我也没拿(抱歉啊)。
On the left is eggplant with minced chicken, the eggplant was fried just right, not too over, but I didn't taste the minced chicken (so sorry about that); and the green curry chicken on the right (this one I did not try too, sorry again).
7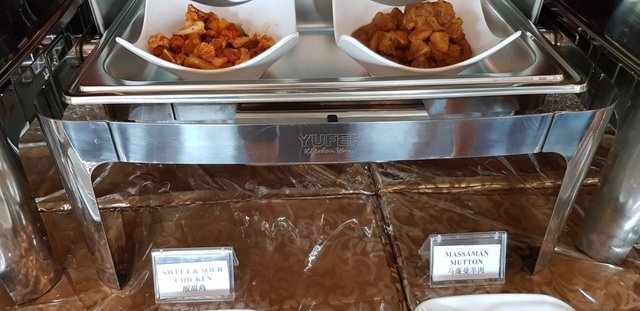 左首的是酸甜鸡,味道还不错;而右首的是马萨曼羊肉,有一点点辣不过还可以接受。
On the left is sweet and sour chicken, taste quite nice; on the right is Massaman Mutton, it is a little bit spicy but still acceptable.
8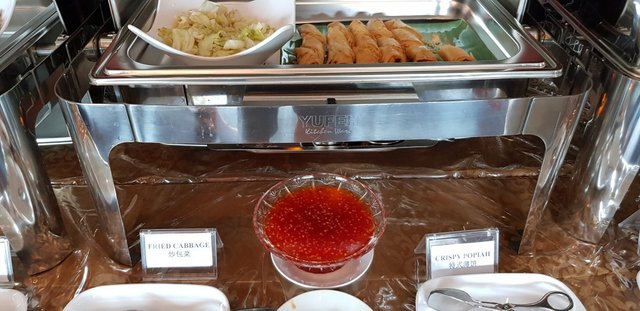 左边的是炒包菜;右边的是特式薄饼,中间的是配薄饼的泰式辣椒酱。
Fried cabbages on the left and crispy popiah on the right, chilli sauce for the popiah is at the center.
9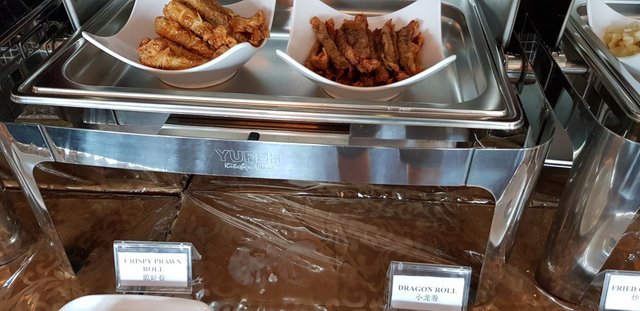 左首的是脆虾卷,外皮应该是腐竹,炸的蛮脆的;而右首的是小龙卷,类似马来西亚特色美食之一的五香肉lobak。
On the left, it is the crispy prawn roll, its skin is made of dried toufu skin; on the right is dragon roll, it resemble the famous Malaysian food, Lobak (the five-spice meat roll).
10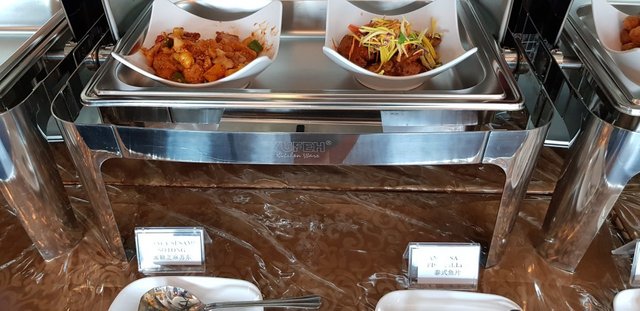 左边的是蜜糖芝麻苏东,苏东口感和真苏东很像;右边的则是泰式鱼片,味道跟真的一样。
Honey sesame sotong on the left whereas the Thai style fish fillet on the right, both of them taste very similar to the real one.
11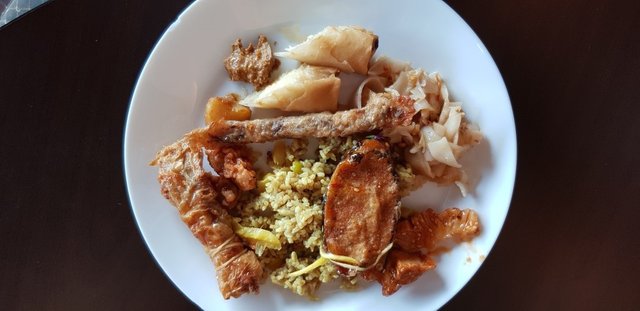 这是我拿的菜色,都试一下味道,除了几个没拿(请原谅我吃得少)。
These are what I took, I tried all of them except a few (please forgive me I don't eat much).
12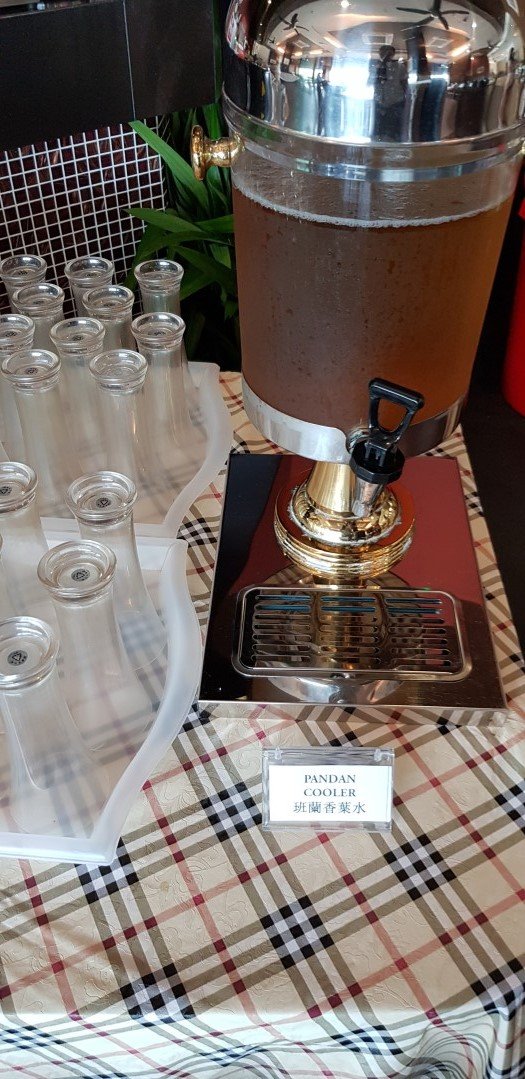 今天提供的饮料是班兰香叶水,想喝咖啡或者茶的话得跟服务员要求不用另外付费,已经包括在内了),但是汽水的话就需要另付了。
The drinks served today is pandan cooler, if you would like to have coffee or tea you may ask from the waiter or the waitress (no extra charges for these two, already included), but you need to pay extra for carbonated drinks.
13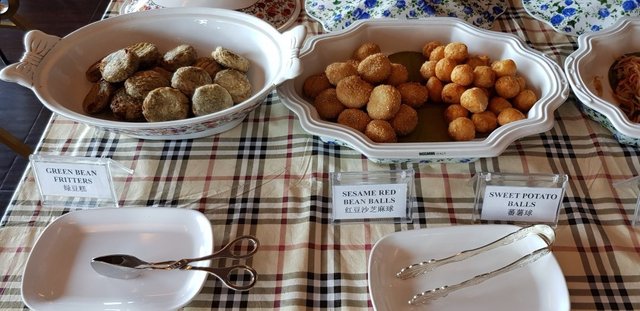 接下来就是甜品喽,在左首的有绿豆糕,有些不太紧实但味道不错;右边的是番薯球,虽然不太Q但是蛮好吃的;在中间的是我们俗称'炸弹'的红豆沙芝麻球,红豆沙比较液化,不会太甜。
And there comes the desserts, on the left is green bean fritters, the taste is nice, little sweet; on the right is the sweet potato balls, not quite chewy nor too sweet but good to eat; and sesame red bean ball at the center, the red bean paste is slightly more liquefied and not too sweet still a good choice to go.
14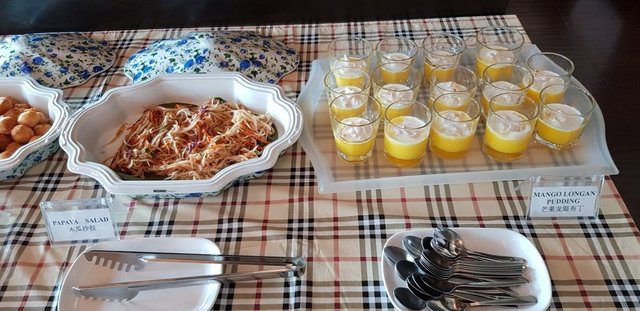 在左边的就是木瓜沙拉(很遗憾我也没拿),右边的是芒果龙眼布丁,小孩子的最爱,上面有淋一层椰浆,也是不会很甜,适合小孩子吃(我可是吃了三杯,不过我可不是小孩子喔)。
On the left, is papaya salad (sadly I did not take it too); meanwhile on the right is mango longan pudding, on top of it has a thin layer of coconut milk, not so sweet too, another choice for kids (I had three but it does not mean I am a kid).
15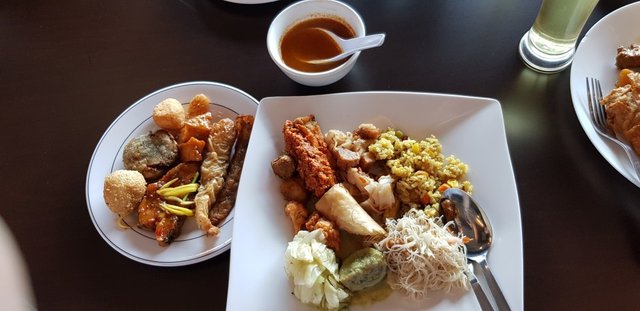 这是我接着拿的,和女友一人一半,感情不会散,哈哈哈
These are what I took after the first, shared with my girlfriend. There is a Chinese saying: if we share it together, our love will be eternally long lasting. Nice say right?
16


这是近距离的布丁,当时手晃了,拍的有点朦。
This is the closer look of the pudding, it is a little bit blur, because my hand was shaky when taking this picture.
17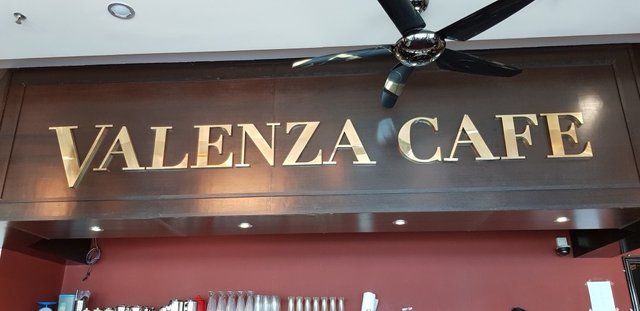 这是酒店咖啡厅牌匾
This is the name of the café in the hotel.
18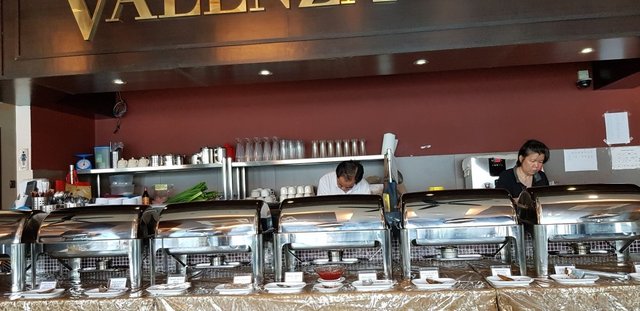 摆放食物以及准备饮料的地方
Place for drinks preparation and the food location.
19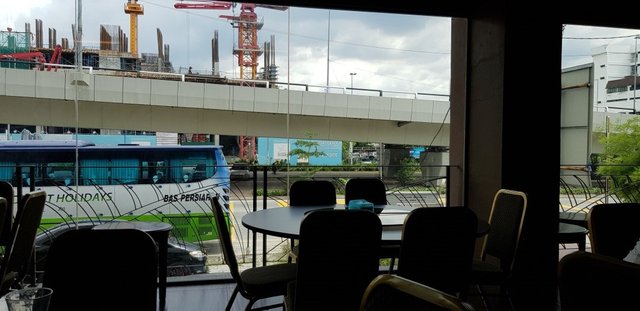 落地窗户,能够看到外面
The floor window allow us to see the full view outside (although it is just a normal road view).
20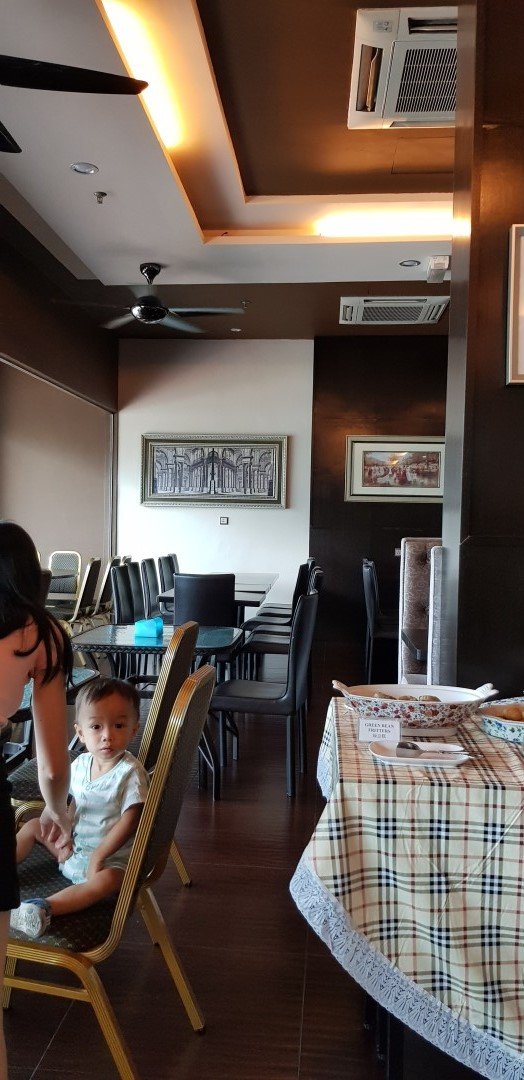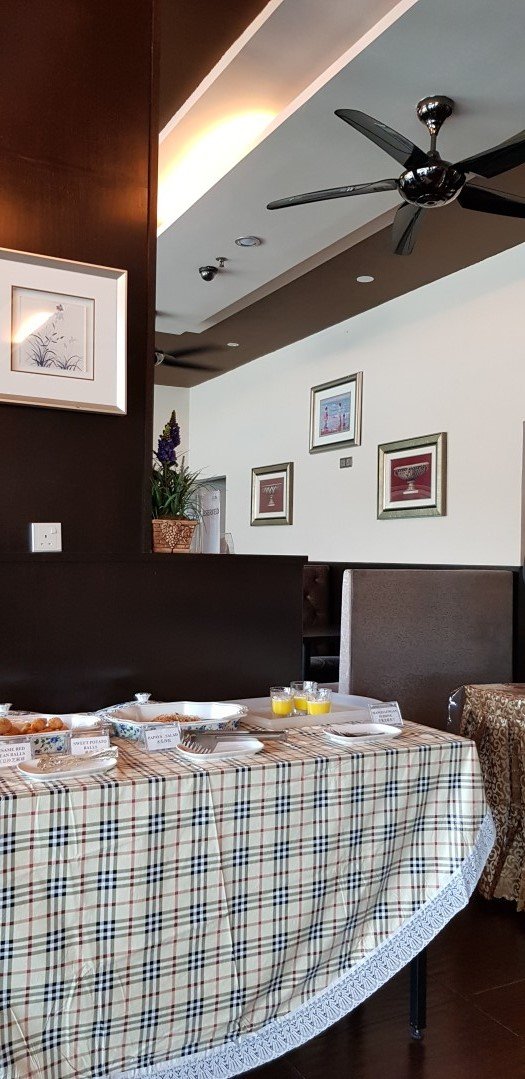 挂上很多幅图作装饰
A lot of paintings as decoration.
21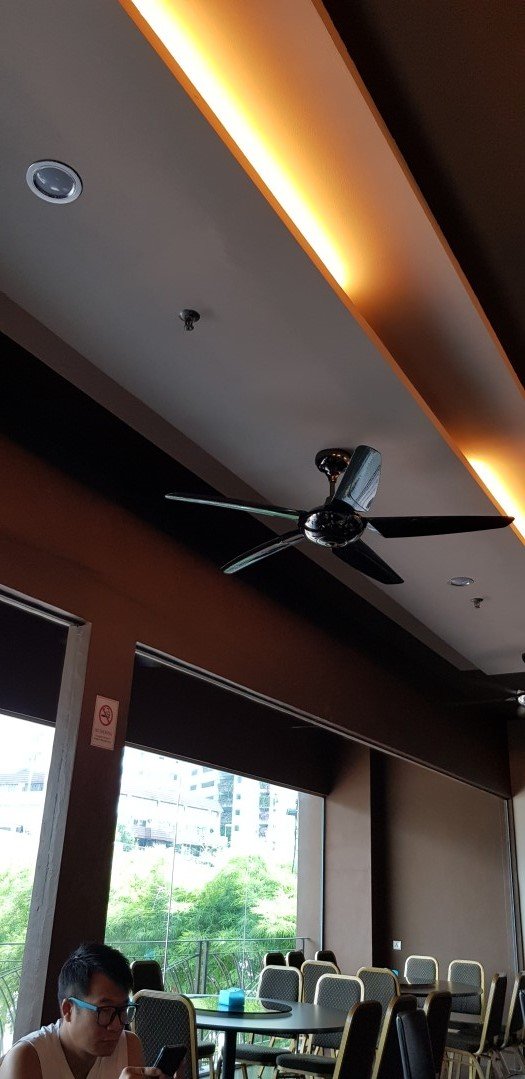 风扇也和普通的风扇不一样,有些古典的感觉
The ceiling fan is also quite different from the others.
想试试看?Want to try it?
如果大家看了想吃吃看的话,可以到以下链接得到细节:
If anyone want to try it after reading this article, you may go to these links to know more:
地址 address:
Lot, 118, Batu3, Valenza, Hotel & Cafe Sdn Bhd, Jalan Klang Lama, 58100 Kuala Lumpur, Wilayah Persekutuan Kuala Lumpur (Google Map)
价钱和时间请按这里
Price and the operating time for buffet please click here
餐厅距离谷中城购物广场只有15分钟喔。
It is only 15 minutes journey by car from Midvalley Megamall.
结语Conclusion
好啦我就说到这里了,今天我和女友的家人一起吃了,总的来说味道和服务都还不错,下次还会再光临的,大家有兴趣不妨也来试试看。
Okay here comes to the end, generally the taste of foods and the services are nice, I will come back for the second time, if anyone is interested can give it a try.
PS: 这是我第一次写美食篇,写的不好请多多包涵,最后感谢大家的阅读,感恩感恩。
This is my first time writing an article regarding foods, please forgive my English and thank you
for your reading.