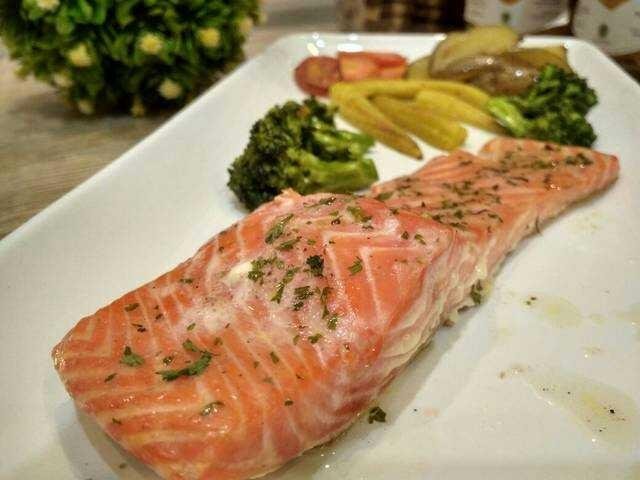 Ingredients
1 salmon slice
Salt
Pepper
3 lemon slices
Vegetable:

Broccoli
Potato
Baby corn
Carrot

Vegetable marinade:

Garlic
Salt
Pepper
Vegetable oil

Vegetable glaze:

Sugar
Water
Butter
Salt
Pepper
Parsley
Steps
Cut salmon skin, coat both sides with lemon juice, salt & pepper powder. Put it on a slice of lemon, sprinkle parsley / thyme. Soak the potato with garlic & salt at least 15 minutes, drain. Put all the vegetables in the container, sprinkle salt, pepper, vegetable oil. Mix well, place it on the tray.


Oven with temperature 180-190° C until cooked, 15-20 minutes.


Lift broccoli first, because more quickly cooked. Reinsert, oven until done.


Vegetable glaze: In a hot baking dish 2 tbsp sugar, 2 tbsp water. Stir to form caramel. Add the butter, a little salt, pepper and parsley flakes.


When mixed, put all vegetables. Stir until all the vegetables are wrapped in glaze.


Serve salmon with vegetables complement, yummy..



Lets Cooking,