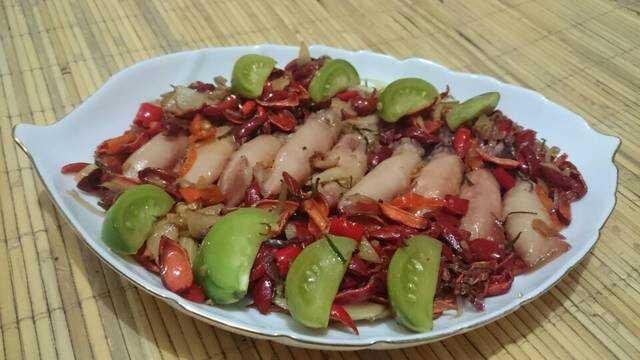 Ingredients
2 handheld skin melinjo / gnetum
125 gr of salted squid
Giant Ginger
Spices:

5 onion
2 cloves of garlic
3 curly red chilli
7 red chili pepper
1 green tomato
2 orange leaves
1 stem of lemongrass
2 bay leaves
2 slices of galangal
to taste salt, sugar mushroom broth
Steps
Clean and cut the skin melinjo/gnetum then wash and give salt, let stand 30 minutes and fry.


Wash and boiled salted squid with ginger 20 minutes. Then lift and clean the skin, drain.


Slice all spices except bay leaves.


Saute garlic and onion, after fragrant enter the chili and other spices until wilted and fragrant, add salt, sugar, mushroom broth and 4 tbsp water to taste evenly. enter salted squid, stir slowly until water is reduced.


Enter melinjo/gnetum skin that has been fried.


And last enter the green tomatoes, stir briefly and lift.


Serve and enjoy with warm rice, yummy..



Lets Cooking,