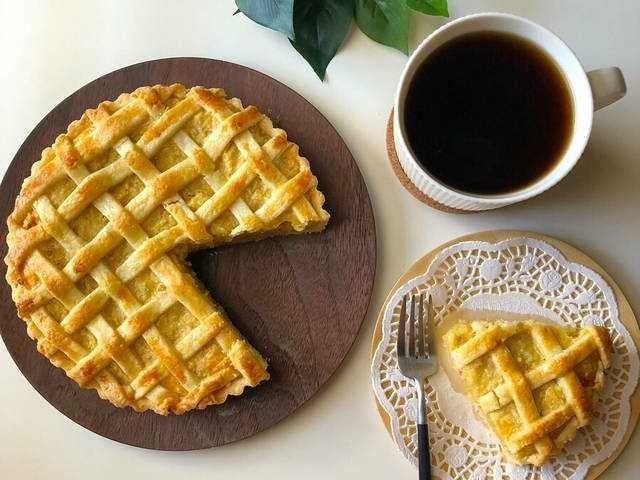 Ingredients
Material Pie:

200 gr wheat flour (low protein)
120 gr unsalted butter from the refrigerator (no melting required)
1 egg
to taste vanilla extract

Material of yam filling:

200 gr yam (steamed and puree)
60 gr almond flour (if no dressing with 1 tbsp cornstarch)
60 gr butter
1 egg
60 grams of sugar
60 ml of liquid milk
1 egg yolk (to grease pie surface)
Steps
Cut the butter into small pieces, add all the ingredients of the pie and stir until it becomes dough.


Divide the dough into 2 parts. Wrap with plastic. Store in the refrigerator for 1 hour.


Stir the butter until the texture is like cream. Put the flour, egg, sugar and milk. Mix well.


Poured the yam, mix well.


Brush the pan with butter. Roll the dough that has been cooled. Put it into a baking sheet, and poke the center of the dough with a fork (so the pie mat remains flat in the oven).


Put the filling of yam.


Grind the other dough, slice thinly elongated.


Here I set like a form of webbing. remove excessive waste on the edge of the baking sheet.


Brush with egg yolks.


Oven with temperature 180 degree for 30 minutes.


Allow the pie to cool, remove from the pan. Pie ready to serve. Yummy...



Lets Cooking,