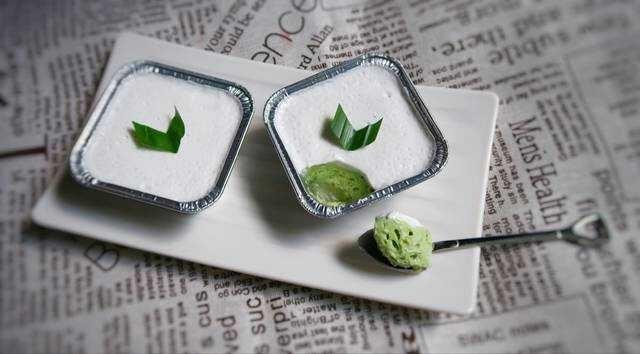 Ingredients
Mud material:

5 eggs
200 ml of instant coconut milk
2 sachet milk powder diabetasol
1/2 tsp vanilla paste
Pandanus sediment
A pinch of salt

Topping Material:

100 ml of instant coconut milk
1/2 tsp powder pudding
1 sheet of pandanus leaves
Adequate water
A pinch of salt
Steps
Beat the eggs.


Enter coconut milk, salt, powder milk, mix.


Enter the pandanus & vanilla paste.


Mix well.


Insert into aluminum foil.


Steam over low heat until cooked about 15-20 minutes (the lid is given a cloth so that the water does not drip)


While steaming, prepare toppings.

Mix all topping ingredients, mix well. Then light a small fire, stirring until boiling.


Put it on top of a layer of cooked mud.


Steam again for 10-15 minutes.


Once cooked enter into the refrigerator. Enjoy when it's cold, yummy...



Lets Cooking,