Today is perfect day to share with you my dessert, which are oat cookies.
It is easy to prepare and also healthy. It is perfect for runners and not only. I need to take care of my diet due to fact that I have Hashimoto and in my opinion this is also great dessert for people with Hashimoto.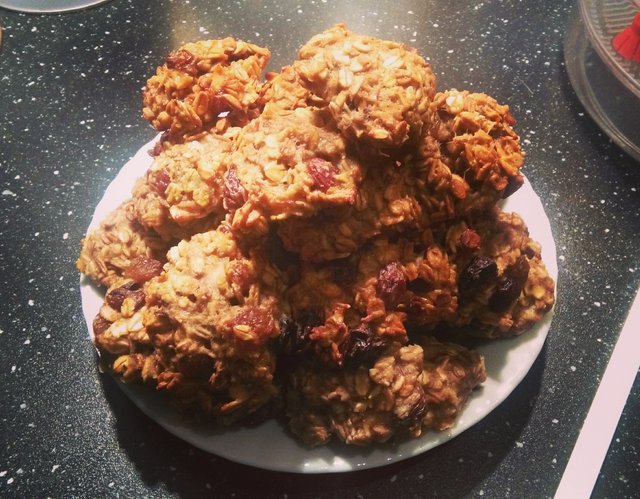 Ready to be eaten
To make this quantity as you can see in the photo you will need:
2 medium size eggs (in fact size is immaterial),
1 banana,
110 g oatmeal or rye flakes (or which one you exactly want) ,
12,5 g of honey,
20-30 ml of coconut oil (It can be also rice oil),
30 g of raisins (you can add also cranberry instead or you do it without any delicacies),
In fact you can add or mix different types of flakes, also you can change type of oil, I have tried on coconut and rice and both are good. Also you can mix delicacies to obtain better taste!
What next?
You need to mash up banana with a fork or just mix it, after that you need to add eggs, liquid oil and honey and mix again. Once it has smooth consistency add oatmeal and raisins. Mix it with spoon and leave for 15 minutes. After that time form cookies and give it to oven for 15 minutes.
Be happy that you are master chef! 😉