Cultured Food
Keep Your Digestive System Healthy And You Will Feel Happy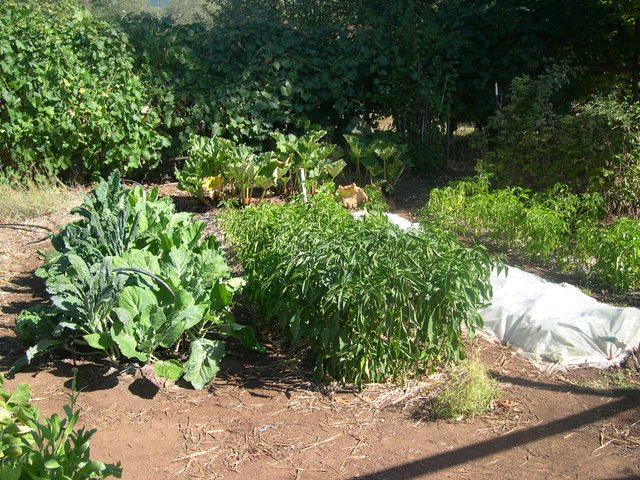 Kale and collards, along with some peppers growing in my garden.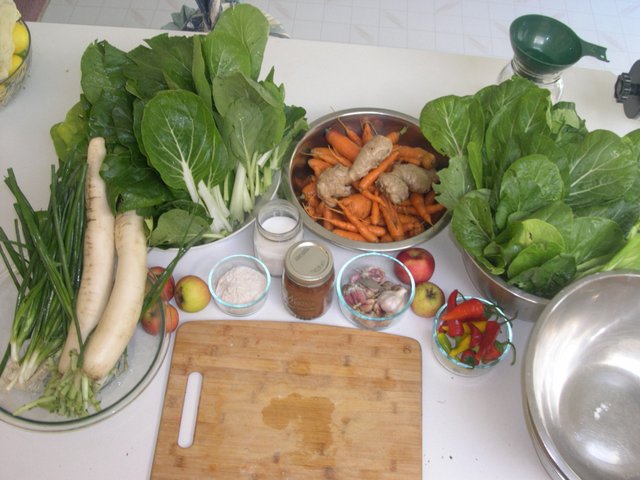 I spy some carrots, bokchoy, wild apples, peppers, and spices to add to my fermented mix.
Collards and kale are bitter tasting so I puree apples, shred sweet carrots, chop up some onions and garlic, add some sweet greens like cabbage and bokchoy. The stinky part of bokchoy are the radishes, if I add radishes I have to eat my fermented greens outside. My family hates the smell, I love it! The radishes make the mix stink like something died! I love the taste fermented radishes give to the mix. All veggies are from my garden.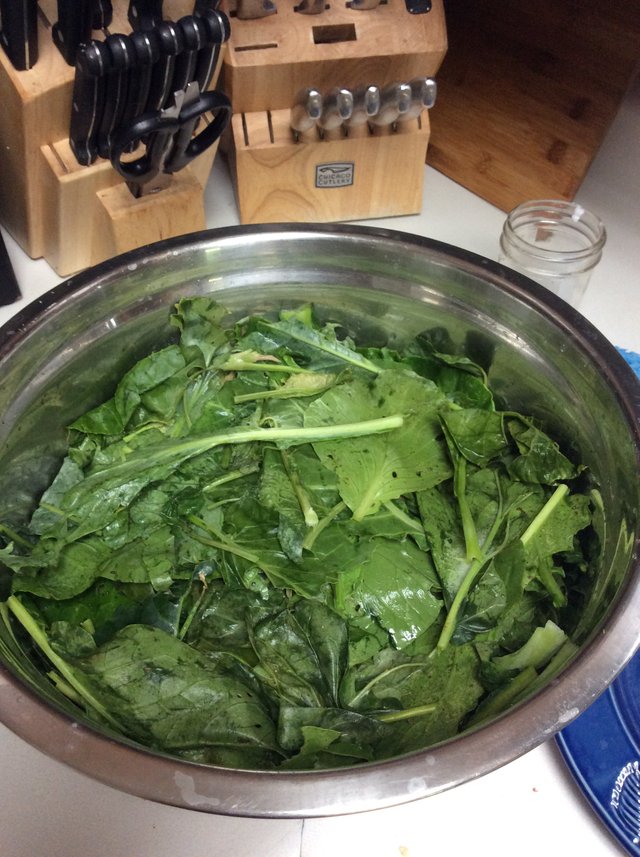 I sprinkle with canning salt and knead the salt into the leaves, bruising the leaves. I put a plate on top of the greens and let sit for a good 8 hours before I stuff everything in a jar.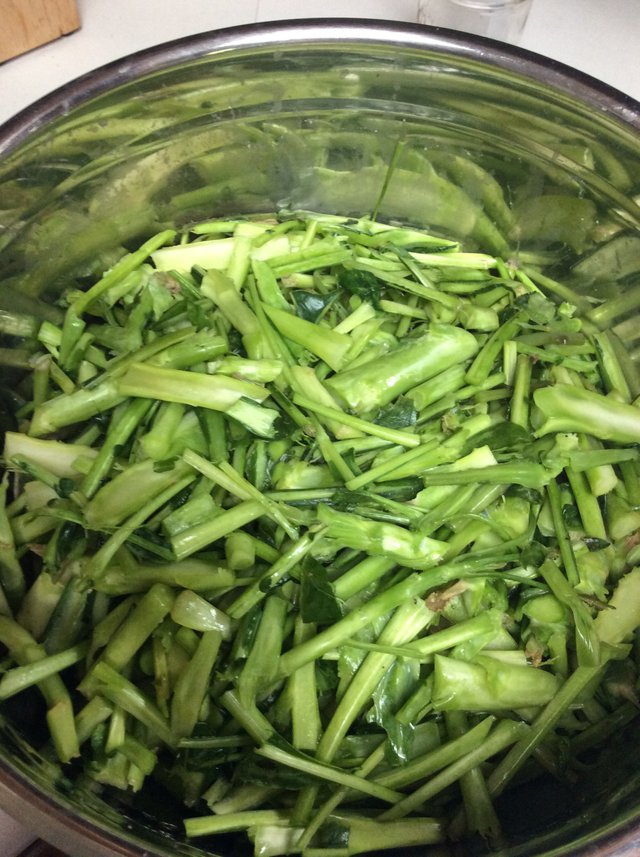 I save the stems and grind up in my blender for vegetable soup stock. I was raised not to waste anything.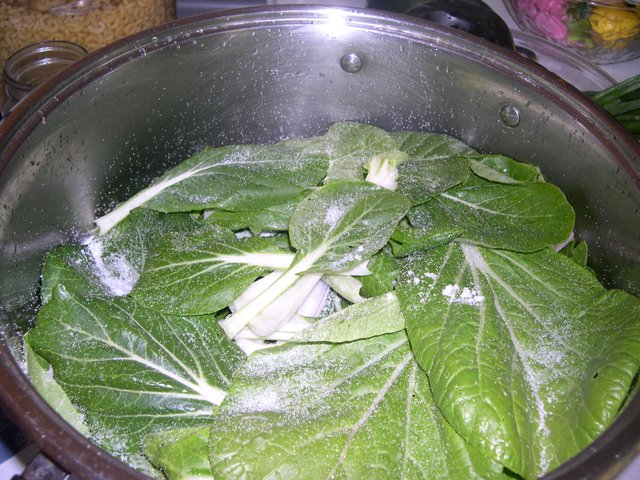 Salted bokchoy greens. Time to pack the greens back into my soon to be fermented veggie mix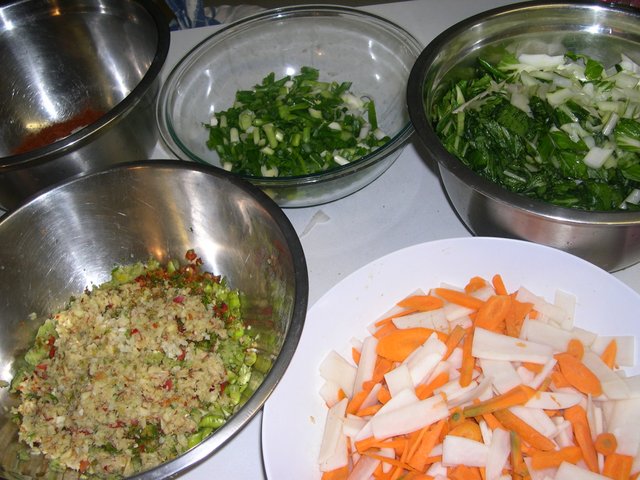 Everything is prepped and ready to mix together. I let my jars full of veggies, fruit puree, and spices sit for 3 to seven days in a dark cupboard. Once the mix is bubbly I put the jars in my refrigerator and I can keep the mix through the winter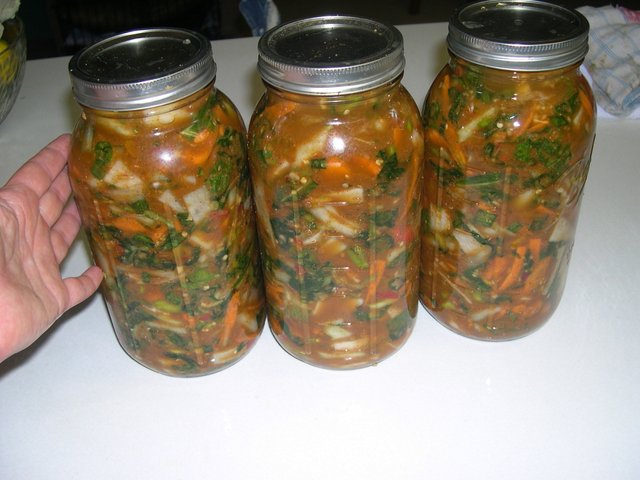 Half gallon caning jars make excellent fermentation jars. Many people buy special clay pots for culturing their veggies. I am too cheap, I use my canning jars and have had successful batches of veggies for years. I make sure the top of the jar is covered with a layer of olive oil or add weights to the top of the greens to keep them under the brine, which prevents mold from growing. Once mold starts I have to throw the batch out. Even a light dusting of mold has filaments that have already spread through the mix. I use a cloth to cover the top of my jar to keep the bugs out. I don't use a mother culture, I like the wild fermentation process.

Pickle the stems, fermented greens.
Is fermented food a recipe for good gut health? By Philippa Roxby Health reporter, BBC News
NCBI.gov's research on gut health, probiotics, and mental health.
Glyphosate formulations and their use for the inhibition of 5-enolpyruvylshikimate-3-phosphate synthase. Our gut bacteria have the same pathway (shikimate pathway) as the pathogens this patent is talking about.....sigh
Fermented foods, microbiota, and mental health: ancient practice meets nutritional psychiatry

Recipe For One Quart Of Fermented Greens
You can use what ever greens you like or can find in the store. Be sure to use organic veggies because many times pesticides and herbicides will prevent a healthy culture growth. Glyphosate in the herbicide Roundup has been patented as an antibiotic
Kale and collards are very bitter and will make a strong tasting fermented veggie. I would add some sweet greens and even a pureed banana or diced/pureed apples to even out the bitter taste of the greens.
Each species of green leafy vegetables have their own texture, collards and kale can be tough and chewy which I like. I like chewy food when I get in that, "I have have a snack mood."
You can mix mustard greens or add chili mixes to give your mix a bite
If you have problems digesting broccoli you will have problems with collards and kale, they have the same chemicals that cause gas and distress.

Ingredients
Two large bunches of greens will fill one quart jar. Cut up leaves and stems into bite size pieces. Add extra yummies and you will need more jars.
Three tablespoons of sea salt, that's almost 1/4 cup of salt
Three cloves of garlic, add more if you like garlic like me!
Instructions
In a large bowl sprinkle salt over your greens and roughly rub salt over green leaves to bruise and prep leaves for fermentation. This will release the liquid from the greens and become your brine.
You can chop up the garlic, I squash them and throw them in the half full jar of greens and add the rest of the greens to the jar. Squash them all in there tightly.
Make sure the mix is covered with liquid, add some boiled water if you don't have enough brine. I add a weight to the top of the mix, I use a cheese cloth bag full of sea rocks that have been sterilized or I cover the top of the brine filled jar with olive oil. The salty water or the oil prevent fungus and mold growth. Let sit anywhere from 3 days to 14 days. The longer you let the mix sit the tangier it'll taste. I like mine well fermented! Store in a dark cupboard and move to fridge once fermented to your taste.




A link to My Blog