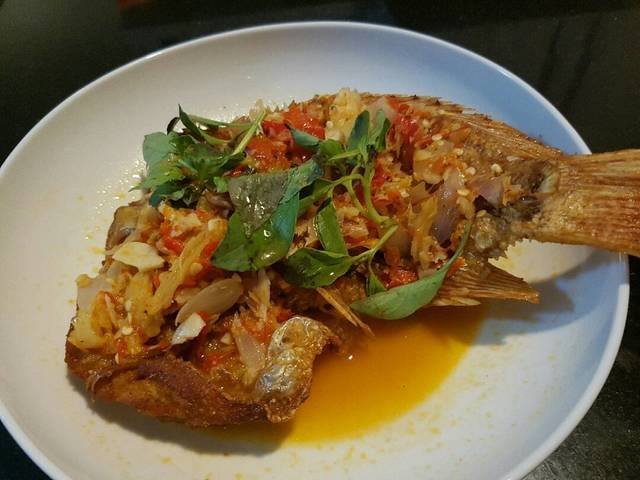 Sauteed Tilapia Fish Rich flavor. because using the spice in cooking paddling until cooked but burnable Parboiled.
Ingredient for 2 servings:
500 gr Tilapia
seasoning reply Burned
6 pieces of red chili
6 spring onions
2 cloves of garlic
1 vertebra ginger
3 pieces of key meeting
1/2 segments galingale
additive
1 piece of green tomatoes sliced thick
Handful basil leaves
1 orange juice
Tastefully corresponding salt
1/2 teaspoon pepper
Tastefully appropriate flavoring
Tastefully according brown sugar
250 ml water
How to :
1.Wash the fish, split wide, sprinkle with lemon juice, salt, pepper. Then fried until crispy

2.While waiting for the fish is cooked, Roasted spices that will be mashed. A half-baked. Actually, the original way it was burnt using charcoal and grill.

3.Blend all ingredients that have been roasted. Need not too devastated.

4.Cook seasoning mashed with water to the boil. Put pepper, salt, brown sugar and flavoring. Up in the sense of fitting turn off the heat. Then give the juice of half a lemon. When more acidic like vinegar can be added.

5.Finally. put fish in a dish, sprinkle with green tomatoes that has been sliced and basil leaves. Sprinkle with seasoning sauce. Ready to be served with hot rice.

by: @raseukinapobri