The Abaca Baking Company is one of the many restaurants under Abaca Group, popular for its several restaurants because of its top-notch food and excellent service that spread like wildfire within the island of Cebu.


This place has everything that you are craving for when it comes to comfort food, they have quite enough variety on their menu for breakfast, lunch and dinner. (Breakfast is served 24-7)
Luncheonette Burger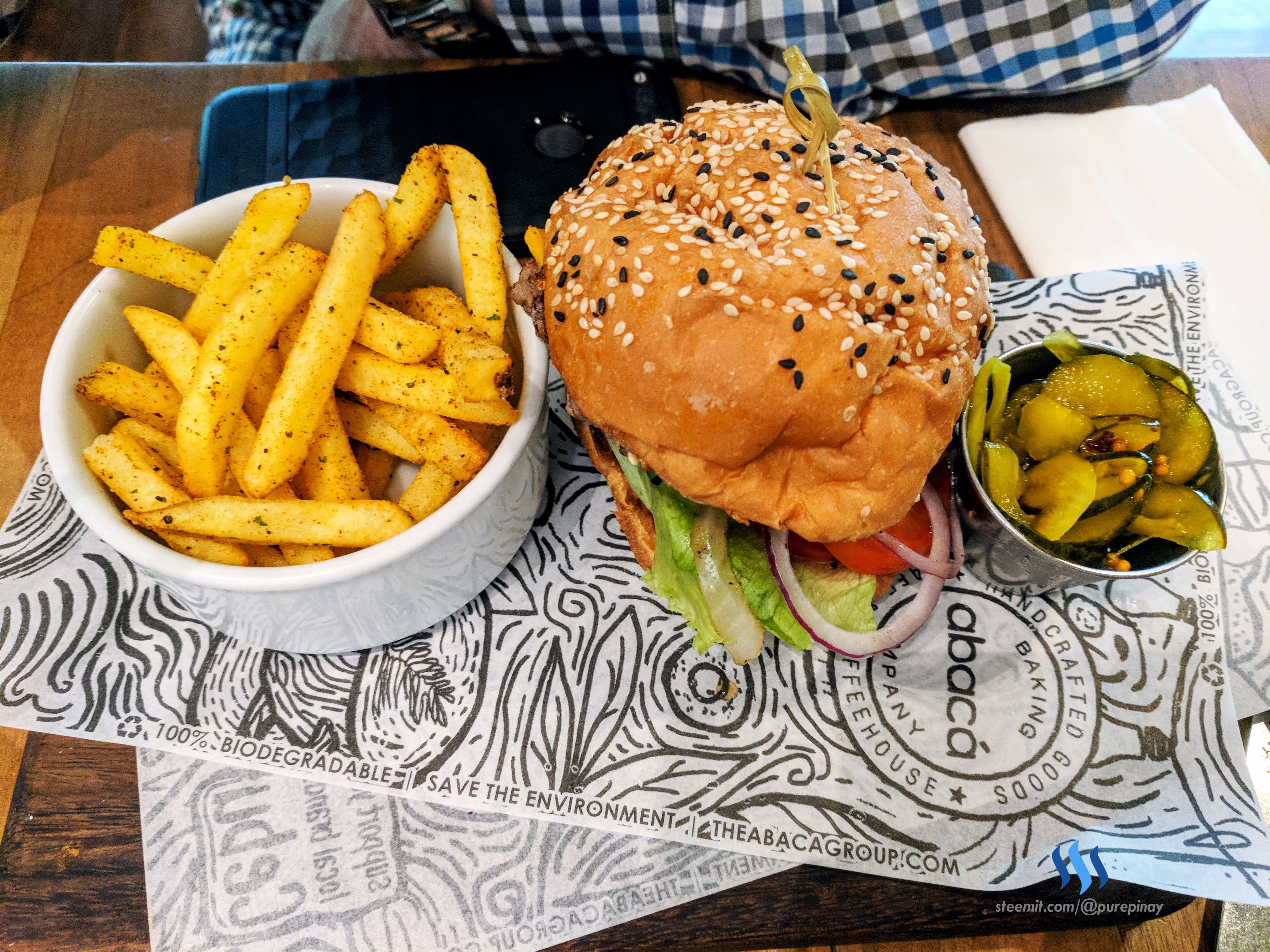 Although they have an American short-order restaurant named 'Luncheonette', they also offer this at ABC. Homemade burger buns, grilled smashed brisket, belly and chuck, American cheese and their special sauce. It also comes with fresh potato wedges and their very good homemade pickles... what else can I ask for?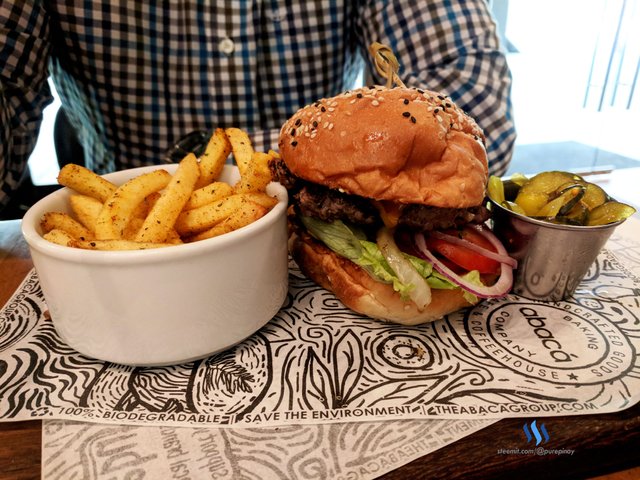 So many times we ordered this burger to share with another dish but I always regret sharing it with him because he likes to give me less portion that I should be getting, lol. He would tell me 'I should get the bigger cut because I am bigger than you' and I would raise my right brow but I just ceased.
Then I would tell him, we should just order one each but then I always want to have a different dish on our table. Women can really be complicated ha? lol
Traditional Meat Pie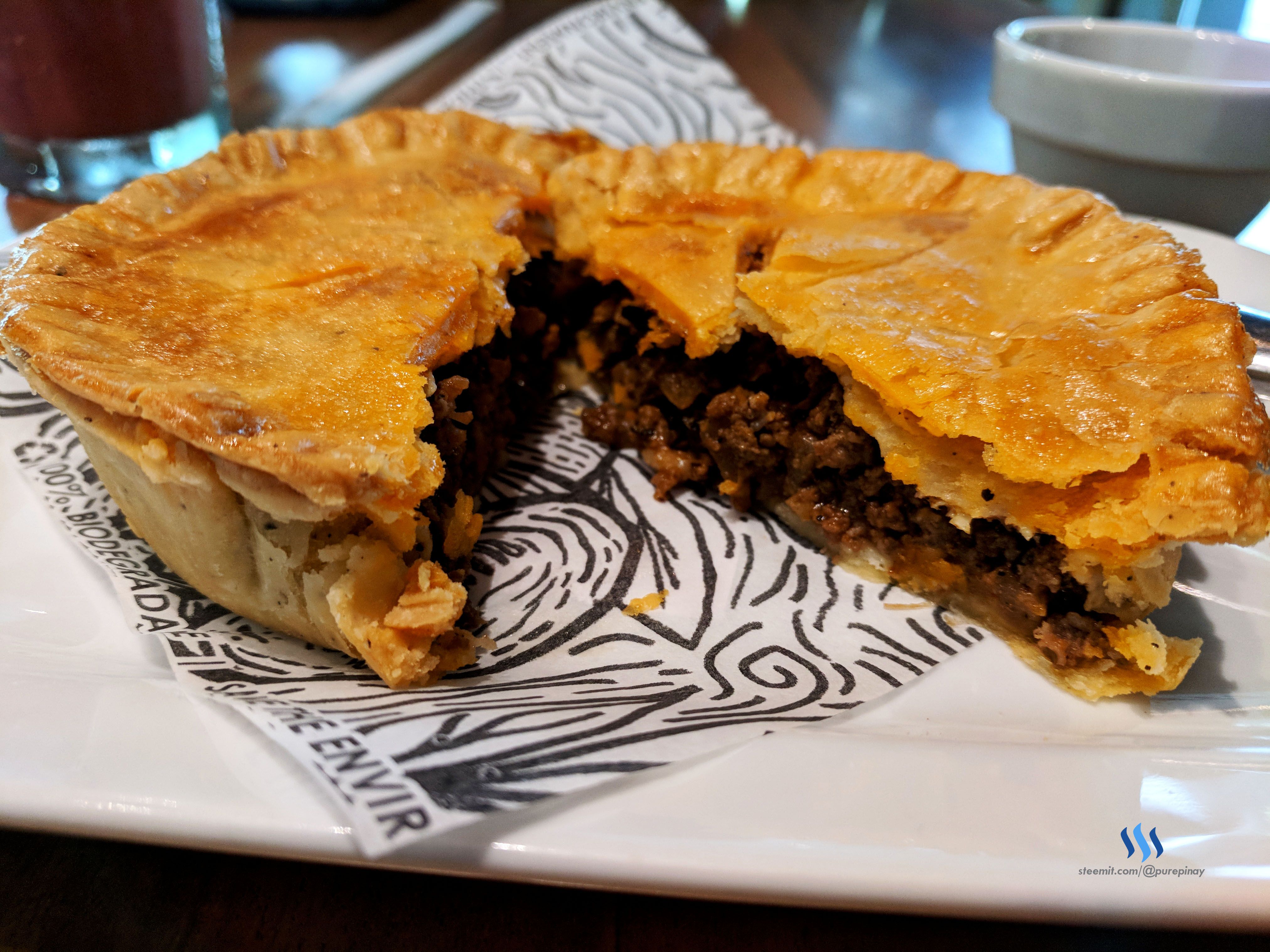 While my boyfriend and I were waiting for the main dish that we ordered, I went up to the counter and just looked through the freshly baked goods and I saw they have a meat pie. I never had a meat pie before other than dessert pies so I thought I would try this out.
If I remember correctly, Genesis, one of the staff told me that it's a combination of pork and beef. The stuffing was very tasty and I enjoyed the pie crust, it was flaky and moist. For some cooks out there, we know that baking a pie crust isn't always easy. It can be bland and boring if you haven't perfect any pie crust recipes and the key answer to an excellent pie is the crust! ;)
Mashed potato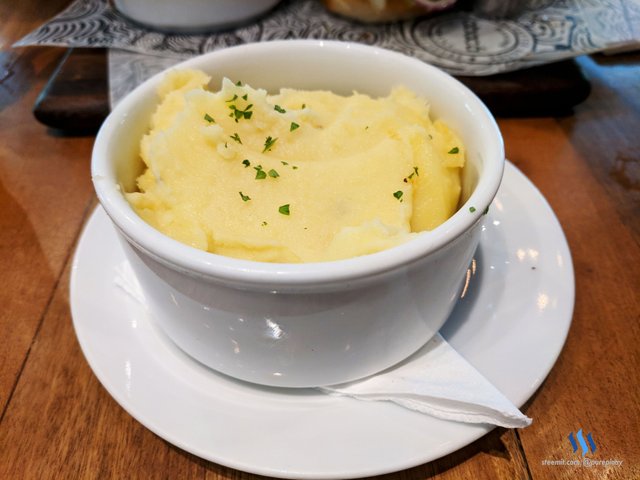 The best tasting mashed potatoes I've had in a restaurant! Am not even sure which one is better, my mashed potato or this one ;p
I 've had some awful mashed potato in other restaurants, how awful? So bad that I wanted to go into their kitchen and boil some potatoes and show them how easy it is to make an excellent mashed potato, am not even kidding, lol. It' really upsets me when they can't make a simple dish like this.
Bakery Benedict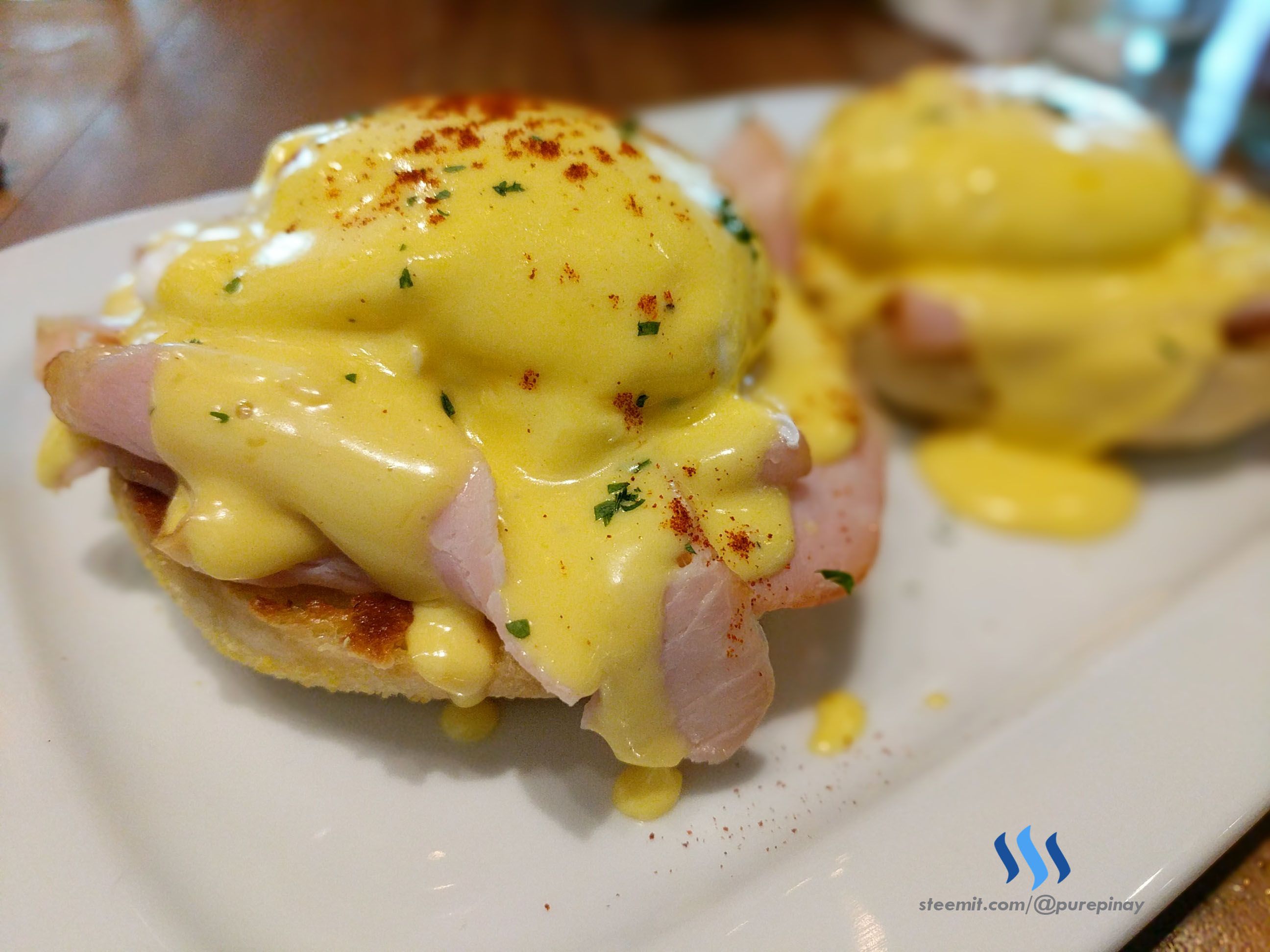 One of the best dishes on the breakfast menu is the bakery benedict but it doesn't mean you can only have it for breakfast, which I'd have this anytime of the day ;)
It has two perfect poached eggs, shaved ham, two halves toasted English muffins and poured with some rich tarragon hollandaise sauce! One the menu you select from shaved ham, smoked salmon, crisp bacon, or corned beef.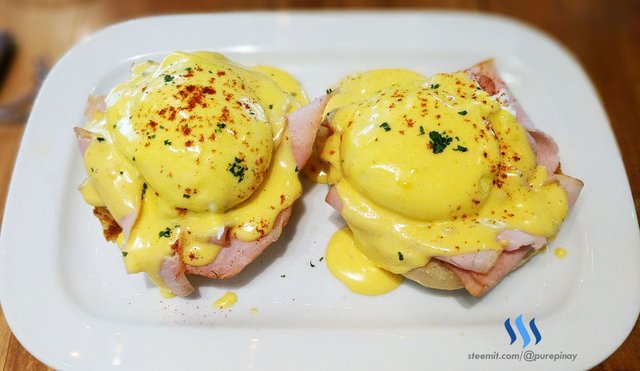 I think if I wasn't outside I would lick the whole plate just because the sauce what THAT good ;D
Strawberry Banana Watermelon Smoothie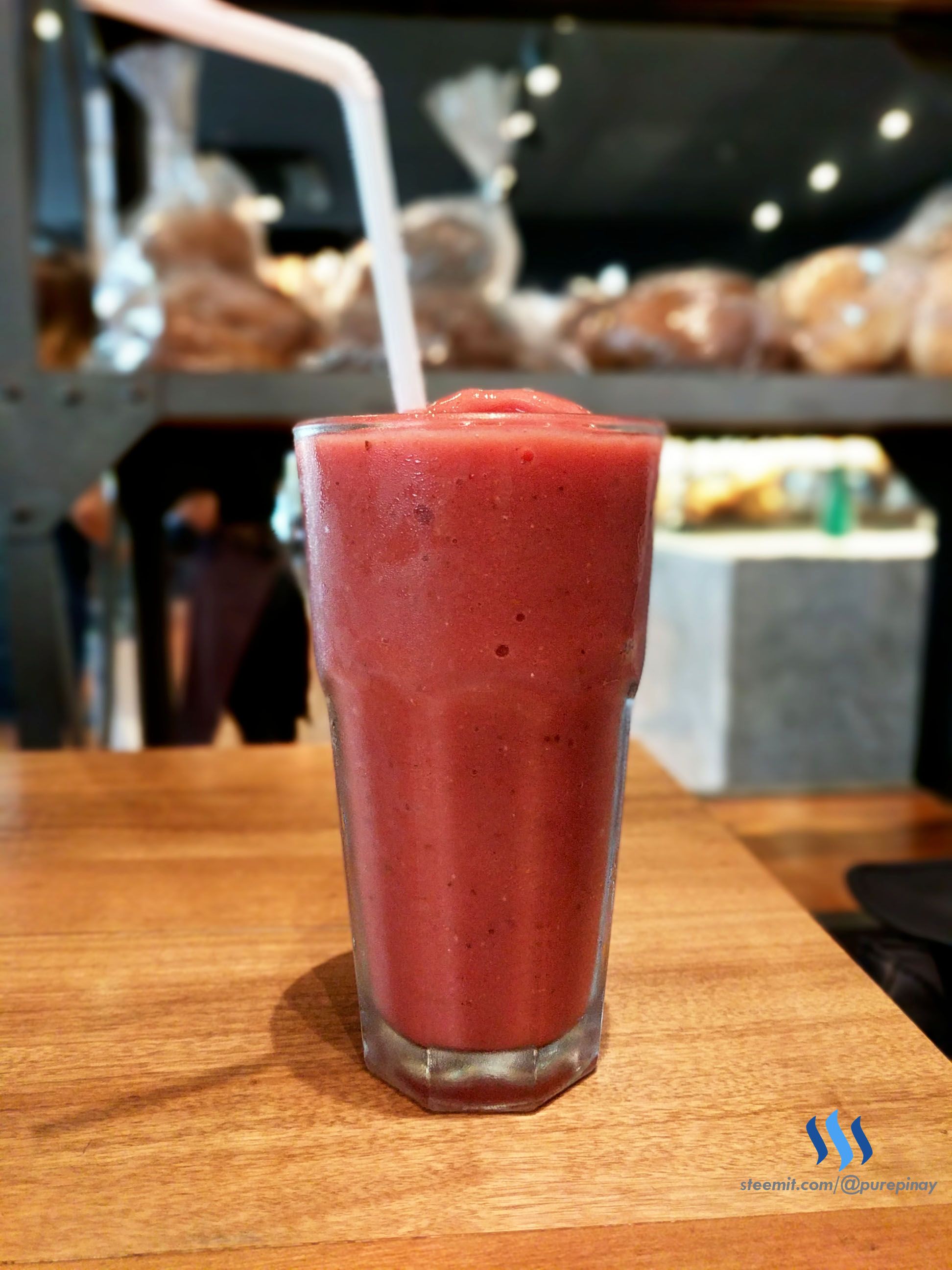 I also ordered a strawberry-banana-watermelon smoothie and I wasn't surprise since they're always consistent. I tried their other smoothies and they're all very good but this one is my favorite.
Dessert at Abaca IT Park
After our lunch at Abaca Ayala Mall, we spent about two hours roaming around the mall and bought some stuff that we need before going home.
Headed back to our condo, we weren't done with Abaca for the day so stopped at the ABC branch at IT Park and had some dessert. ;p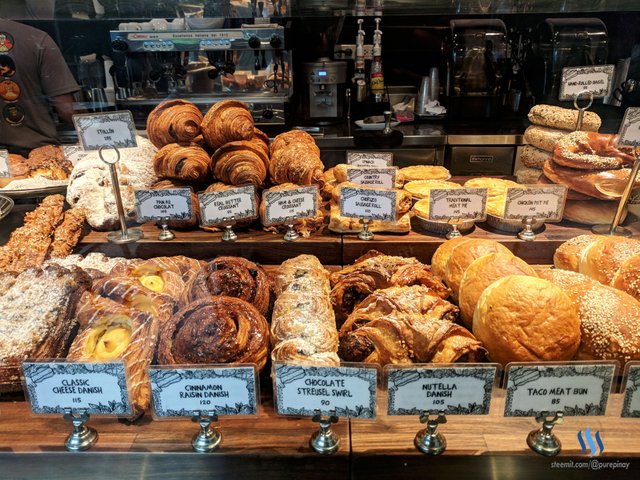 Now, Telll me this isn't making you hungry!- Because as I am writing this, my stomach is grumbling and am thinking to ask my boyfriend if we can grab some thing at the closest Abaca Baking Store ;p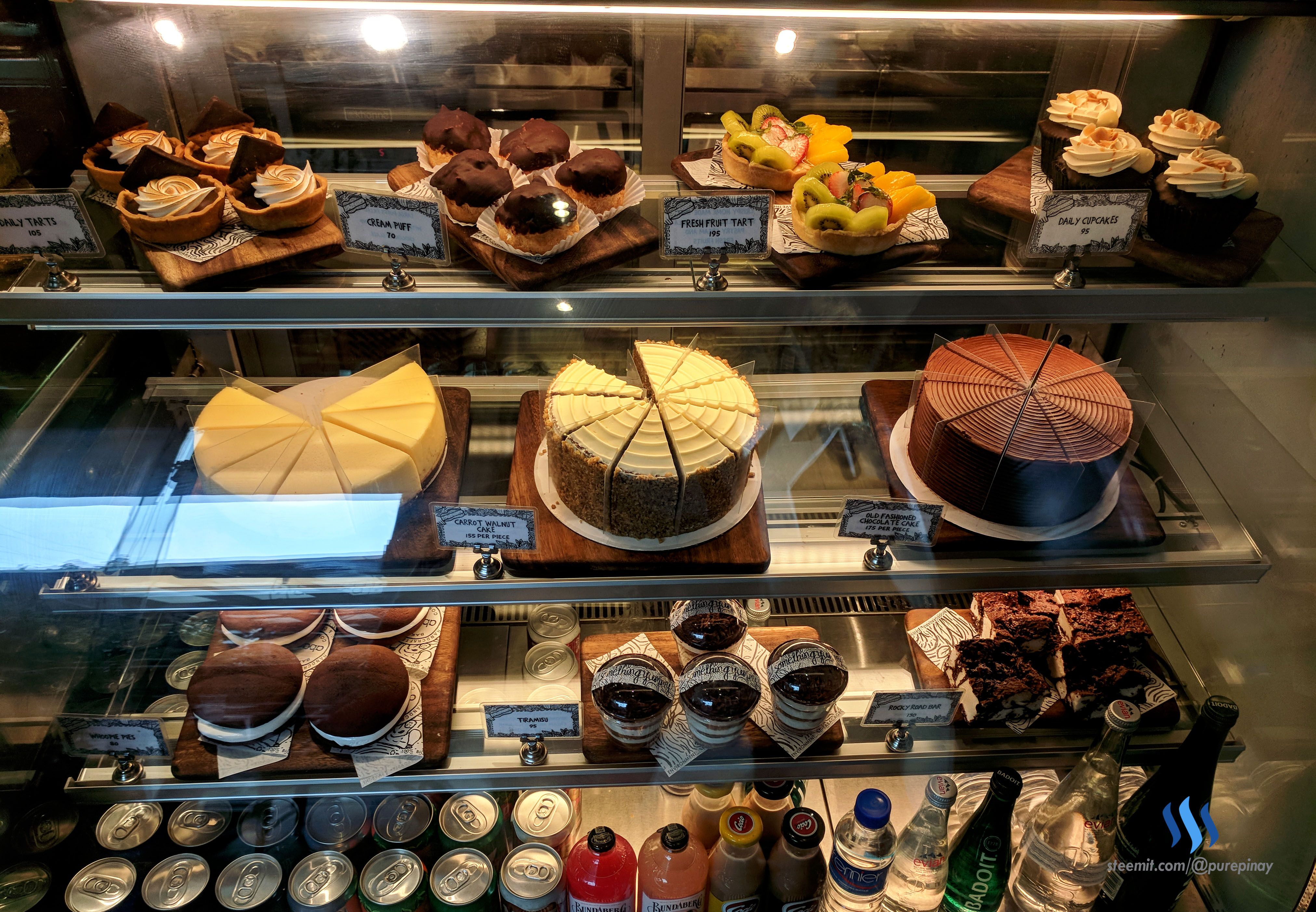 Who doesn't love sweets? The desserts here are to die for! If you happen to visit any of their branches where the time strikes for a 50% up to 70% off on selected items then take that chance to grab some treats.
Carrot Walnut Cake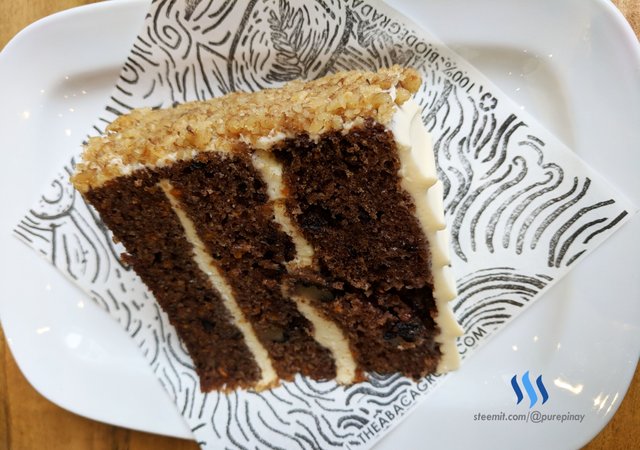 Overwhelming as it is for me whenever I visit this place, the variety of dessert is what I am always after for. One of one favorite cake is the carrot walnut cake. It has a balance of flavor from the carrots and walnut, oh warning this one is so addicting.
Peanut Butter Chocolate Chip Cookie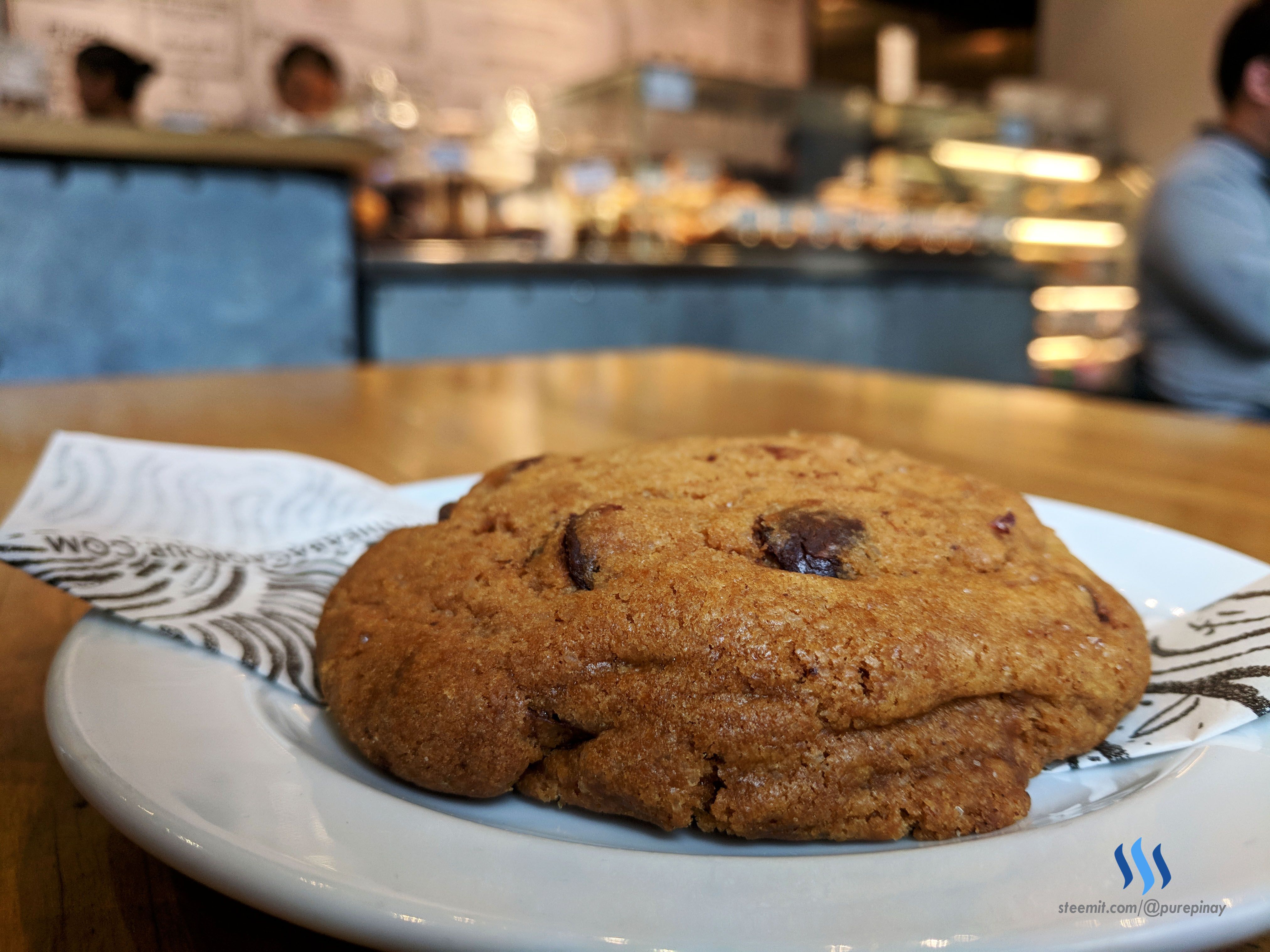 If it's got peanut butter, I go to have it!
My boyfriend and I ordered one slice each of carrot walnut cake and two peanut butter chocolate chip cookie. I couldn't take a good photo of the cake because I couldn't wait to eat plus my boyfriends eats fast (coz he is used to eating fast while he was in the Army) So sometimes I feel like I have to rush to finish my food once he is done, lol. I like to eat slow and appreciate every bite, I enjoy the food better that way. So this time, I didn't rush and I took all the time I had to endulge in my lovely desserts.
I highly recommend this place to all food-fanatics out there. For every delicious calorie is a value for money!
Abaca Baking Company has now 8 locations in Cebu:
IT Park Cebu, TGU Tower
IT Park Cebu, Filinvest Cyberzone
Ayala Cebu, Rustan's. 2/F
Ayala Cebu, The Terraces, G/F
Sm Northwing
Crossroads Mall, Banilad
Robinson's Cybergate, Cebu City
Paseo Arcenas, Banawa
Since, I am from the future, I wish you all a bountiful weekend! ^_-
XOXO,
Gilaine