How to Grow Lettuce at Home in India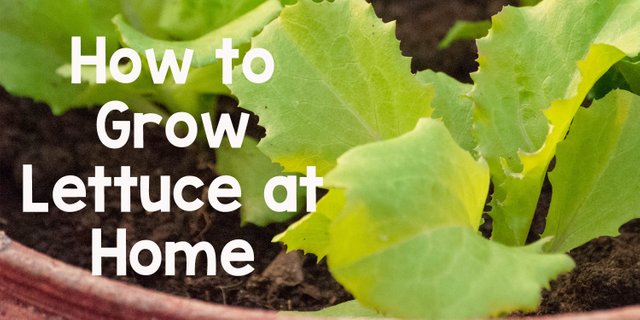 My first introduction to lettuce was through a burger. When I got the burger with green leaves protruding out from it, I was like..... 'Oh I think they forgot to cook the greens'! But with the first apprehensive bite of the burger I fell in love with the crunchy green thing which I later found out was known as lettuce. So naturally when I started growing veggies on my terrace, one of the first things I wanted to grow was lettuce. But the seeds were not available locally and the local gardening store guys were blissfully unaware of it. After some online search I managed to procure seeds and since then I have been growing different varieties of lettuce every season unfailingly.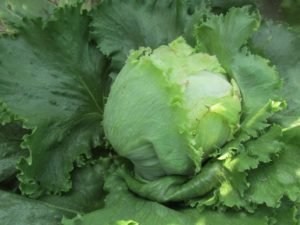 Iceberg lettuce
Though growing lettuce in containers seemed to be very straight forward I had some failures with it. And with experience I have learnt my lessons. And in this post on How to grow lettuce at home in India I am going to tell you all about it.
Quick Reference Table to Grow Lettuce in Containers
| Item | Value |
| --- | --- |
| Growing Temperature | 15 - 25 °C |
| Germination Temperature | 15-20 °C Ideal |
| Germination Time | 6-10 days |
| Soil pH | 5.5 to 6.8 |
| Sunlight Need | 6-8 hours per day (in lower temperature) |
| Preferred Planting Method | Transplanting |
| Container size | 3 liter |
| Time to Harvest | 50-60 days from germination |
| Harvest Period | 30-60days |
| Pollination | Not Applicable |
| Typical Pests | aphids, cutworms |
| Typical Diseases | Leaf spot |
| Best season to grow in India | November to February |
Lettuce Varieties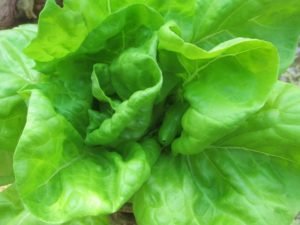 Butter head variety lettuce
Unlike what I thought initially of lettuce being just this crunchy green leaf, lettuce actually comes in different sizes, textures, tastes and colors. There are four main types of lettuce. Namely iceberg, butter head, loose leaf and Romaine. Out of this only iceberg is the very crunchy/crispy variety. Iceberg has the longest crop cycle period followed by Romaine. Loose leaf and butter head varieties are ready to harvest faster. In high heat conditions lettuce tends to bolt due to stress and becomes bitter in taste. Iceberg head also does not form well when temperatures go up and it also tends to become bitter. Hence if you have a short winter and you want to grow lettuce at home, it is better to go for loose leaf or butter head varieties.
Germination of Lettuce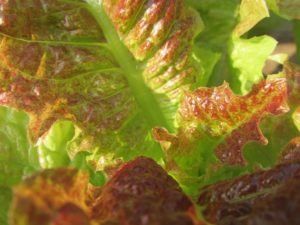 Loose leaf red variety lettuce
The first mistake I had done when I started to grow lettuce at home is to germinate it at the wrong temperature. Since I really wanted to grow lettuce as soon as possible in my garden I put the seeds in germination tray in Aug-Sept when temperature was still higher than 30°C. And when they did not germinate I thought the seeds were not good. But later when I tried to germinate the same seeds in November they germinated in 5-6 days. Temperature plays a very important role in germination of any seed and for lettuce temperature has to be lower. Otherwise seed goes into dormancy. Ideally if the temperature is below 20°C germination rate is good.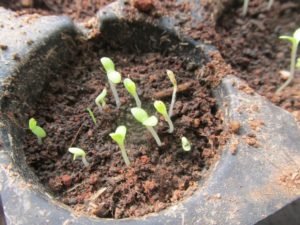 Lettuce seeds germinated successfully
For germinating lettuce seeds prepare seeding tray as usual using
seeding tray mix
. Place 3-4 seeds in each of the holes and cover loosely (about 3-4 mm) with some coco peat. Water the tray bottom up so that the soil is not disturbed. Place the tray in a shaded are so that lower temperature is maintained. Keep the soil moist and never let it dry up. When seeds germinate move the tray to a sunny area. If the temperature is on the higher side then keep the tray under partial shade (shade house). In about 20 days after germination, the lettuce seedlings will be ready to be transplanted. When you grow lettuce at home you may not have a shade house. You can create partial shade using a cotton cloth.
Grow and Manage Lettuce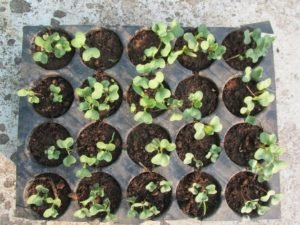 Lettuce Seedlings
Lettuce are shallow rooted plants and hence you don't really need a deep container. A standard 3 liter container is good to grow one lettuce plant. But make sure you fill up the pot with good quality
potting mix.
When your lettuce plants is ready to be transplanted just make a depression at the place where you want to plant it, place the bulb of the root, cover with soil and firm it lightly with your palms. And then water the plant well. After about 4-5 days of transplanting you would notice your lettuce will start growing.
Lettuce needs the soil to be moist all the time. If lettuce gets water stressed then it may not recover. Hence take care not to let the soil dry up anytime. As lettuce is shallow rooted the top part of the soil needs to be moist. Hence regular watering is needed. You need to water your lettuce plant twice a day at least. Few of my first lettuce plants got water stressed as I was watering them only once in a day. They were planted in really small containers and the water in the soil would dry up very quickly. And by the time I realized the issue it was too late. Since then I water my lettuce plants twice a day as a thumb rule.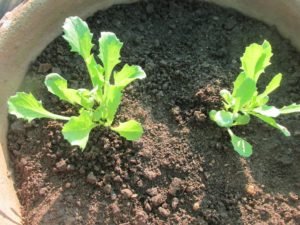 Lettuce transplanted
Lettuce is a sun loving plant, but only so in cold climates. If your daytime temperature is going beyond 25°C you need to protect your plants from heat. you can do so by keeping your lettuce plant under partial shade. I use a 75% sun block shade cloth in my shade house as sun rays are quite vertical and temperature is quite high here. Other option is to avoid your lettuce plant from being exposed to mid day sunlight. Keep your plant in a place so that it gets direct morning sunlight and later in the day the area comes under shadow so that your plant is not exposed to harsh sunlight.
Now coming to pest and disease side the good news is that you will not face much problems with lettuce. If you have planted your lettuce in good quality potting mix, taken care to water your plant right and protected it from harsh heat while making sure that it gets enough sunlight then in all probabilities you'll not have any problems with growing lettuce at home. But in case you still get problems, it will be with sucking pests like aphids. You can use a jet spray to get rid of them.
Harvesting Lettuce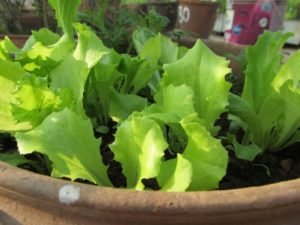 Loose leaf lettuce in growing stage
The taste of lettuce is very sensitive to when you harvest it. A little late and all you'll get is bitter tasting leaves. Hence its okay to be on the safer side and harvest your lettuce a little before time than otherwise. Loose leaf lettuce can be harvested continuously. Just leave the bigger leaves on the sides and the younger leaves too. Pluck the almost mature leaves carefully. Take not more than 3-4 leaves from a plant. And when you have harvested those leaves do not harvest again form the same plant for 8-10 days.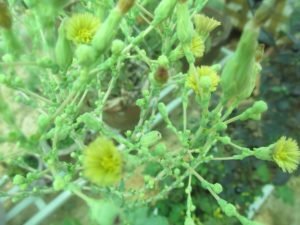 Flower of lettuce. Lettuce seeds can be saved for the next season.
As we grow for our own consumption and sharing with our friends and neighbors we harvest lettuce exactly when we need them. For example if we are making a salad, then we get everything ready and just before tossing everything together we go to our garden and get the required amount of leaves. It is best to harvest lettuce just before you are going to eat them as the fresher the leaves the better the taste. And by the way, this is the best part when you grow lettuce at home; You cant get them any fresher.
With this tip I am going to leave you here hoping that this winter season you are going to grow this simple, delicious plant in your garden and enjoy it with your family and friends.