How to Grow Cluster Beans in Containers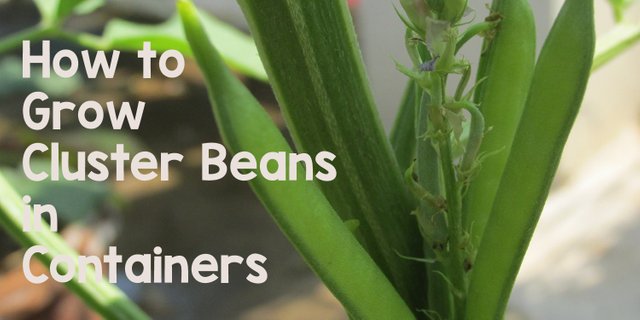 Cluster beans is something that I never liked eating. It has a mild bitter taste which takes a little bit of getting used to. But when you acquire the taste it can become one of your favorites. For me the taste was never a problem. It was the texture which I disliked. The cluster beans that you typically get in market are a little hard in texture and the two sides of the bean has a string like hardness to it. Hence I never ate cluster beans though it is one of my sister's favorite. It took me years of persuasion by my sister to grow cluster beans in our garden. After the first harvest I tried cluster beans just to check if they taste any different from the ones available in market (also because I had grown them :)). And now they are something for which my sister and I fight on the dining table. Read on to find out why and also to learn How to Grow Cluster Beans in Containers.
Quick Reference Table to Grow Cluster Beans in Containers
| Item | Value |
| --- | --- |
| Growing Temperature | 30 - 40 °C |
| Germination Temperature | 30-35 °C Ideal |
| Germination Time | 2-6 days |
| Soil pH | 6.5 to 7.5 |
| Sunlight Need | 6-8 hours per day |
| Preferred Planting Method | Direct sowing |
| Container size | 10 liter |
| Time to Harvest | 60-70 days from germination |
| Harvest Period | 50-60 days |
| Pollination | Not Applicable |
| Typical Pests | Pod borers |
| Typical Diseases | Leaf spot |
| Best season to grow in India | March to September (In case of heavy monsoons March to June) |
Planting Cluster Beans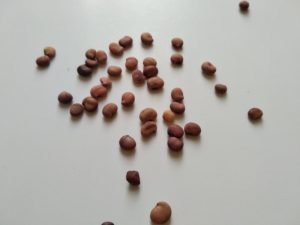 Cluster Bean Seeds
Cluster bean has a tap root as it is a drought tolerant crop and hence needs a container that is at least ten inches deep. Our standard
potting mix
works well for cluster beans. In case you are planting on the ground make sure that the soil is enriched with some organic manure. Cluster bean grows well in warm conditions. Hence March to September are good months to grow them. But they do not do well in places experiencing heavy monsoons. For such areas the best months to sow your seeds are March to May and then you can harvest up to August.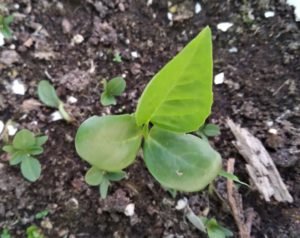 The first true leaf in a cluster bean plant
As cluster beans have a tap root they do not perform well when transplanted. Irrespective of whether you have to grow cluster beans in containers of on ground, you should sow the seeds directly in soil. Sow 3-4 seeds at one place and remove the weaker plants when they are 4-5 inches tall. Sow the seeds about 1/2 inch under the soil. Good seeds under suitable condition germinate even in two days. But it may take even up to 6-7 days sometimes for germination to happen. For faster germination you may soak the seeds in
Amrut Jal
for 10-12 hours before sowing. When planting on ground or bigger containers keep about 12-16 inch distance between two plants.
Growing Cluster Beans in Containers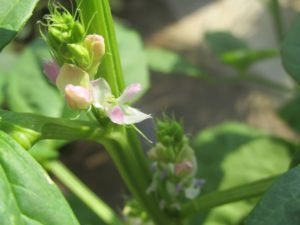 Beautiful flowers of Cluster Bean Plant
When cluster bean young plants are approximately 4 inch tall, nip off the weaker plants keeping the strongest plant intact. As this is a warm season crop water will tend to evaporate quickly from the soil. Hence mulching becomes a must especially when you grow cluster beans in containers. Soil can have a thin layer of organic mulch at the time of sowing the seeds. When plants have grown to a size of around 6 inches the mulch can be supplemented so that it is around 4 inches thick.
Cluster bean plant need 6-8 hours of direct sunlight. They do not do well in shaded areas. The daytime temperature also needs to be in the thirties for the plant to grow well. Though cluster bean plants can tolerate high temperature, they tend to giver lower yield when temperature starts going beyond 40 degrees Celsius.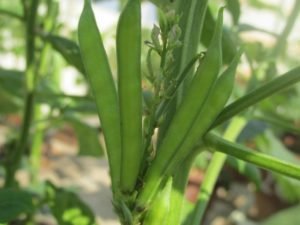 Immature Cluster Bean Pods
Summers are quite windy in this part of the world. Hence young cluster bean plants need support in the form of staking. But under normal wind conditions it is not really needed. Cluster bean plants grow up to 3-5 feet when grown in containers. First sign of flowers can be seen in about 50-60 days after germination. This is the time when you must supply the plant with some organic manure like vermicompost. Till then routine irrigation with
Amrut Jal
, Jeevamrut or any other organic soil conditioners once every 12-15 days is enough. Cluster bean plants are not heavy eaters hence you don't really have to supplement the soil with compost till they start flowering.
Harvesting Cluster Beans
Cluster beans like all other beans should be harvested with a pair of garden scissors. Pulling by hand damages the plant and other young pods and flowers on the branch.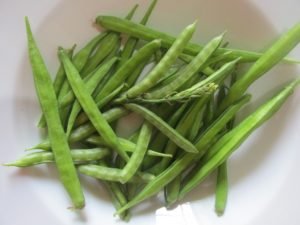 Harvested Cluster Beans Grown in Containers
But unlike the more popular french beans or long beans the flower to pod maturing time for cluster beans is higher. It takes about 10-15 days for pods to mature. But I accidentally discovered that marginally immature pods taste much better than fully mature pods. When harvested 2-3 days earlier the cluster bean pods were much softer and the strings on the sides were also very soft. Ever since then cluster bean grown in our garden has become one of my favorites too.