Growing These Four Herbs in Your Garden is Super Easy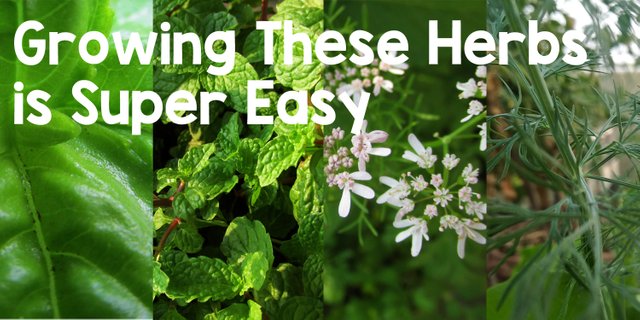 Sometime earlier I got a request from one of my readers to write a post on how to grow coriander from seeds. I was a little surprised that I had not made a post on it already. And when I checked I found out that I have not made any post on growing any herb whatsoever. Herbs are integral part of a terrace vegetable garden; not only they are easy to grow and pack loads of flavors for your food, but also because they act as pest repellents and thus help in pest management of your garden organically. So I thought of doing a post on how to grow different herbs. In this post I am going to show you how you can grow coriander, mint, basil and dill easily in your container garden.
Growing Condition for Herbs
| Item | Coriander | Mint | Basil | Dill |
| --- | --- | --- | --- | --- |
| Growing Temperature | 15 - 30 °C | 15 - 25 °C | 10 - 25 °C | 15 - 25 °C |
| Germination Temperature | 20-22 °C | 20-22 °C | 20-22 °C | 20-22 °C |
| Germination Time | 5-20 days | 7-15 days | 3-10 days | 7-15 days |
| Soil pH | 6 to 7 | 6.5 to 7.5 | 5.5 to 6.5 | 5.5 to 6.5 |
| Sunlight Need | 4-8 hours per day | 4-8 hours per day | 6-8 hours per day | 6-8 hours per day |
| Preferred Planting Method | Direct sowing | Direct sowing/From Cutting | Direct sowing/ Transplanting | Direct sowing/ Transplanting |
| Container type/size | 6-8 inch deep Broad container | 4-6 inch deep broad container | 10 liter | 10 liter |
| Time to Harvest from germination | 25 days | 40 days | 40 days | 40 days |
| Harvest Period | 10-15 days | 30-50 days | 30-40 days | 40-50 days |
| Edible Parts | Whole Plant | Leaves | Leaves | Leaves, stem, Flowers |
| Typical Pests | None observed | None observed | None observed | None observed |
| Typical Diseases | Leaf spot | Leaf spot, Rust | Wilting | Powdery Mildew |
| Best season to grow in India | November to March | November to February | November to February | November to February |
How to Grow Coriander in Container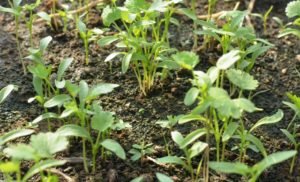 Young coriander plants
Coriander is grown from seeds; but you don't need to get coriander seeds from your gardening store. Just grab some whole coriander seeds from your kitchen shelf and you are good to go. For faster germination you can soak the seeds for 12-15 hours in water or Amrut Jal. For the container you do not really need a deep one as coriander has shallow roots. And shallow container is ideal for growing coriander. Just fill the container with potting mix. Spread the seeds all over the container and top it with quarter inch of potting mix. Then water carefully so as not to disturb the seeds. To keep the soil moist check everyday and water if necessary. In a few days time you should see coriander seedlings bursting out of the soil. Sometimes. it can take up to 20 days for coriander seeds to germinate. So you need to be patient and wait if the seeds do not germinate early.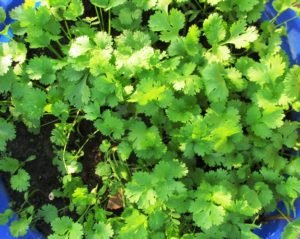 Ready to harvest coriander
After coriander seeds have germinated all you need to do is to water them as needed. You can water with Amrut Jal every 10-15 days for better growth of the plant; but its not absolutely necessary. To harvest you can cut the mature stalks and leave the rest of the plant in place. When coriander plant starts flowering or a little before it you can harvest the whole plant. All parts including the roots can be used in cooking.
How to Grow Mint in Container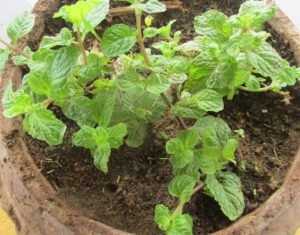 Mint growing in a six inch container
Of all the herbs mentioned in this blog, mint is probably the easiest to grow. Though seeds are available in the market you don't really need them. Just take a few mature stalk from a mint plant, remove the leaves except 2-4 top leaves and bury the lower part of the stalk in your pot. Water to make the soil moist and in about 10-12 days the stalk would have taken roots. Yes it is as simple as that.
Mint grows like a weed. You'll see mint spreading everywhere in your pot even from a single stalk. In about 30-40 days after your plant has taken root you can start harvesting. To harvest just nip the mature stalks at the bottom. You can use the leaves and stalks in salads, soups, tea and other beverages.
How to Grow Basil in Container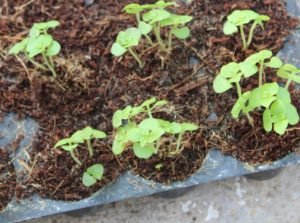 Basil can be started in seed trays
Basil has become a much sought after herb now a days. Stores are stocking it up in their shelves, but it is expensive and also not fresh most of the time. Ironically what most people are not aware is that it can be easily grown at home even by a five year old kid. All you need is good quality seeds which are available in most online stores.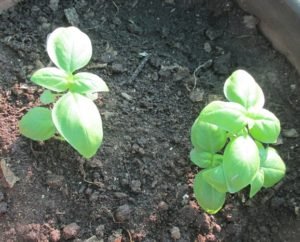 Basil transplanted in a pot
You can start your basil seeds directly in your pot. But if the weather is on the cooler side, then you can start your seeds in a seed tray and place it in a warm area in your house for faster and better germination. You can grow basil in a 10 liter pot, but even a 3-4 liter container would work fine. If you are planning to keep the plant near the kitchen window then smaller container works better from handling and space point of view. Fill the pot with good quality potting mix and put 3-4 seeds at the center of the pot. Cover with a thin layer of the mix and water gently. Good basil seeds germinate in 2-3 days; but sometimes they take about 7-10 days depending on the weather conditions.
Just like coriander you do not really need to do anything extra except watering the plant with a good soil conditioner every 10-15 days. Also make sure your plant gets enough sunlight. Basil does really well if it gets full sun. In approximately 40-50 days time after germination you can start harvesting basil.
How to Grow Dill in Container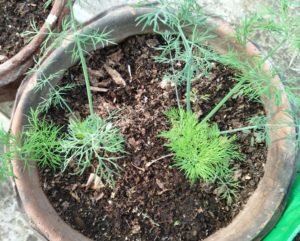 Two dill plants planted in a ten liter pot
Dill is not as popular as other three herbs I have listed in this post, but once you get used to its subtle flavor, you just cant do without it. Dill belongs to the carrot family and is grown from seeds and just like basil you can choose to grow it directly in the soil or start it indoors in a seed tray depending on the temperature. Dill can take a long time to germinate; so you need to be patient.
In case you have started the seeds in a seed tray, transfer it to a container after 10-15 days after germination. Dill grows well in a ten liter container, but anything around 7 liter will also work out fine. You can even plant two plants in a ten liter pot. In 40-50 days after germination you can start harvesting the leaves. The stems and leaves are edible parts of the plant. Even the flower is eaten and is often used as decorative garnish. The root is eaten too, though we have never used it in cooking yet.
End Note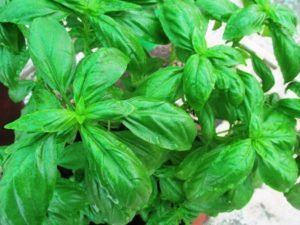 Ready to harvest basil
Herbs are sold in bunches in the stores and even by your friendly neighborhood vegetable vendor. Most often than not we use a part of the bunch and rest of the bunch is left in the refrigerator to rot. Instead of buying not so fresh bunches of your favorite herb and then leaving it to rot, it is always a better idea to grow your own fresh herb at home and use them as needed. Herbs are the easiest to grow and they can be grown almost everywhere; even on your windowsill. And if you are a gardening enthusiast, but don't know where to start, you can always start by growing herbs.
So get up your ath and grow some herbs.. :)