Fani, Aftermath and Way Ahead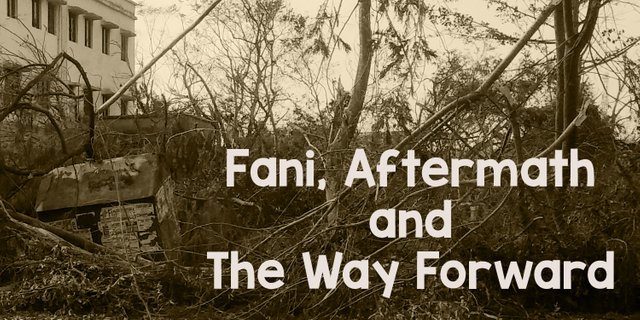 A terrace garden being on the terrace is most vulnerable to strong winds. And when the wind speed reaches 200 kmph, disaster strikes; quite literally. And that is what happened to our rooftop food garden when cyclone Fani struck on 3rd April 2019. Our garden was completely destroyed.
No Preparation can be Enough
Of late we have had the issue of monkeys in our garden. In the last six months or so the gardens raids by monkeys had become frequent and we had lost about 80% of our produce and young plants to them. Hence we decided to extend our shade house and then secure it with wire mesh (GI wire mesh) from top and all sides. This activity had cost us not only significant amount of money, but also a staggering amount of effort. It took about two months to get it done. And just when we thought that we had done everything to protect our garden from monkeys, mother nature shower her ire.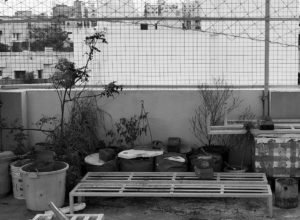 Containers stacked before the cyclone
We were alerted about cyclone Fani approximately 3 days in advance. The maximum wind speed was predicted to be around 200 kmph at the location of landfall. For Bhubaneswar the forecast was around 170 kmph. We moved all our pots and containers to the side of the terrace and packed them together so that they would not fall. Wind breakers were put in place using shade cloth and poly sheet to protect the bigger plants. Terrace was cleaned up completely making sure no small debris was left which could potentially block the drainage. Just one day prior to cyclone we even moved all our young plants indoors. We had done enough to minimize the damages; or so we thought.
What we realized when Fani hit us that no amount of preparation was enough to avert the disaster that was about to strike our garden.
Fani When it Hit us
We woke up to a cloudy day on 3rd of April 2019. By 10 AM the wind had become really strong, but not threatening. Coconuts had started falling from our coconut tree. But there was not much else happening. And then gradually the wind started to pick up. Trees started to sway wildly and the sound of the wind was becoming louder. Around 11 AM we heard glass breaking. One window of our neighbors' house had been knocked off. Next we heard sound of tin roof hitting against a wall. A tin roof flew away in front of our eyes from a house under construction. Then the trees started to fall. Branches of trees were breaking away left and right. Rain was not very heavy, but the wind kept pushing rain water inside the house at great speed even through closed windows. As were are trying to mop up the water we heard something constantly banging on our roof.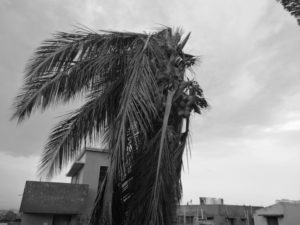 Our coconut tree after the cyclone
We went to check and what we saw was horrifying. One vertical support of our shade house (built with solid iron pipes) had detached from the terrace and it was continuously hitting the terrace with great speed. With great difficulty we managed to put some sand bags around the pole, but it did not help. The strong wind was throwing us off balance and we had to come back. Our shade house was getting pushed and pulled as if made from rubber.
The water inside the house kept us busy for the next few hours. Around 2 PM the cyclone was showing signs of weakening. By 4 PM the wind had become significantly weak and by 6 PM it was all over.
The Aftermath of Fani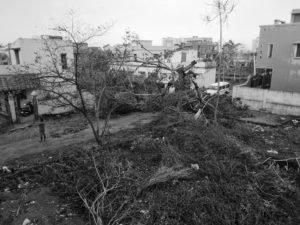 Trees were on the ground everywhere
On the morning of the fourth of April, 2019 we went upstairs to check the damage. But our terrace door would not budge. The door made up of steel had got jammed due to the pressure applied by the wind. After some powerful kicks it finally opened. But we were not prepared for what we were about to see.
The structure of our shade house was completely damaged from north side. The solid steel pipes which were used had got crumpled like paper. They were bent, broken and torn apart. All our plants had perished. Some of the stronger plants were standing, but without even a single leaf on them. All earthworms in the compost pile were dead and it had leached beyond repair in the rain.
Our labor of love of the last four years had been ripped apart by Fani.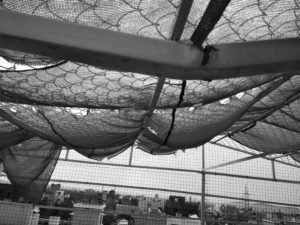 Damaged steel pipe of shade house
The scenes were even more horrifying outside. Our coconut tree somehow survived the onslaught, but it has lost its fronds. Trees on both sides of our house lay broken on the ground. Electric poles were either on the ground of were bent by the wind. Trees, tin roofs, broken hoardings covered the roads. Birds had lost their nests and were all over the morning sky. There was an eerie silence all around. A clean and green city had been converted to a ghost town within a span of four hours.
The Way Ahead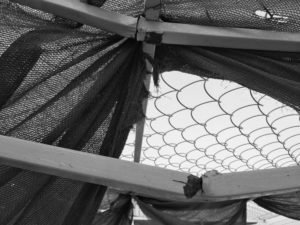 Damaged steel pipes of shade house
It took more than ten days for electricity to be restored at my place. Internet is still not available. Last few days have been very tough as the temperature is constantly staying near 40 degrees. To prevent our shade house from collapsing we have put some support and it is just about holding on. The younger plants we had kept indoors are okay and have started growing. But we are yet to recover from the shock of losing green cover from our terrace which we have been so used to since last several years.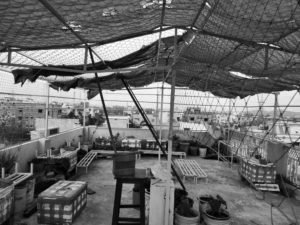 Shade house structure on temporary support to prevent from collapsing
We have started from scratch all over again. Rebuilding our garden (along with everything else) has started. But the fear of yet another cyclone lurks in the corner. After the super cyclone of 1999 severe cyclonic storms have become a norm for Odisha. On an average Odisha gets one cyclone every three years. It is not going to be easy to deal with another cyclone soon. But life will go on. It will take another four to six months to re-green our terrace. First we need to rebuild our shade house and secure it from monkeys and heat. The soil we had built over several years need to be built again. And then the experiments will start again. Till then I probably will not be making many posts. But hopefully we'll continue getting the support from all of you.
Some of you had placed order for Organic Urban Farming - The Indian Way just before and after Fani. As all kinds of communication was down courier service was not available and the books could not be sent on time. Thank you for being patient and supporting us during this time. Please continue to use the information on this blog for your gardens and continue writing to us. We'll try to answer your queries as soon as possible. Do share this blog with your friends and in social media in case you have found it helpful at any point in time. Share the link of the
book
, so that more and more people know about it.
Fani has broken the backbone of coastal Odisha. Govt did well to save the lives of people. But people have lost their homes and livelihoods. Many private organizations and the government are working towards rebuilding the state. But they need your help. Please do contribute to relief works being done by them for cyclone Fani. Giving election as an excuse our media has not done much to raise awareness about the devastation caused by cyclone Fani. Hence last, but not the least we request you to raise awareness about cyclone Fani around you, so that timely help can reach the cyclone victims. Here are some places you can contribute monetarily.
https://cmrfodisha.gov.in/
https://goonj.org/cyclone-fani/