In the recent posts, I discussed about lifestyle and healthy foods. Today I want to introduce one of the tasty and traditional Azerbaijani food. This food, called the "Tabriz kuftesi", is rich in protein and natural antioxidants which can protect you from diseases.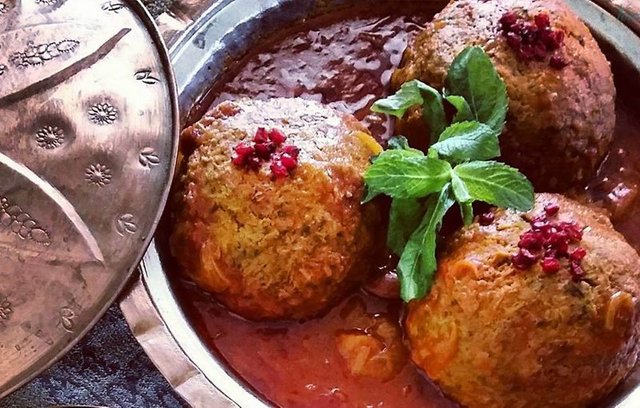 "Tabriz Kuftesi" is one of the most famous menus in Azerbaijan. As its name implies, this food belongs to the city of Tabriz. In different parts of the Middle East, it is cooked, but what makes it different from them is the raw material and the way in which it is made. The way it is traditionally provided is as follows. In this meal, aromatic vegetables are used.
The meat is sliced in a Copper mortar and then vegetables and other ingredients are added.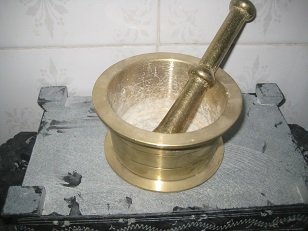 In the following, we will explain to you the way in which it will be supplied with the materials you need.
Okay, How to prepare "Tabriz Kuftesi" for 6 people.
Required material
Minced meat: 1 Kg
Split peas: 200 gr
Rice: 200 gr
Onion: one number
Tomato paste: 3 tbsp
Egg: two number
Vegetables: 5 tbsp
Chickpea flour: 2 tbsp
Saffron, salt, pepper, spice, cinnamon, roses flower: required amount
Leek and savory: required amount
Fried onion: 3 tablespoons
Barberry, Prune, Cooked Egg, and Walnut: required amount
This amount of material is sufficient for 6 people.
Recipe:
First, to prepare special Sauce, fried onion, tomato paste, a little spice, cinnamon, saffron, dried rose flower, a little savory, and leek add to the pot of water and let it boil. Then reduce the heat.
The night before, soak the cotyledons. Cook the soaked cotyledons and Rice, then wash them with cold water. Cotyledons and Rice mix alongside with one small onion, and minced meat. Grind the resulting mixture by mincer. Then add eggs and half other meat to the ingredients, along with vegetables, Chickpea flour, salt, pepper and cinnamon and mix well.
For convenience, put a lace in the bowl. If you are a professional chef, you can do it without a lace. Then pour a portion of the mixture made from the previous step into the bowl and then, Inside it, add a batch of egg cooked, a little-fried onion, a few plums, and a little walnut and barberries. Then pour some other mixture, then roll it same as a ball.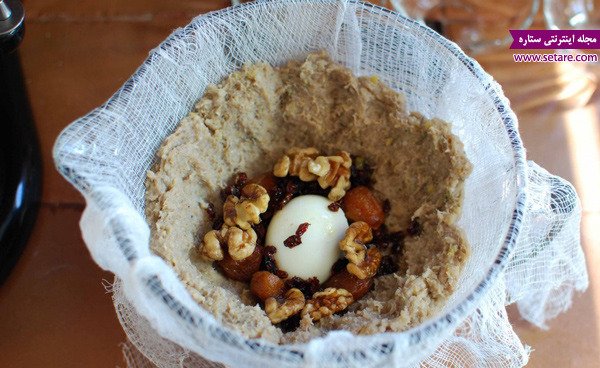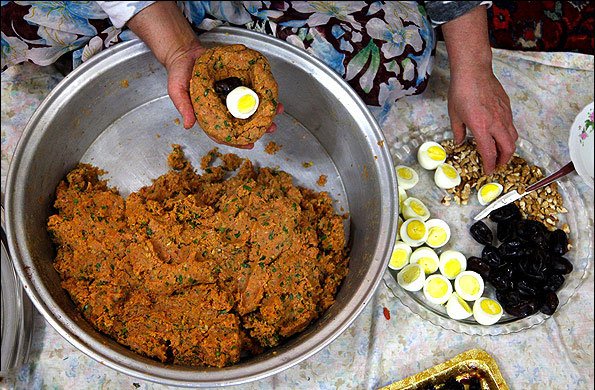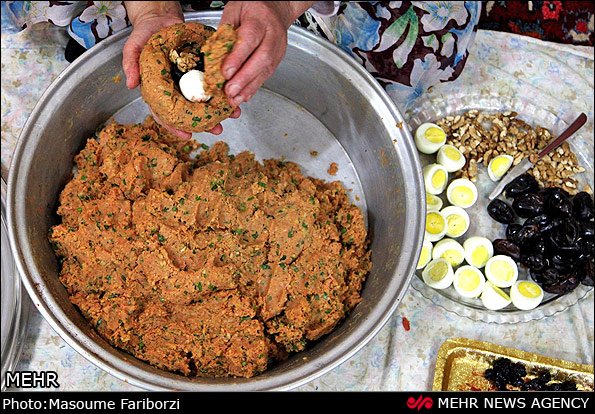 Make as many balls as you want. After completing, put them in a special sauce you have already prepared.
It takes 1 to 2 hours to cook them. After this time, increase the flame to make the sauce concentrate.
Now the food is ready and you can serve it and eat it.
I hope you enjoy this tasty and traditional meal.
Thank you