"Ciorba de burta" - tripe soup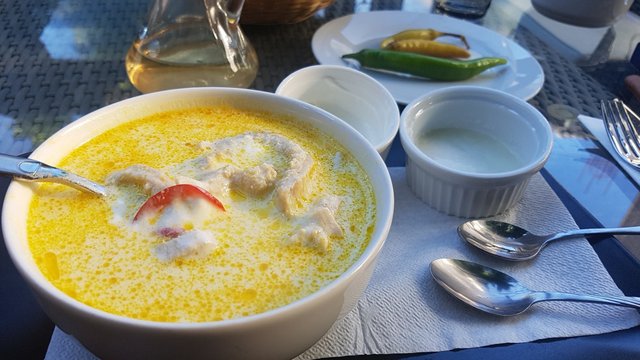 What you need:
1 kg of pre-cooked belly
1 piece of beef meat
2 large onions
1 celery
2 carrots
1 pepper
5 eggs
300 ml cream
1 garlic
salt
black pepper
Apple vinegar
2-3 strands of parsley
What to do:
Wash the belly well in some water and then bring to a boil with the beef. When it starts to foam, it cleans with a spoon. After the juice has cleared, the pot is covered with a lid and boiled over low heat. Belly and broth is recommended to boil over low heat.

Meanwhile, cut the vegetables, wash and add to the soup, along with a few peppercorns and salt.

Separately, the garlic is prepared. Then beat the eggs well, mix with salt and ground pepper and garlic cream.

After boiling the belly and beef broth, remove from the pot with the vegetables and allow to cool. A carrot for the ornate, and the belly and meat are cut into thin strips. Put in the broth and leave to boil for 5 minutes.

The fire stops and the composition of eggs and cream is poured, mixing them all toghether. Vinegar is added and the belly soup with cream is garnished with carrots and parsley.