Hey Steemit Foodies!
As promised, I am starting to add some FOOD BLOG entries! Woohoo!
Hubby and I love to cook and experiment with/work to perfect random food ideas that pop into our heads. And, I do my best to never waste anything... this means trying to be creative with leftovers, so I don't have to listen to the complaints of "we're having this again?!" (4 year olds are so lovely. lol)
I've gotta say, there were no such complaints when I re-invented our leftover macaroni and cheese into these dangerously tasty Jalapeño Bacon Mac & Cheese Balls!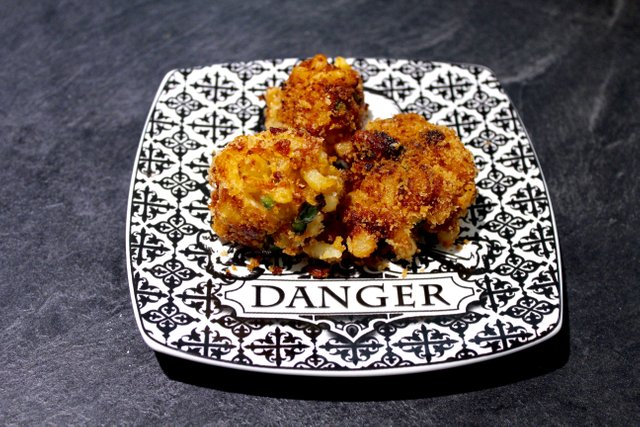 Recently, we've started making our own fresh pasta, experimenting with different shapes, trying out the pasta extruder attachment we got for our stand mixer. So, I decided to try out the "macaroni" disc and set about making a pan of macaroni and cheese. It turned out well, and, as is always the case with mac & cheese, there was a bunch leftover. I told hubby it would be perfect to try making "deep fried mac & cheese balls"!
Cue next morning, I'm browsing my Steemit feed, and see @gringalicious had the same idea! LOL! Great minds think alike, right?! So, once I saw her post I knew I HAD to make them!
First, the ingredients: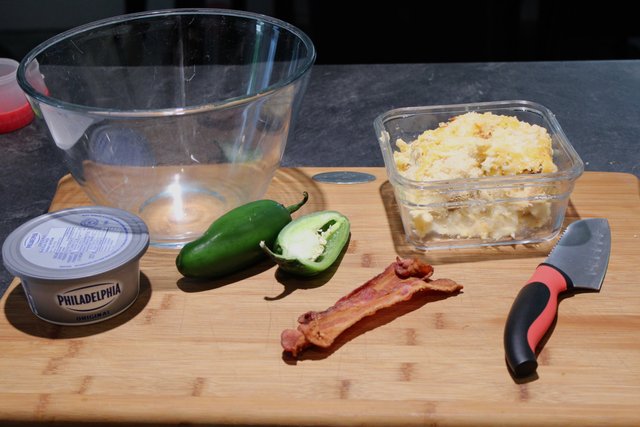 Next, I put the mac & cheese into a bowl, stirred in the cream cheese, and chopped my jalapeño and bacon. (I like to make sure the bacon is nice and crispy when using in something like this. Mmm crispy bacon.)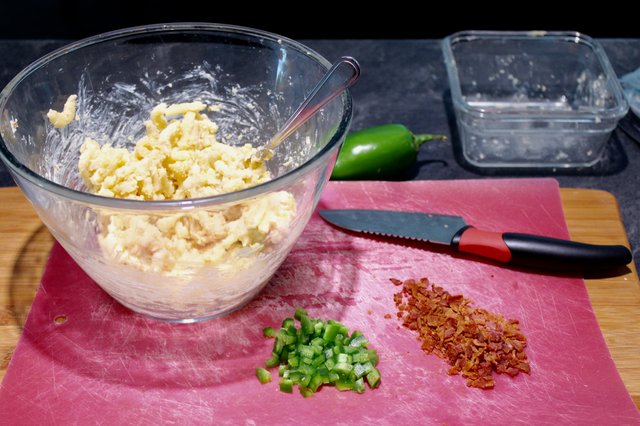 I also chose to add a pinch of this delicious homemade smoked chili powder... I LOVE this stuff. And so does everyone else. Whenever I pull it out of our spice drawer, my daughter has to come smell it. It's similar to chipotle chili powder, so if you have some of that on hand, it lends itself well to the bacon and jalapeno. :)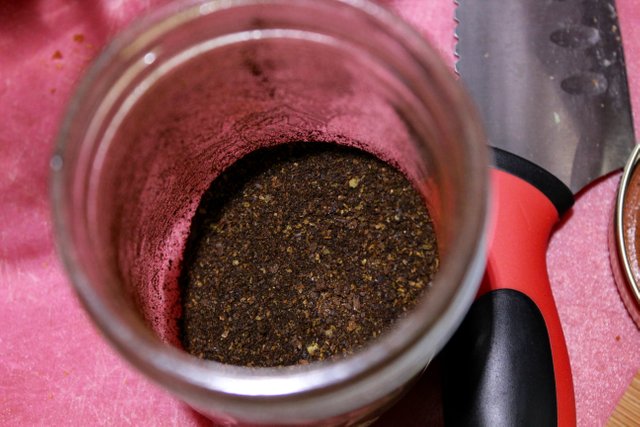 Don't you just want to take a big whiff? When will they invent scent-o-vision?!
Stir it all together, and this is what it looks like: little dots of green and red speckled throughout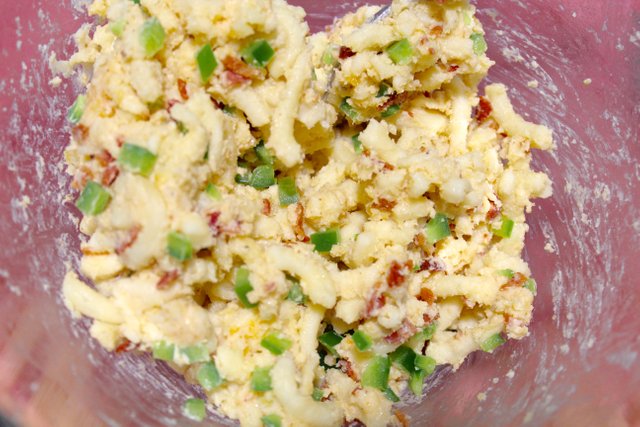 Then I scooped up a spoonful, and pressed it together into a ball, using my hands. I placed the ball into a pile of panko crumbs I had laid out on a sheet pan.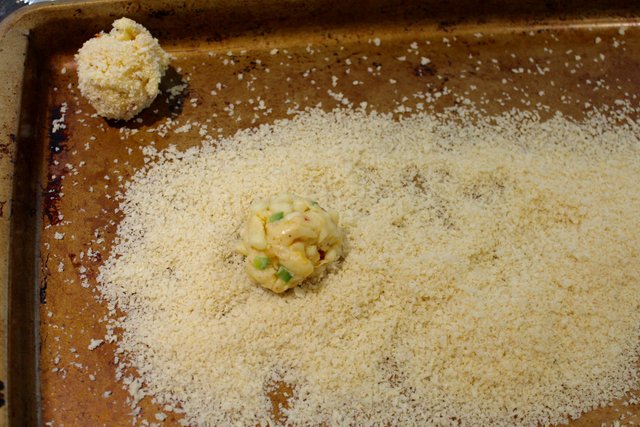 Here they are, all coated. I put the pan into the freezer while I warmed the oil in a dutch oven on the stove, to keep the balls from getting too warm and falling apart.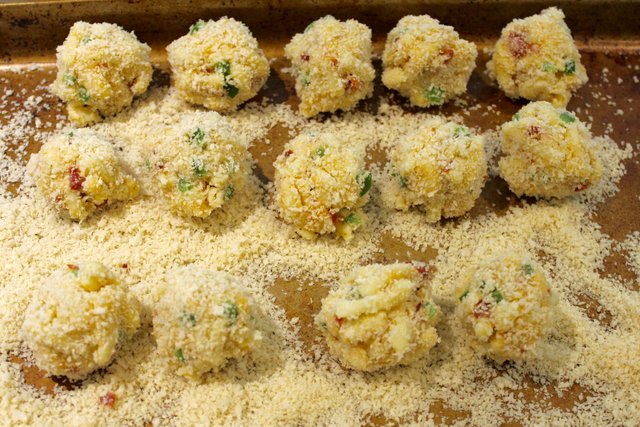 Once the oil was heated (place a small piece in and listen for that sizzle), they were ready for a dip! Remember not to over-crowd your pan, or your oil's temperature will drop and you'll get greasy/soggy balls. No one wants that. ;P I did 7 at a time.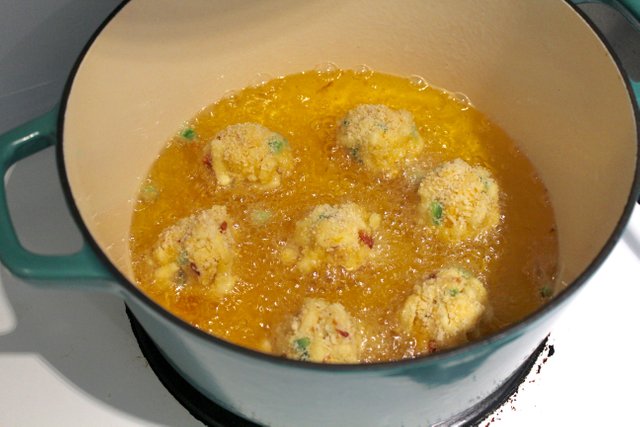 After the first side was nicely fried a golden-brown, I flipped them over and fried the other side. One fell victim, and fell apart into a crispy oblivion. (We did still find them tasty to munch on, just not so pretty.)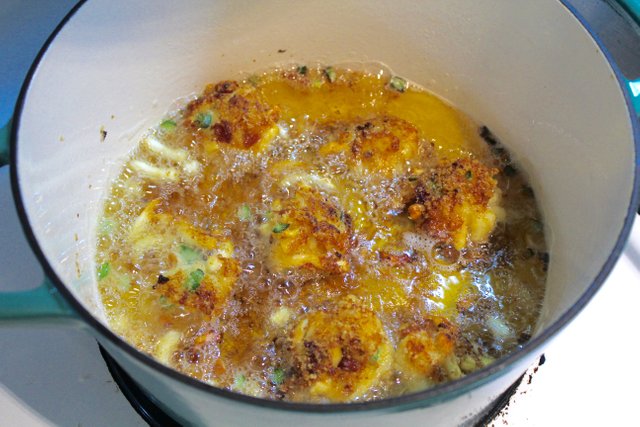 When I took them out I set them to drain on some paper towels. Look at those golden beauties!

They were nice and crispy on the outside, and the soft cheesy inside was dotted nicely with little bursts of flavor.


DANGER: these tasty little morsels disappear fast!
---
The Recipe:
Mac & Cheese
8 oz macaroni noodles
1/4 c butter
1/4 c flour
1 1/2 c milk
1/4 c half and half
1/2 c shredded old cheddar cheese, plus more for the topping
1/4 c shredded mozzarella cheese
1/2 c grated parmigiano reggiano cheese, divided
1/2 tsp liquid or 1/2 cube chicken bouillon
1/2 tsp onion powder
salt and pepper to taste
Panko breadcrumbs
Preheat your oven to 375°F.
First, cook your macaroni to al dente, drain, and set aside. While your macaroni is cooking, melt the butter in a large saucepan over medium heat. Once the butter is melted, whisk in the flour. Gradually pour in milk as you continue whisking. Don't go too fast or you'll end up with lumps! Once this mixture starts to thicken, add your cream and bouillon, and allow to thicken further. Once it has reached a thick but pour-able consistency, whisk in the cheddar, mozza, and half of the parmigiano. Turn off the heat and stir in the onion powder, salt and pepper. Add the macaroni, and stir to coat. Pour into a 9" x 13" pan, spreading it to the corners. Sprinkle on a handful of Panko, the rest of the parmigiano, and grate some extra cheddar on top. Pop into the oven for 20-30 min, until the top is golden and melty.
Keep in mind, you want your mac & cheese to be cooled thoroughly before making the balls, so at this point you want to either just enjoy the mac & cheese, and see how much you have leftover, or set in the fridge and allow to cool.
Mac & Cheese BALLS
Cooled macaroni and cheese (I used leftovers, so approximately 1/3 of the pan)
2 tbsp cream cheese
2 slices bacon, cooked
3 tbsp diced jalapeño (our jalapeños turned out to be quite mild, and if I'd known I would've added more/kept the ribs)
pinch smoked chili powder (or sub chipotle chili powder)
Panko breadcrumbs
Veg Oil of your choice for frying
Mix first 5 ingredients together until well combined. Pour a small pile of Panko onto a baking sheet. Scoop up approx 2 tbsp of mixture, press into a ball in the palm of your hand. Roll the ball in the Panko, and set aside. Continue forming balls and rolling them in the crumbs until all the mixture is used up. Place them in the freezer while you heat the oil in a deep pan/pot . (I used my cast iron dutch oven.) Once oil is hot enough (I placed a small piece of macaroni in the oil - if it sizzles as soon as it hits the oil, it's ready), take the pan out of the freezer and carefully place a few balls in the pan. Don't overcrowd, or your oil temp will drop, and they will get soggy and/or greasy. Not tasty. (I ended up with 14 balls, and fried them in 2 batches of 7.) Fry them for 3-5 min, or until nicely golden brown on the bottom, then carefully flip and fry for an additional 3-5 min. Remove from oil, and allow to drain on paper towels.
These are definitely NOT health food. But they are a pretty tasty treat! The kidlets enjoyed dipping theirs in ketchup (of course), and I chose to dip them in a little chipotle aioli. Yum!
Enjoy!
Megan