Tasty and natural))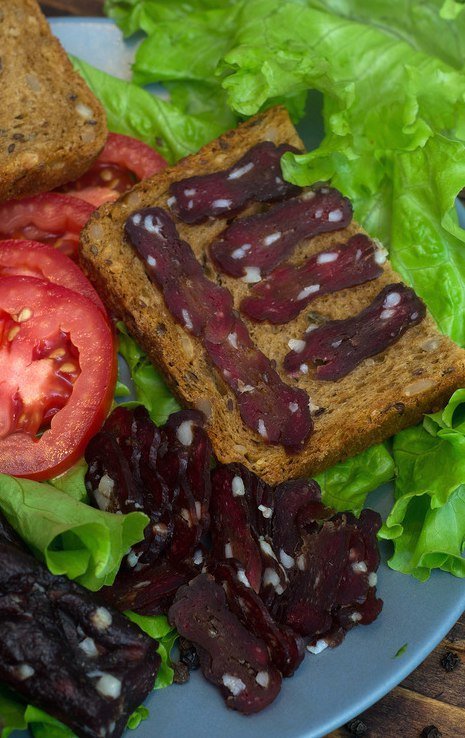 Homemade cheese sausage.
We continue to search for meat in the dryer. Today, the recipe for a deliciously delicious sausage from beef.
The initial stage will be pickling meat.
I took 800 g of beef.
We make a mixture of seasonings. For a given amount of meat you will need:
1.3 tbsp. A large non-iodized salt
1 tbsp. Coriander
1 tsp. Sahara
1 tsp. Mixture of peppers
Meat washed, dried, cut into not thick pieces. Sprinkle with 6% vinegar and sprinkle with a mixture of seasonings from all sides.
For salting we put meat under the yoke in the refrigerator for a day.
Meat will allocate the juice that we drain. In this case, the meat itself is considerably compacted.
Meat should be washed and dried.
Cut it into small pieces and scroll through the meat grinder.
It turns out pure minced meat.
Now we need fat. I used a salty bacon. Salo cut into the smallest cubes.
We interfere with lard with meat in the ratio 1 to 5.
Sausage rolled with a sushi rug in the film. In principle, sausage rolls in the film and hands, but with a rug is more convenient.
Such sausages have turned out. The thinner, the faster the drying, but the less comfortable the pieces will be after drying.
Sausages I first three hours of waxing in an electric dryer for 40 gr., To grasp the top layer. Long-term drying at high temperature is undesirable because Melt and run out of fat.
Dryed sausage for about three days. In each case, this period will be slightly different.
As a result we get a very tasty and long-stored snack with a minimum content of liquid and with a high content of protein and fats.
Perfect for snacking or eating on the go in hikes. Pieces can be vacuum packaged, and beer lovers can eat this sausage so, in a snack.
That's all. Thank you for attention!