Her. Good day)) eat delicious)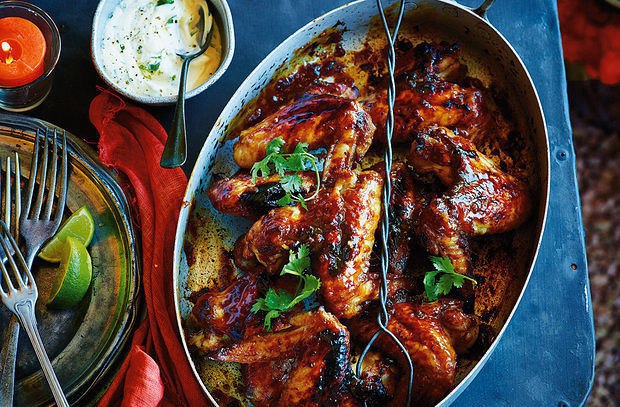 Chicken in tamarind sauce
This fragrant chicken is perfect for a dinner or dinner in Asian style. Do not be afraid of the severity of the marinade - sour cream sauce will smooth it.
Necessary ingredients:
Pasta from tamarind 3 tbsp. L.
Brown sugar 2 tbsp. L.
Soy sauce 2 tbsp. L.
Liquid honey 3 tbsp. L.
Olive oil 1 tbsp. L.
Fresh ginger 5 cm
Garlic 2 cloves
Chilli pepper flakes 1 tsp.
Chicken wings 12 pcs.
For sauce:
Lime 1 pc.
Sour Cream 150 ml
Fresh cilantro small handful
Cooking process:
Peel ginger and grate on a fine grater.
Grind the garlic.
In a small bowl, mix the tamarind paste, sugar, soy sauce, honey, butter, ginger, garlic and chili peppers.
Marinate the wings in this mixture for an hour, and preferably at night.
Preheat the oven to 200 degrees.
Put the wings in a baking dish and sprinkle with marinade.
Bake for 25 minutes, periodically turning them over.
Remove the lime from the zest and squeeze the juice. Finely chop the cilantro.
Mix sour cream with lime, lime juice and cilantro.
Serve chicken with sauce and lime slices.
Bon appetit, guys!