Good evening you gentlemen)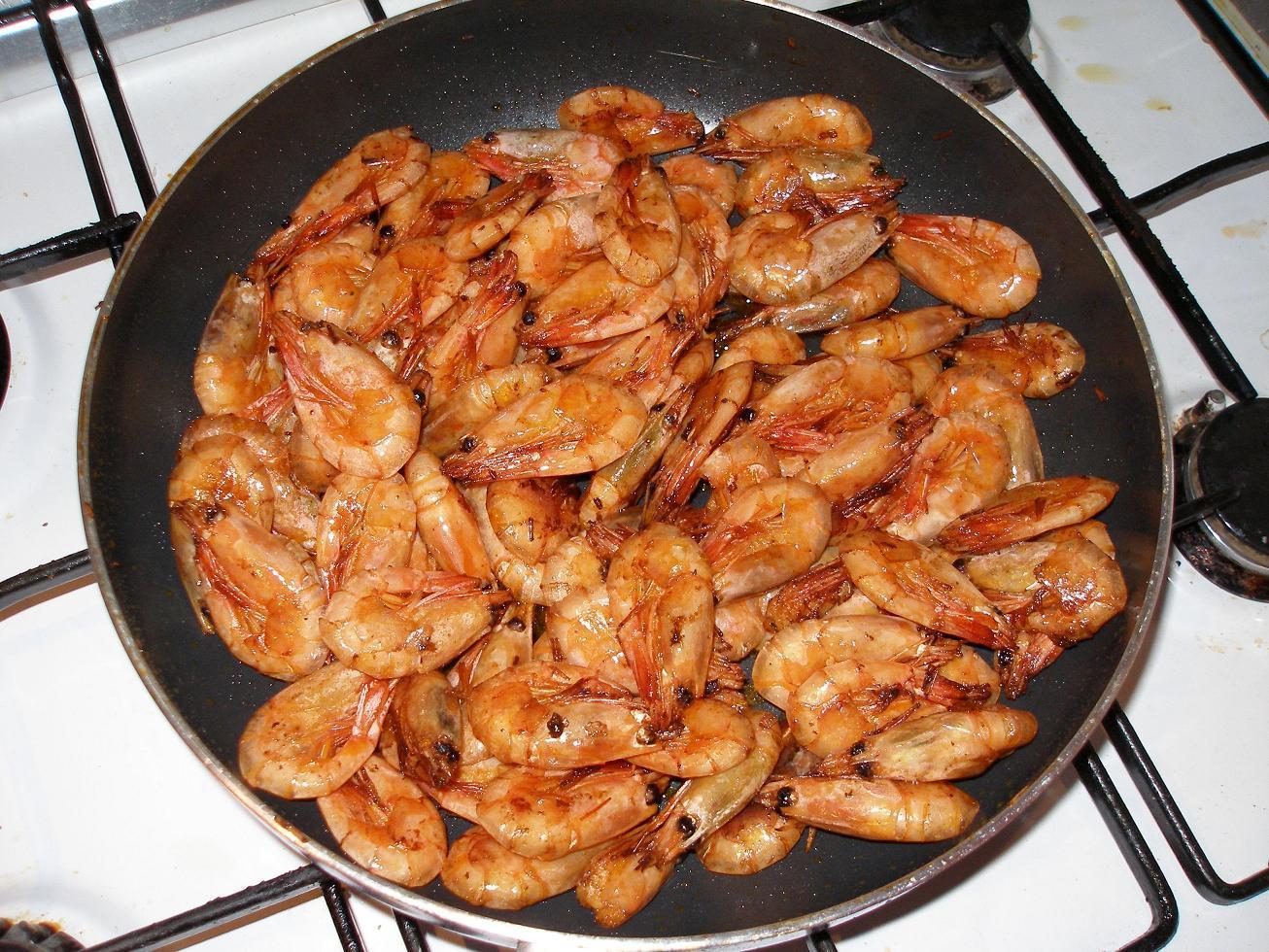 How to fry shrimp to beer quickly and with spices
Correctly cooked prawns are perfectly combined with all dark and light beers. This is a simple, tasty, nutritious and harmless snack. We will consider a universal recipe for fried shrimp, in a quick variation of which you can do without cleaning shells and pickling (takes 25-30 minutes). Thanks to this, the preparation will take 10-15 minutes after the crustaceans are extracted from the refrigerator in the frozen form.
Use large and medium shrimps. Smaller specimens are better to cook, so that more meat is left. For roasting, olive oil is ideal, but it can be replaced with refined sunflower oil.
Ingredients:
Shrimp - 1 kg;
Vegetable oil (olive or sunflower) - 3-4 tablespoons;
Lemon - 1 piece;
Dill - 1 bunch;
Garlic - 1 clove (optional);
Ground pepper - to taste;
Salt - to taste.
The recipe for fried shrimp to beer
Fill the shrimps with boiling water, cover, leave for 3-4 minutes. Then discard it in a colander (4-5 minutes) to make the glass water. Scalding with boiling water does not affect the taste in any way and besides quick defrosting reduces the frying time.
If time does not tighten, it is better to make marinade. For this, the shrimp should be cleaned of shells and put into a saucepan. Add freshly squeezed lemon juice, salt, pepper, squeezed garlic and chopped dill. Stir, cover, leave for 25-30 minutes to soak.
With quick cooking skip this step.
Preheat a frying pan with vegetable oil. Lay out the shrimp (preferably in one layer).
If pickling was not done, add finely chopped lemon with zest, salt, pepper, squeezed garlic.
Fry on maximum heat, stirring occasionally 3-5 minutes until cooked (shrimp meat will turn red).
For a recipe without marinating, sprinkle with herbs 1-2 minutes before taking it off the fire.
Put the prawns on a plate and allow to cool. Serve to beer slightly warm or cold.
P.S. Choose the right beverage for this dish