Bomba)))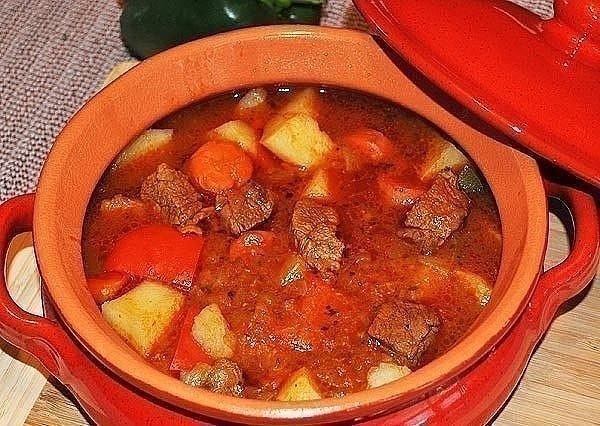 Goulash
Ingredients:
700-800 gr. Beef pulp cut into cubes 4x4 cm
3 large onions
5 cloves of garlic
1 tbsp. Spoonful of paprika
1 carrot (optional)
1 red bell pepper
8 potatoes
100 gr. Beer or red wine
Salt, pepper, bay leaves
2 tbsp. Tablespoons vegetable oil
3 tbsp. Spoons of tomato paste
Preparation
Heat the oil and fry the chopped onions and garlic.
Add the diced meat to the cubes. Fry over high heat for 5 minutes, add the paprika and a minute later - tomato paste.
Fry for another couple of minutes and pour water so that it covers the meat. Solim, add bay leaf and cook for 1 hour.
Then we put the carrots cut into large quantities, peppers and potatoes in cubes.
Pour the beer (or wine), add more water, if someone likes more liquid and cook until the potatoes are ready.
Bon Appetit