Risotto from brown rice with vegetables and mushrooms. Very simple,
fast, tasty and useful.
1 cup of brown rice
1 carrot
1 pepper Bulgarian
1 onion
1 small vegetable marrow
cooking oil for frying
soy sauce to taste
250-300 g of champignons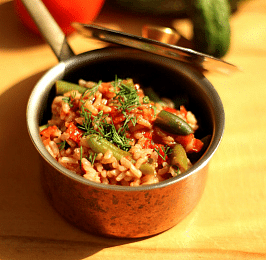 Boil rice in salted water almost until cooked. It is necessary that
the rice remains slightly hard.
While rice is boiled, chop finely or grate vegetables.
On vegetable oil fry the onion for about 5 minutes, then add the
remaining vegetables and fry another 10 minutes.
Ready rice add to the vegetables, mix and fry all together. To taste,
add soy sauce. Mix everything and cook for about 5-10 minutes.
Meanwhile, in a separate frying pan, fry the finely chopped mushrooms,
fry until the liquid completely evaporates.Finished mushrooms add to the rice and mix thoroughly. Vegan risotto
with mushrooms and vegetables is ready, you can enjoy the taste!