Eggs stuffed with mushrooms are very tasty. Suitable not only for
Easter. I like to do also on the New Year.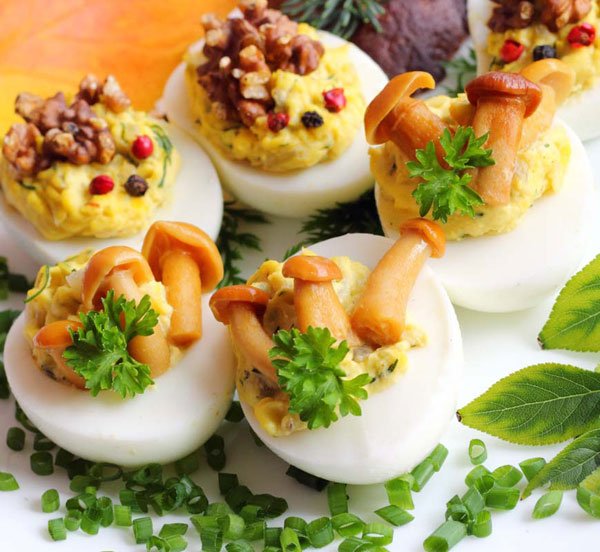 1 small onion
1 tbsp. Butter
300 g of champignons
6 eggs
2 tablespoons mayonnaise
1 bunch of green parsley
salt and pepper to taste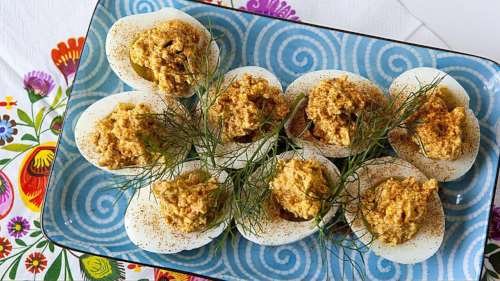 Cut finely onions and put out in oil. When the onion is soft, add the
finely chopped mushrooms. Stew on low heat until the mushrooms are
soft, salt.
Skip the filling through a meat grinder or grind it with a blender.
Cool it down.
Boil the hard-boiled eggs. After cooking, put eggs immediately under
cold water, when cool down - clean.
Cut eggs in half and take the yolks.
Stir yolks with a fork until a homogeneous mass is obtained, add a
spoonful of mayonnaise.
Add egg yolks and finely chopped parsley into chopped mushrooms. All
mix well. Season with salt and pepper to taste.Put a teaspoon into the halves of eggs, so that the filling slightly
protrudes above the squirrels. Place halves on the leaves of greenery
and decorate with mayonnaise.