Traditional dish of Thailand. Rice noodles with chicken, fresh ginger
and vegetables in a peanut butter sauce. You can cook only chicken
with vegetables and serve with rice instead of noodles. Rice noodles
can be replaced with spaghetti. Add the hot red pepper to taste.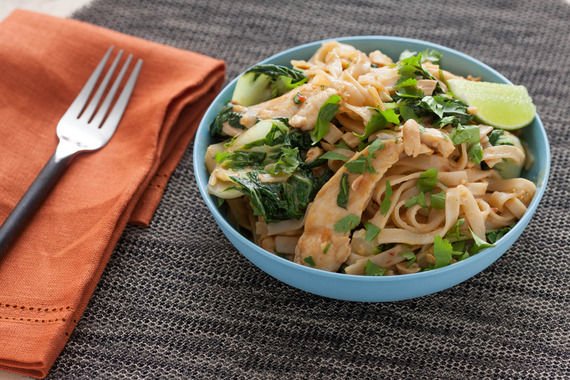 1 pack of rice noodles (you can replace spaghetti)
1 1/2 tablespoons vegetable oil
1 sweet red pepper, chopped strips
4 feather green onions, chopped
60 g fresh bean sprouts
500 g chicken breasts, cut into cubes
2/3 cup (140 g) peanut butter
2 tablespoons soy sauce
1 tsp grated fresh ginger
1/2 cup chicken broth
Hot red sauce or ground red pepper to taste
Cilantro and chopped roasted peanuts for decoration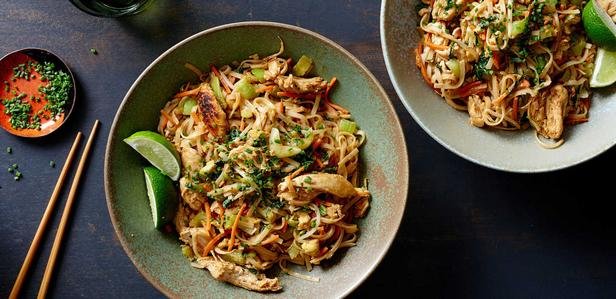 Boil the noodles according to the instructions on the package.
In 1 tablespoon of oil, brown red pepper, green onions and sprouts,
until they become tender, but still crispy, 1 minute. Set aside for a
while.
Fry the chicken in the same pan, adding the remaining oil, if
necessary. When the chicken is ready and the juices become
transparent, set aside.
Mix peanut butter, soy sauce and ginger in a large saucepan over
medium heat. Add the chicken broth. Add the noodles, fried vegetables
and chicken, a few drops of hot sauce (to taste). Shake all the
ingredients. Immediately submit.