Getuk (Java: gethuk) is a snack (snack) made with the main ingredients of cassava. Getuk is an easy food to find in Central and East Java.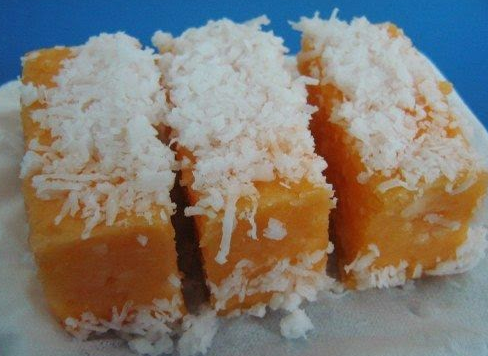 Ingredients
IThe ingredients needed to make a getuk are as follows:
Water for steaming
1/2 kg of cassava, peeled, cut into pieces
150 gr sugar / Java Sugar
1/2 teaspoon salt
1/2 pcs of coconut, grated and steamed
How to make Getuk
1. Cassava peeled, then washed and cut into pieces about 5 cm.
Boil cassava until cooked. Wind-aired until the steam is gone.
Mix cassava - a little Salt - Sugar. Destroy it until it breaks.
Give coloring when likes.
Serve warm with a sprinkling of grated coconut.
Getuk is usually served for a snack while drinking tea. One variation of the presentation of getuk is by frying.