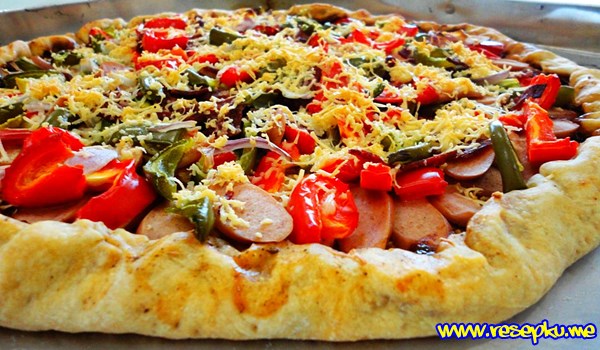 Ingredients To Make Pizza Recipes Bread:
Hot liquid milk 200 ml.
Wheat-protein 250 grams.
Instant yeast for 4 grams.
3 tablespoons butter.
Cooking oil 3 tablespoons.
Chicken egg 1 egg.

Ingredients For Making Fillers and Pizza Recipe Sauce:
3 pieces of chicken or beef sausage.
2 pieces of onion Bombay.
2 fresh cut tomatoes thinner.
Chopped beef to taste.
1 piece of green pepper cut box.
3 cloves of garlic.
2 eggs.
2 pieces of finely chopped onion.
Mozarela cheese to taste.
Tomato sauce and chili sauce to taste.

How To Make Simple Pizza:
The first step of the pizza recipe is to make pizza bread by mixing flour and butter to stir until blended, then add a bit of cooking oil so that the dough becomes more pulen.
Add the eggs and milk into the dough, stirring constantly until the dough is smooth. If it still feels hard can add butter and milk again.
Cover the dough with a cloth and leave for about 15 minutes until the dough is slightly expanded.
While waiting for pizza bread dough expands. Prepare to make the contents and pizza sauce.
Saute garlic onions, garlic, sausage, tomatoes, eggs, peppers and meat until the ingredients are ripe. Then also add the scallion, stirring constantly.
If the dough has expanded, input into the rounded Teflon, flatten the dough on top. Puncture the pizza bread section with a fork so that when proud the bread can inflate perfectly.
Give the tomato sauce on the first part of the pizza, flatten in all parts of the bread.
Put the contents of pizza that has been prepared on the pizza, according to your taste. then add the tomato sauce again on it.
Add the grated cheese on the pizza bread evenly. Then close the Teflon tightly.
Bake batter for about 15 minutes until done.