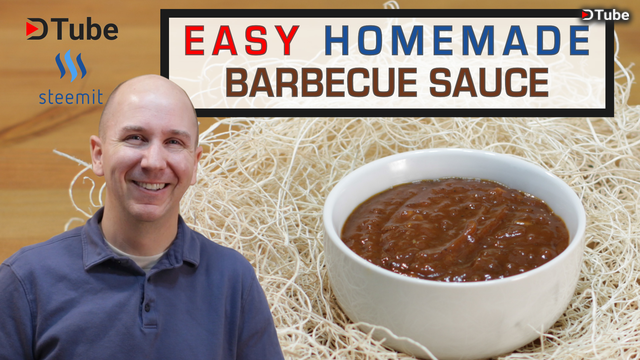 ---
Hello DTube and Steemians!
Time for another cooking video. In this episode of In the Kitchen with Matt I will show you how to make homemade barbecue sauce! This recipe for BBQ sauce is very easy to make, there are lots of ingredients, but that doesn't make it complicated. If I can make it you can make it. Let's get started!
Don't forget to follow, upvote, and re-steem. :)
If you have any questions, comments put them down below and I will get back to you as soon as I can.
Ingredients:
1/4 cup of vegetable or olive oil (60mL)
1 medium yellow onion, minced
3 to 4 garlic cloves, minced
4 to 5 tsp. of chili powder (20g)
1/2 tsp. paprika (3g)
1/2 tsp. salt (3g)
1 tsp. ground pepper, fresh (5g)
1/4 tsp. of cayenne pepper (add more if you like)(1g)
1/4 cup of apple cider vinegar (60mL)
1/4 cup Worcestershire sauce (60mL)
1 Tbsp. liquid smoke (15mL)
1/3 cup yellow mustard (85g)
1 cup brown sugar, packed (200g)
2 cups of ketchup (450g)
Tools:
The video is was produced and owned by me. :)
Video Production Gear I use:
Canon 70D
Canon 50mm 1.4 lens
Canon 28mm 1.8 lens
Rode Video Mic Pro
Amazon Basics Mic Stand
Juiced Link Audio Mixer
Adobe Premiere and After Effects
*These are affiliate links, clicking on them helps support my show, if you buy something, I will get small percentage of the sale, but it won't cost you any extra.
---
▶️ DTube
▶️ IPFS