Twice Baked Potatoes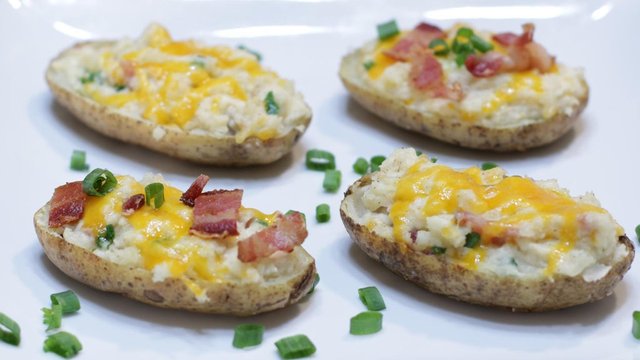 I love potato dishes, they are some of my favorite things to eat. One of my favorite potato-related recipes is this twice baked potatoes recipe.
They are so great as a side with steak, chicken, or pork. Or maybe you want to serve them as an appetizer at a family gathering or game day party? Either way, you won't be disappointed.
Twice-baked potatoes are pretty much fully loaded potatoes where the potato inside is evenly seasoned all the way through, instead of just on top of a standard baked potato. If you love potatoes, you have got to try this recipe. If I can do it, you can do it. Let's get baking!
Ingredients:
4 medium potatoes I use a Russet variety
1 Tbsp. oil 15ml
2 to 3 pinches of kosher salt
3 Tbsp. butter 45g
1/2 tsp. garlic powder 2g
1/2 tsp. ground black pepper 2g
1/2 to 1 tsp. table salt 2 to 4g
1/2 cup sour cream 120g
1/4 cup green onion 15 to 20g (reserve some for topping)
5 strips of bacon reserve some for topping
1/2 cup shredded cheddar cheese 50g (reserve some for topping)
1/4 to 1/2 cup whole milk or cream 60 to 120ml
Preheat the oven to 375 F/190 C. Wash and dry the potatoes completely. Poke holes in each one with a fork.

Add the potatoes to a bowl and drizzle with oil and add a few pinches of kosher salt. Use your hands and make sure they are evenly coated.

Place the potatoes on a sheet pan lined with parchment paper or a silicone mat and bake for 1 hour or until soft when poked with a fork.

Allow the potatoes to cool for 15 minutes or so until they can be handled. Slice in half lengthwise and scoop out the inside with a spoon and place it in a bowl. Set the potato "boats" back on the sheet pan.

Add the butter, garlic powder, a pinch or two of salt, pepper, sour cream, half of the green onion, half of the bacon, and half of the cheese to the potato. Then mash all those together to create the filling. Taste and add more seasonings as desired.

Fill each potato "boat" evenly with the mixture. Sprinkle the remaining cheese on top and bake for 15 to 20 minutes until all the cheese is melted.
7.Remove them from the oven and top with the rest of the bacon and green onion. Enjoy!
Print the recipe here: https://inthekitchenwithmatt.com/twice-baked-potatoes
Watch the video here: