Peanut Butter Cup Hearts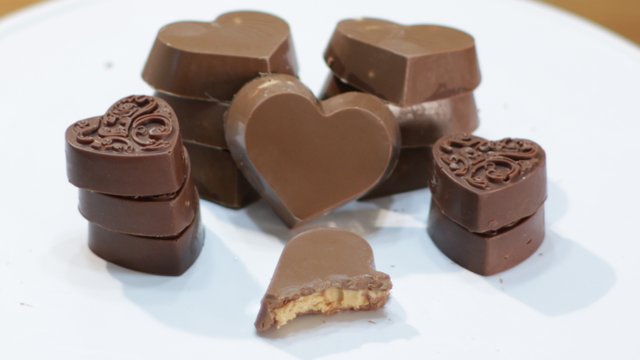 Looking for a nice easy treat to make for Valentine's Day? These peanut butter cup hearts are perfect! They are so easy to make too with just a few ingredients. If I can do it, you can do it. :)
Ingredients
1/2 cup of peanut butter 120g
1/2 cup of powdered sugar 50g may need more or less
1 tsp. to 2 tsp. of melted butter unsalted or salted (5 to 10g)
1/2 tsp. of salt 2g
4.5 to 9 oz of chocolate milk chocolate, dark, semi-sweet, candy melts, etc. (124 to 248g)
Instructions
Melt the butter and add it to a large bowl. Add the peanut butter and mix together. Then add the salt and the powdered sugar about 1 half to 1 third at a time. Mix until you have a play dough consistency. Add more powdered sugar if it is too sticky.

Melt whatever chocolate that you want to use in a microwave-safe bowl in the microwave or use the double-boiler method.

Fill each heart cavity with about 1/4-inch deep chocolate. Then take some peanut butter mixture with clean hands or wear food prep gloves and shape it into a small heart that is smaller than the mold. Rest that on top of the chocolate. Then fill chocolate on top.

Once done filling all the cavities, place the mold in the fridge for about 30 minutes so the peanut butter cup hearts can set.

Once set you can remove them from the mold and eat them. Maybe you want to put them in some treat bags, or something like that. Enjoy!
Print the recipe here: https://inthekitchenwithmatt.com/peanut-butter-cup-hearts
Watch the video here: