Oreo Turkeys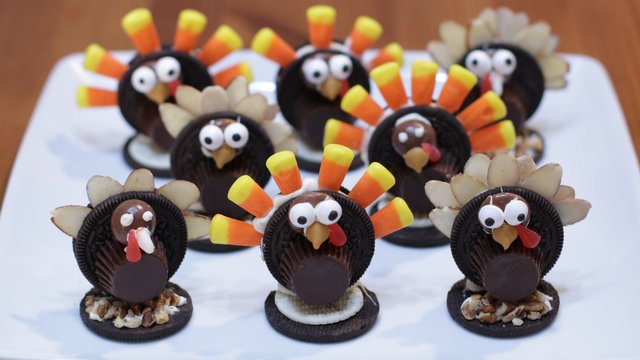 In this special Thanksgiving episode of In The Kitchen With Matt, I will show you how to make awesome no-bake Oreo Turkeys. These Oreo Turkey treats are so incredibly easy to make. It is a fun family activity to do inside. There are a variety of ideas/styles of Oreo turkey that you can try, have fun with it. If I can do it, you can do it. Let's get started!
Ingredients:
15 to 20 Double-Stuff Oreos
1/4 cup white candy melts or white chocolate
Candy corns
Almond slices
Milk or dark chocolate mini Reese's peanut butter cups
Milk duds
Whoppers
Crushed nuts, optional
Candy eyeballs
Swedish fish or red licorice
Tools:
Cutting board
Knife
Plastic bag or piping bag
Scissors
Watch the tutorial video here!