Japanese Souffle Pancakes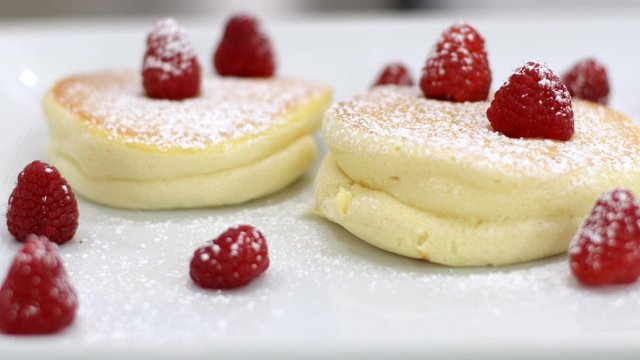 Are you ready to make the most fluffiest and delicious pancakes around? Okay, taste is definitely a matter of opinion, haha. But these Japanese Souffle pancakes are so fluffy, they are like eating a soft little cloud of goodness.
This Japanese Souffle pancakes recipe is very easy to make as well, with just a handful of ingredients. They do take longer than classic American pancakes or crepes but are so worth it.
If you like Angel food cake and pancakes you will love these. Souffle pancakes are like a blend between the two. If I can do it, you can do it. Let's get started!
Ingredients:
2 large egg yolks
4 tsp of milk, whole, 2%, skim, etc. (20ml)
2 tsp of vegetable oil (10ml)
1/2 tsp of vanilla extract
1/4 cup flour, all-purpose or cake flour (30g)
1/2 tsp baking powder (optional)
3 large egg whites
1/4 tsp of cream of tartar, lemon juice, or white vinegar
3 1/2 Tbsp of white granulated or fine sugar (45g)
Oil for the skillet
2 Tbsp Water for the skillet
Tools:
Bowls
Whisk
Hand or Stand mixer
Skillet
Spatula
Lid or pizza pan
Print the recipe here: https://inthekitchenwithmatt.com/japanese-souffle-pancakes
Watch the video here: