Homemade Donut Pan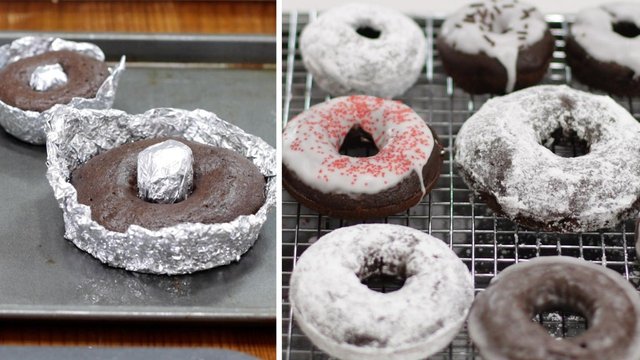 I love donuts! Whether they are chocolate cake donuts or Krispy Kreme style donuts. Hook me up! But what if you want to make cake doughnuts and don't want to buy yet another pan for your kitchen? No worries, I have got you covered. You can make a homemade donut pan with foil!
I have gotten several questions over the years on my chocolate cake donuts recipe if it is necessary to have a donut pan. And the answer is no! Although I will say, it is much more convenient to have one, especially if you are going to be making them all the time.
But I get it, not everyone loves hoarding and collecting kitchen gadgets as I do. So this homemade donut pan is a perfect option. Especially if you only want to make homemade doughnuts once in awhile. They are super easy to make if I can do it, you can do it. Let's get started!
In order to make a homemade donut pan or tray you need just a few items:
Aluminum/Tin foil
Scissors
Baking pan/cooking sheet
Wire rack
Muffin pan (optional)
Round cookie cutter (optional, for a guide)
Follow the steps here: https://inthekitchenwithmatt.com/homemade-donut-pan