Favourite& test foods
A recipe is a set of instructions that describes how to prepare or make something, especially a culinary dish. It is also used in medicine or in information technology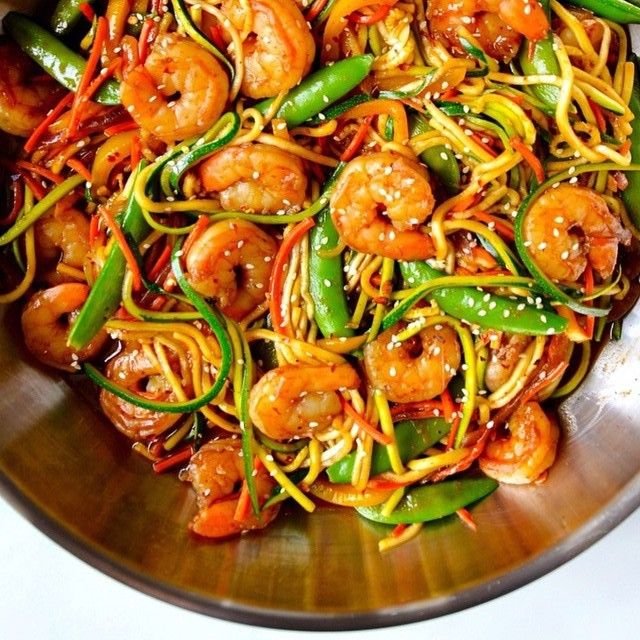 Zucchini Noodles Chow Mein w/ Pork
Serves 6
Use a Spiralizer to create the zucchini noodles.
Write a reviewSave RecipePrint
Nutrition Facts
Serving Size150g
Servings6
Amount Per Serving
Calories 164Calories from Fat 93
% Daily Value *
Total Fat 10g16%
Saturated Fat 3g17%
Trans Fat 0g
Polyunsaturated Fat 1g
Monounsaturated Fat 5g
Cholesterol 36mg12%
Sodium 423mg18%
Total Carbohydrates 6g2%
Dietary Fiber 2g6%
Sugars 4g
Protein 11g
Vitamin A51%Vitamin C49%
Calcium3%Iron6%
Percent Daily Values are based on a 2,000 calorie diet. Your Daily Values may be higher or lower depending on your calorie needs.
Does this look wrong?
Ingredients
2 medium zucchini
2 tablespoons (30ml) soy sauce (use Tamari for gluten free)
1 teaspoon (5ml) vinegar
2 teaspoons (10ml) oyster sauce
1/2 teaspoon (3ml) sugar
1 tablespoon (15ml) olive oil, grapeseed oil or any cooking oil
1/2 medium onion, diced
2-3 cloves garlic, minced
1/2 pound (225g) ground pork
1 small red bell pepper, thin sliced
1 large carrot, julienned
kosher or sea salt, to taste
fresh cracked black pepper to taste
1/4 cup (60ml) chopped cilantro (optional)
chili garlic sauce, sriracha or hot sauce (optional)
Instructions
Cut zucchini into noodles with spiralizer, julienne tool or mandolin. Set aside.
Make the sauce: In medium bowl combine soy sauce, vinegar, oyster sauce and sugar. Set aside.
Heat olive oil in a large skillet on medium high heat. Add onions and garlic, cook till soft.
Add pork and cook until brown, about 3-5 minutes. Add red bell pepper and carrot. Cook until vegetables are tender, about 2 minutes.
Add the zucchini noodles and the sauce. Stir everything in the pan until coated and continue cooking until zucchini noodles are tender, about 2-3 minutes.
Garnish with cilantro, serve with hot sauce.
BARBECUE PORK AND PENNE SKILLET RECIPE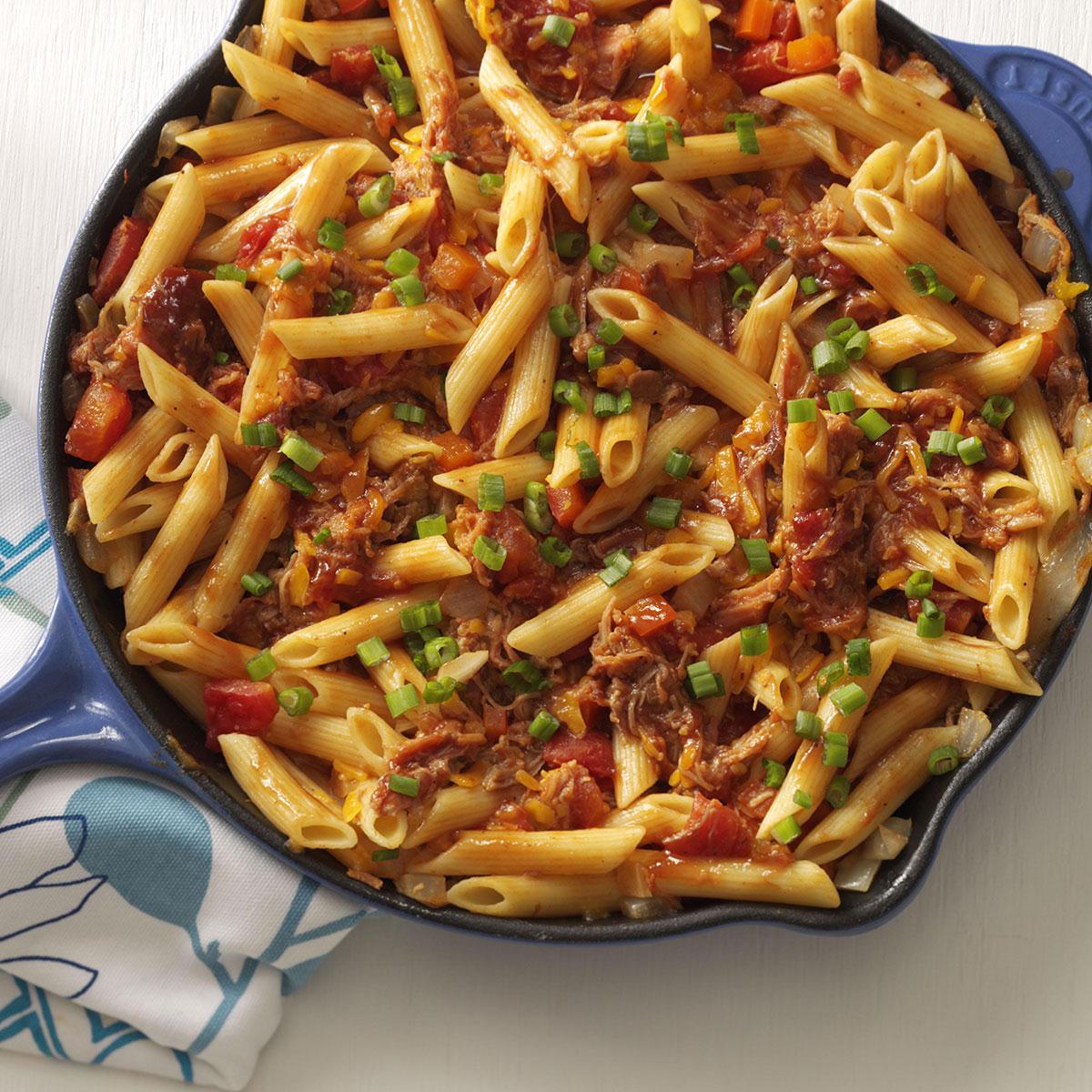 Cook pasta according to package directions. Meanwhile, in a large skillet, saute red pepper and onion in butter and oil until tender. Add garlic; saute 1 minute longer. Stir in the pork, tomatoes, broth, cumin, pepper and salt; heat through.
Drain pasta. Add pasta and cheese to pork mixture; stir until blended. Sprinkle with green onions.
Freeze option: Freeze cooled pasta mixture in freezer containers. To use, partially thaw in refrigerator overnight. Place in a shallow microwave-safe dish. Cover and microwave on high until heated through.
Chicken, paprika, chickpea and kale pot
![compressed_593ChickenPaprikaKaleChickpeas.jpg](https://steemitimages.com/DQmSsexnqzgS2FAt8MFL74F2L7GtCuJar4cCHHoM7Err9KQ/compressed_593ChickenPaprikaKaleChickpeas
Cook
Chicken, paprika, chickpea and kale pot
Dip crusty bread into this tasty spring casserole
READY IN
45 minutes
COOKING TIME
35 minutes
PREP TIME
10 minutes
SERVES
4
Sainsburys logo small
Sainsbury's Team
Ingredients
1 tbsp olive oil
615g chicken thigh fillets
1 red onion, finely chopped
2 cloves garlic, finely sliced
1 can chickpeas, drained and rinsed
400g can chopped tomatoes
200ml chicken stock, made with half a stock cube
2 tsp smoked paprika
75g kale
1 loaf crusty bread, to serve
Method
1
Heat the oil in a shallow casserole dish over a medium heat. Add the chicken thighs and cook for a couple of minutes on each side, until browned. Remove from the pan and set aside.
2
Add the onions to the pan and cook over a low heat for 5-6 minutes, until soft but not coloured. Add the garlic and cook for a further minute or two. Add the chickpeas, followed by the chopped tomatoes, chicken stock and smoked paprika. Return the chicken to the pan, nestling it in under the sauce, and then top with the kale. Place the lid on the pan and cook on a low heat on the hob for 25 minutes, removing the lid for the last five minutes.
Roasted Potatoes & Spicy Chorizo Skillet Meal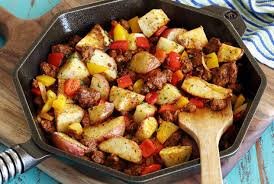 Simple Whole30-compliant skillet meal. Easy to make paleo too. In fact I'll show you how to tweak this one yourself to make it your own! Very simple recipe!
I think you're going to love this simple skillet meal because it's so easy to add extra stuff to it…read on and you'll see what I mean.
Oh by the way, I used red potatoes which makes this recipe Whole30® compliant, but not entirely paleo.
That's an easy fix whole30 compliant recipe mark… just switch out the red potatoes for chopped sweet potatoes (white flesh recommended) and it'll be both Whole30 and paleo.
So like I was saying, this is a fantastic baseline recipe that's awesome as-is. I mean spicy chorizo and potatoes together? Yum! It really does taste as good as it sounds.
But if you're feeling extra creative – or just have some extra veggies you want to use up – this is probably the perfect, fool-proof recipe to experiment with and still have your meal turn out crazy-delicious.
Here's what I mean … add some scrambled eggs and you've got a wake-up-your-taste-buds egg, potato and chorizo breakfast.
Or add some spinach leaves … toss those in during the final stir so they just wilt a little bit before serving to get some extra greens on your plate.
Or how about sliced zucchini or squash … sauté those a little bit along with the onions and bell peppers and rock on with the recipe as written.
Baby carrots would be a great addition … roast those alongside the potatoes before adding to the skillet.
See what I mean? This is a very versatile recipe! Got something in mind? Add it and I bet you'll love it.
Hope you enjoy this simple recipe … play around with it, do a little improvising – see what you can come up with.
Be sure and let me know how you made this simple skillet dish your own in the comments below!
Thai drunken spaghetti Recipe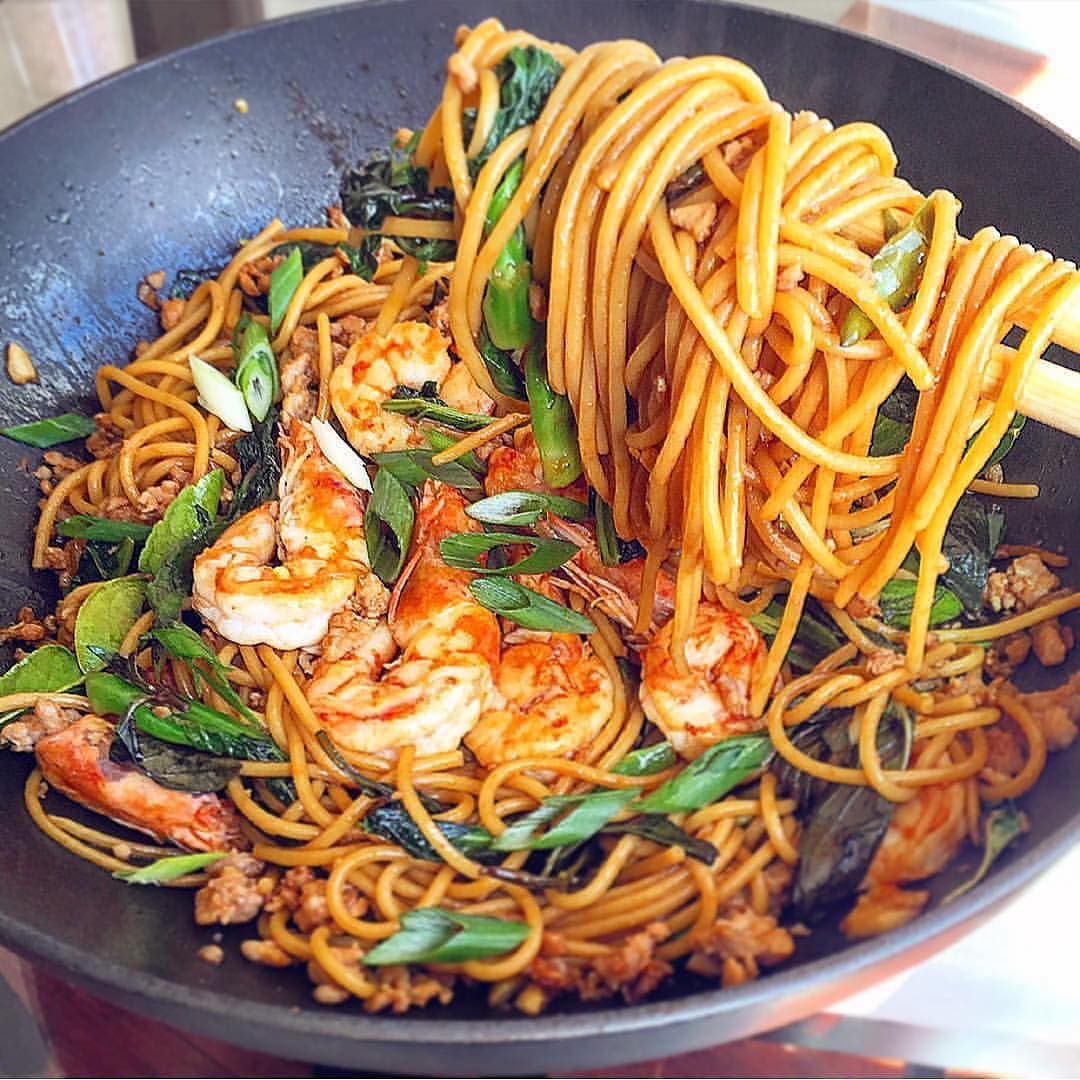 Thai drunken spaghetti Recipe by: @wina_wina Thai Drunken Spaghetti Recipe: lb ground pork lb shrimp shells removed & cleaned lb Chinese broccoli sliced thinly lb Napa cabbage sliced thinly