My healthy Dinner- Baked Honey Garlic Salmon MMMMM!
So after viewing so many great meals on Steemit I started to crave some Salmon! I'm a big fan of fish in general. I usually do a Pesto Salmon or love Paprika so typically will do something along those lines. But instead yesterday I decided to do a Honey garlic Salmon. Served with Zucchini and Tomatoes and a spinage/kale Salad.
Total time to cook: 25 min
I baked the Salmon in foil
Ingredients for Salmon
1 pound of Salmon
1/2 cup Honey
4 Cloves of garlic, minced or crushed through a garlic press
1/2 cup whole-grain Dijon mustard
1/2 lemon, lemon juice
1 tablespoon of olive oil
1/4 teaspoon Cayenne pepper
1/2 teaspoon Paprika
salt and black pepper
1 tablespoon cilantro for garnish or parsley
lemon slice for garnish
Whisk these ingredients all together, while your oven pre-heats to 400 Degrees F (200 Degrees C) Spread the honey mustard sauce on Salmon evenly. Bake Salmon for 10-15 Minutes depending on how thick your salmon is. While this is baking I prepare the Zucchini and cherry tomatoes in a pan with some Oil
Also prepare my side salad.
Kale/Spinage
Feta Cheese
Dried Cranberrries
You can add Pecans or walnuts I was just out so I couldn't
Balsamic Dressing or oil and vinegar
Once the Salmon is done you are good to go! Check it out here: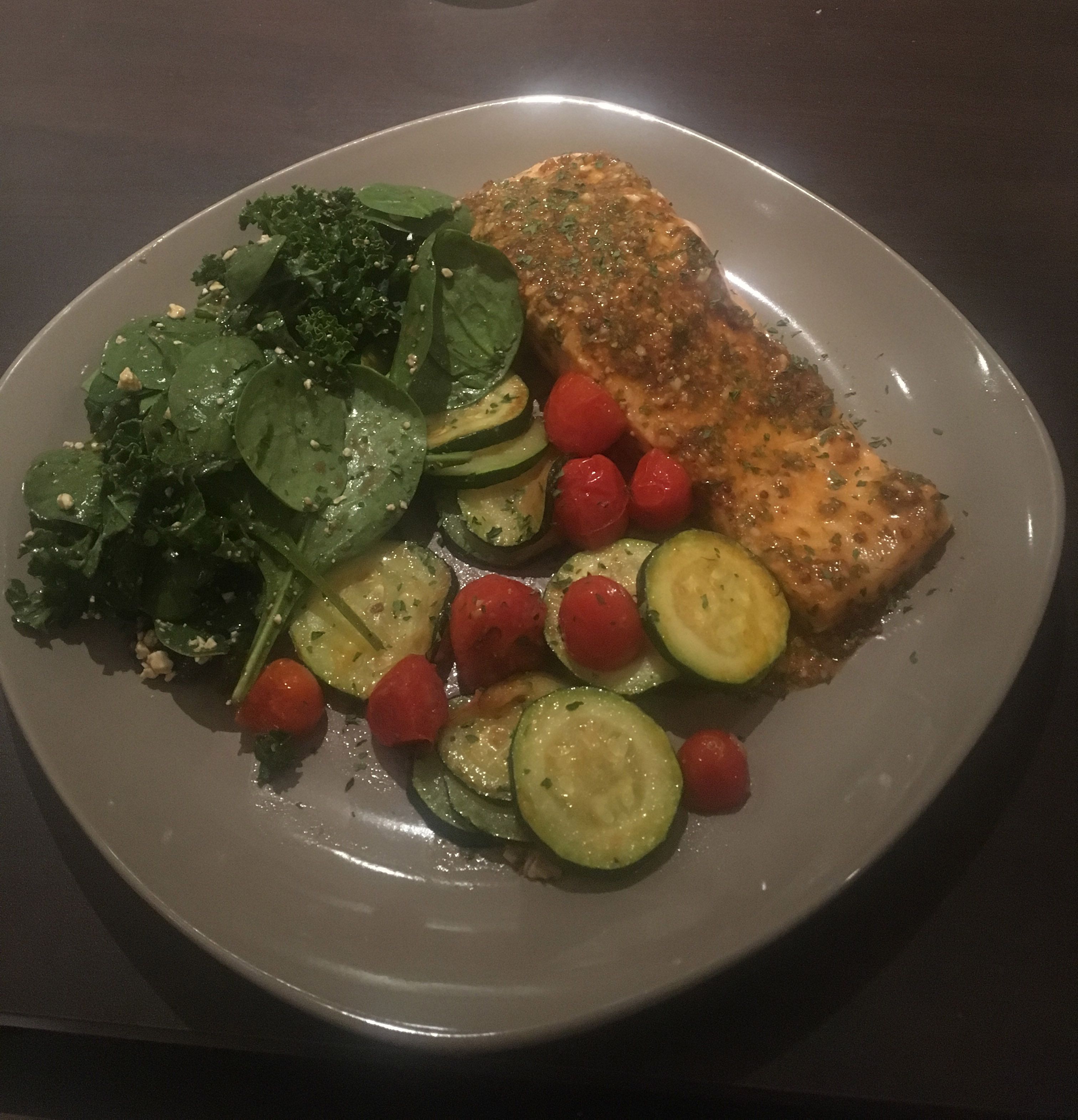 Thanks for stopping by please upvote, comment and follow! I will come check out your page! Let's grow together!
😁