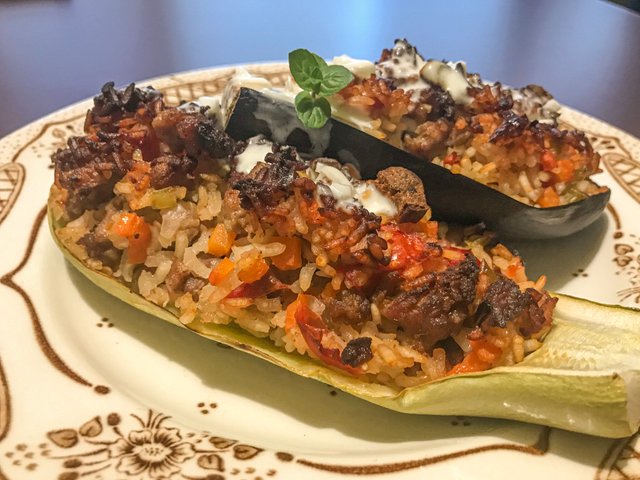 Today I am going to share with a recipe that is quite old and is originally coming from the former Ottoman Empire. It usually consists of a filling and a base. In my case, I have decided to go both with eggplant and zucchini and fill them with the same stuffing.
My recipe is suitable for 3 to 6 people depending on the serving amount.
The way of presentation I have chosen can also be found as "boats" due to the fact that the main vegetables are cut in half in the shape of a boat.
So, for the base, you will need 2 zucchini and 1 eggplant - all of them between medium and large size.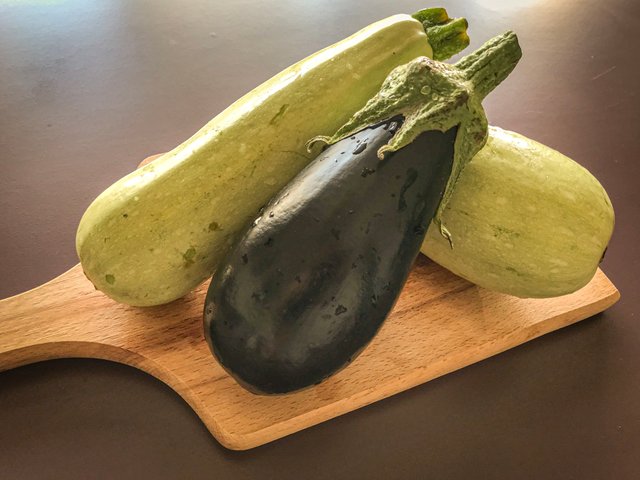 The ingredients for the stuffing are:
150 gr white rice
1 sweet green pepper - types "Banana" or "Anaheim"
1 medium-size carrot
2 small tomatoes
1 medium onion
2 garlic cloves
250 gr minced meat (60% pork, 40% beef)
½ smoked sausage
Start by cutting all of the ingredients into little pieces like the ones you see on the photo: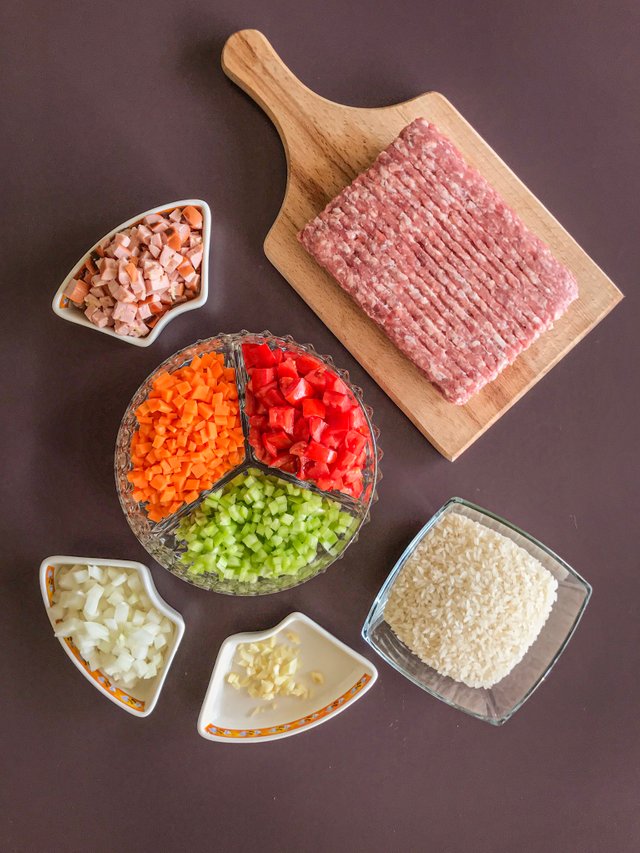 I would recommend continuing with the preparation of your "boats" so they can be ready and waiting for you at the end. Cut the vegetables in a half and use a spoon to carefully scoop out the zucchini and eggplant meat until you have them looking like this: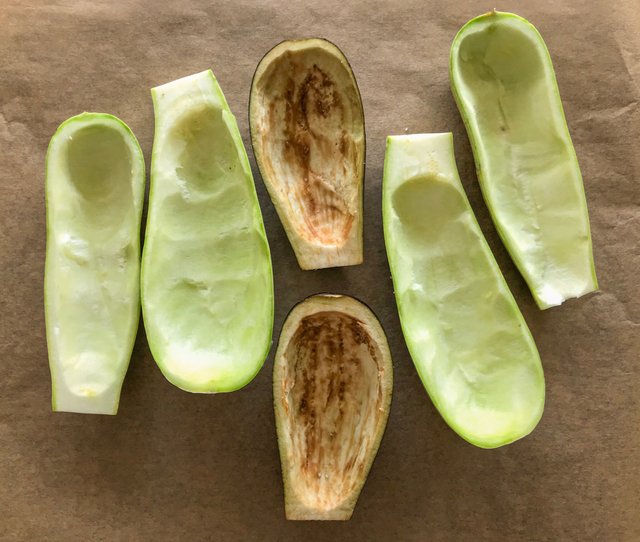 After that, you have to start working on the first part of your stuffing which is the meat one.
Pour some olive oil into a big frying pan and put it on the stovetop on medium degrees. Then pour the garlic and onion pieces and fry them until they become golden. After that add the sausage and the minced meat and fry them until they are ready. When they get that almost crispy finish take them out of the frying pan, move them to a plate and leave them to cool down.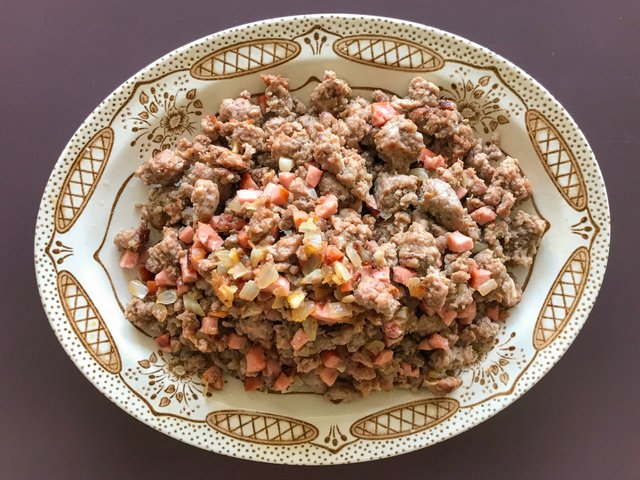 Grab another frying pan and repeat the same routine. Pour the rice and cook it until it starts becoming semi-transparent. Stir it for a while and pour all of the other vegetables into the frying pan. Add some water, a pinch of salt and pepper and cook until the water evaporates and the mixture becomes soft.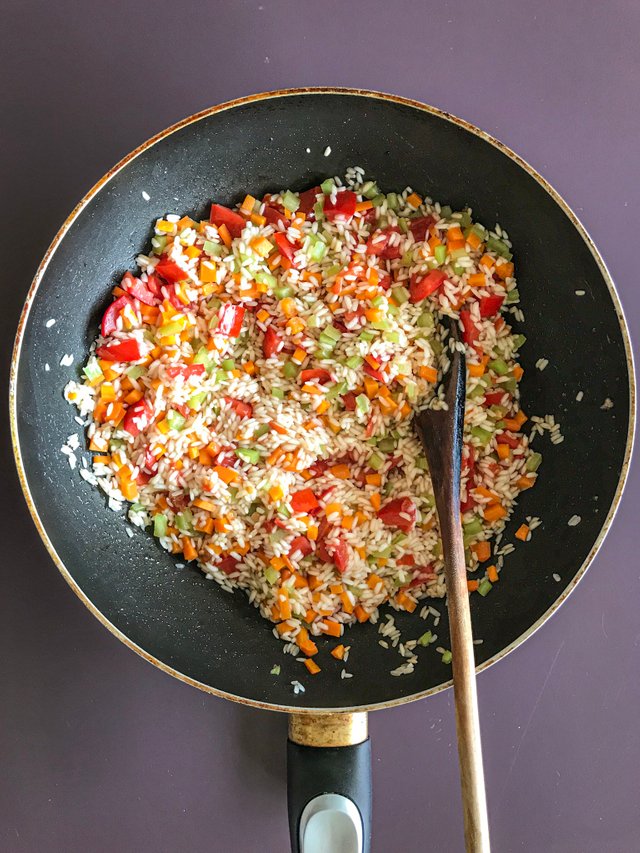 After that, just add the meat mixture and cook for 10 more minutes.
Finally comes the fun part of the cooking which is stuffing the zucchini and eggplant. Take a spoon and start stuffing each "boat" with the mixture. They should look something like this:
Put them in a preheated oven and bake on 200 degrees for around 45 minutes until there is a golden-brown crisp on top. You can serve them both warm or cold depending on your preferences.
For the presentation, I have decided to serve 1 eggplant and 1 zucchini. I have prepared a simple white sauce with yogurt, mayo, and some garlic. Add something green if you can, in my case I have used fresh leaves from my homegrown mint!
This meal is very light and great for those crazy hot evenings. I bet that you will amaze your family and your guests once you prepare it!
If you decide to try it at home, please don't hesitate to share some thoughts and photos!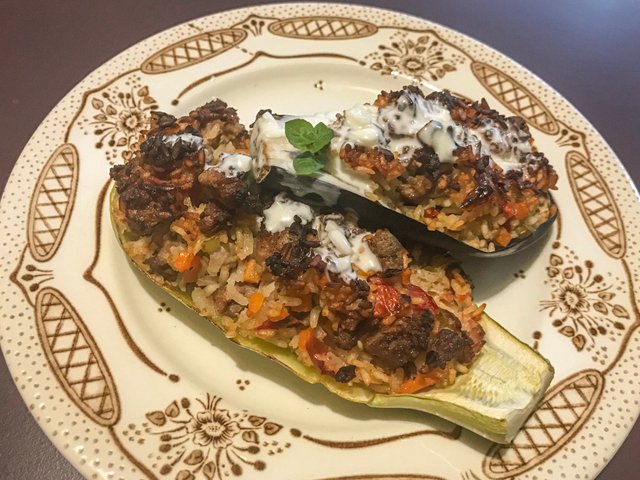 Stay delicious,
Chef Dimitrova