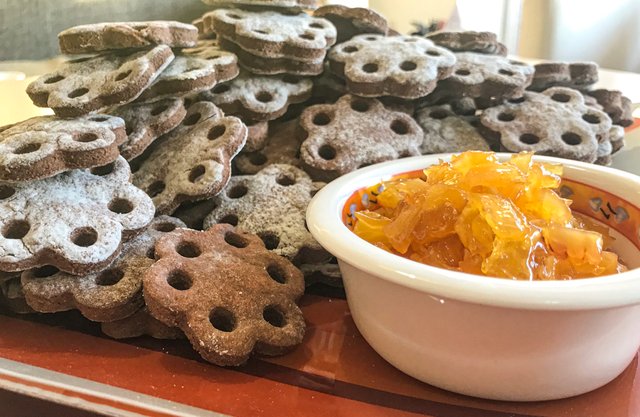 Today I would like to share with you a healthy fast recipe for cocoa cookies that don't contain any refined white sugar.
My boyfriend decided to go low on the white sugar so I try to come up with different ideas of pastries, cookies, etc. for him. This is a really fast recipe and the ingredients are quite easy to find. I have to warn you that the final quantity for those ingredients is around 600 grams of cookies so if you don't want to make that much you can just decrease the amount by a half.
Also as a bonus recipe, I will explain how you can make homemade peach jam for 10-15 minutes. It does contain white sugar so this is just an addition for people like me who like sugar-blasting themselves from time to time!
Here are the ingredients for the cookies:
4 tbsp. cocoa powder
200 gr. brown sugar
50 gr. creamed coconut
10 gr. baking powder
7 tbsp. honey
300 gr. white flour
200 gr. whole wheat flour
100 gr. olive oil
100 gr. water
5-6 drops vanilla extract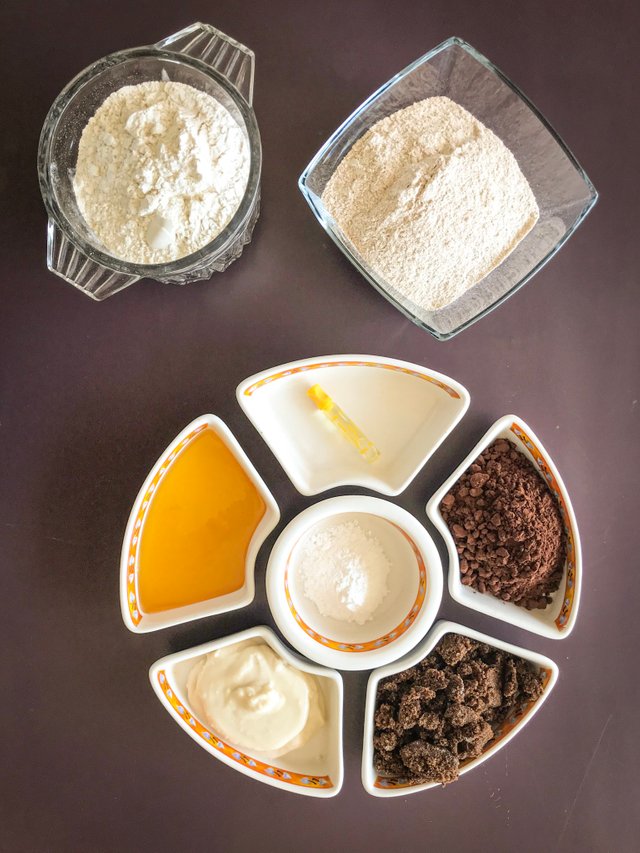 As I have promised you earlier, this recipe is quite easy to prepare at home. You have to put all of the ingredients besides the flour into a bowl. I would recommend using a bigger bowl since you will need more space when mixing.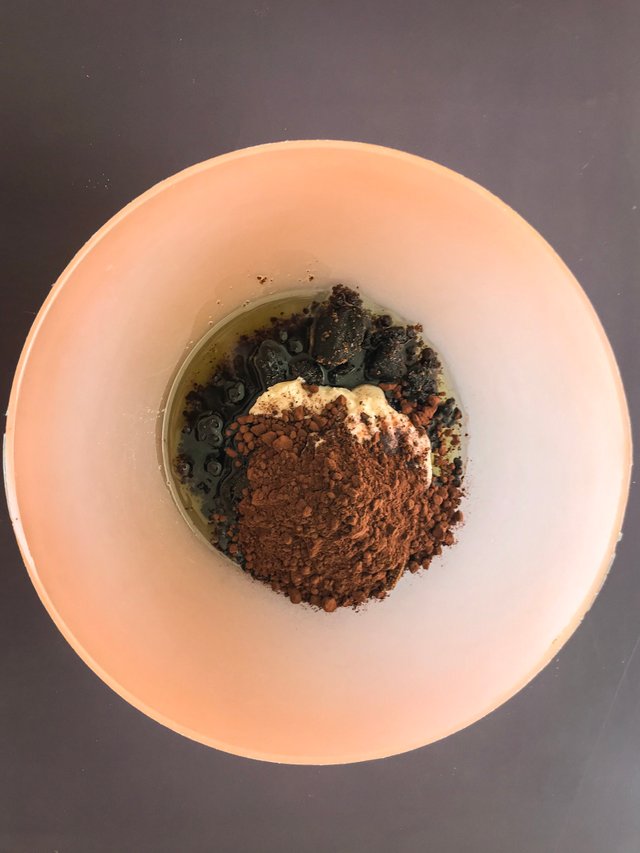 Mix them good and after that start adding the flour in the bowl until you get a homogeneous dough. It should be soft and a bit crunchy, looking like this: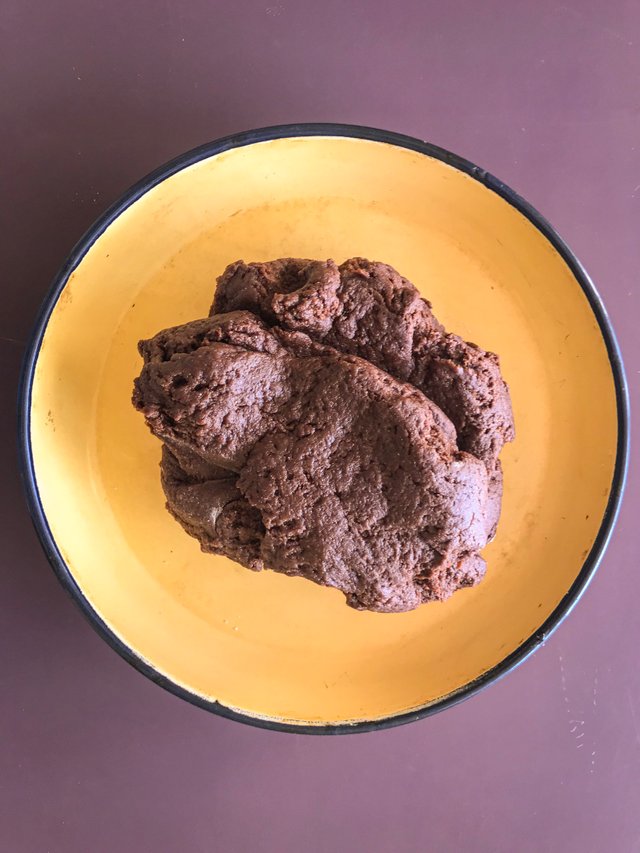 Here comes the fun part of cutting and shaping - you will need some space for that.
Sprinkle the surface with some flour and the dough on top. With the help of a dowel flatten the dough until the width becomes 5 mm. After that, cut it into shapes with a cookie cutter. I chose a flower shape for mine and then used a straw to cut small holes so I can achieve some type of a lace effect.
Place them in a tray and leave some space between them: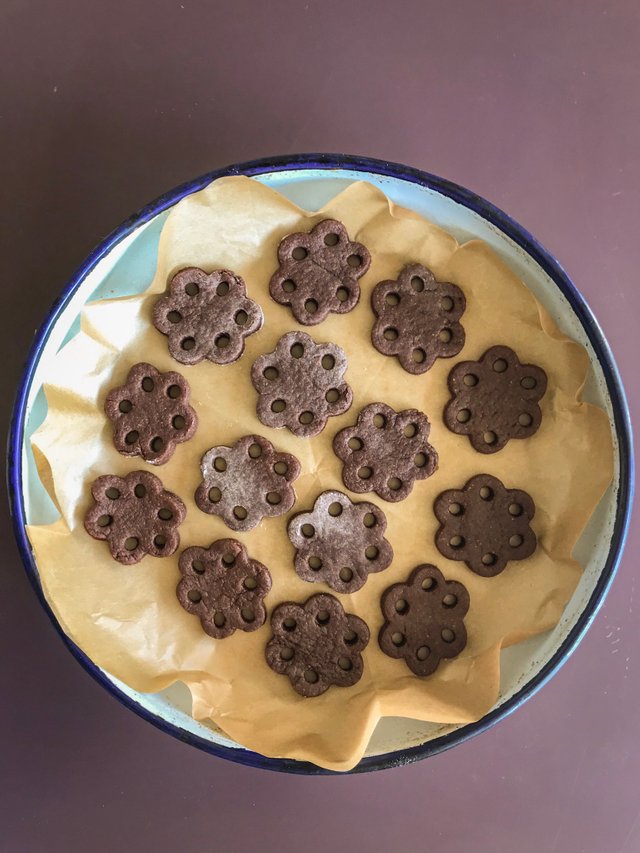 Bake the cookies in a preheated oven at 200 degrees for around 15 to 20 minutes.
While you are baking them you can prepare that homemade peach jam that I have mentioned earlier.
The ingredients for it are:
3 tbsp. white sugar
4 tbsp. lemon juice
1,5 medium-size peaches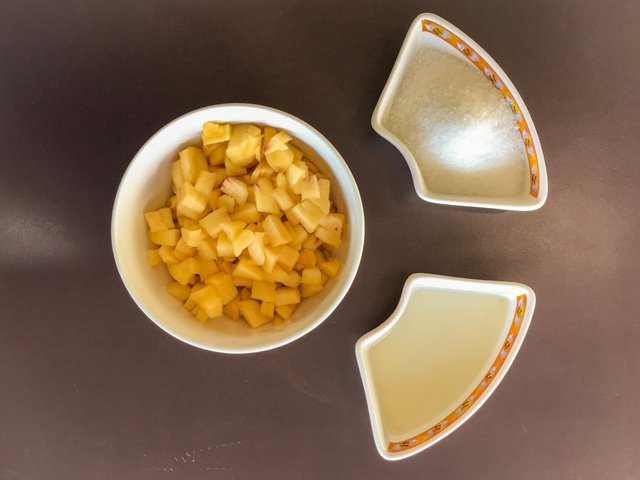 First, you have to peel the skin of the peaches and cut them into small pieces. After that place them in a frying pan and pour the sugar with the lemon juice. Cook on a medium to high temperature for about 15 minutes until the jam becomes thick. It should have a golden color and the fruits should be softer by that moment.
When your cookies are baked you can leave them for a while to chill. You can decide on your own how to go with the presentation but for me, it was only logical to serve them together on a big colorful plate.
I hope you like them and I will be happy to hear some feedback from you if you decide to prepare them at home. This is a really good recipe for people who are either trying to go low on white sugar or do not consume it at all.
It is a good combo if you serve them with a cup of tea or some coffee!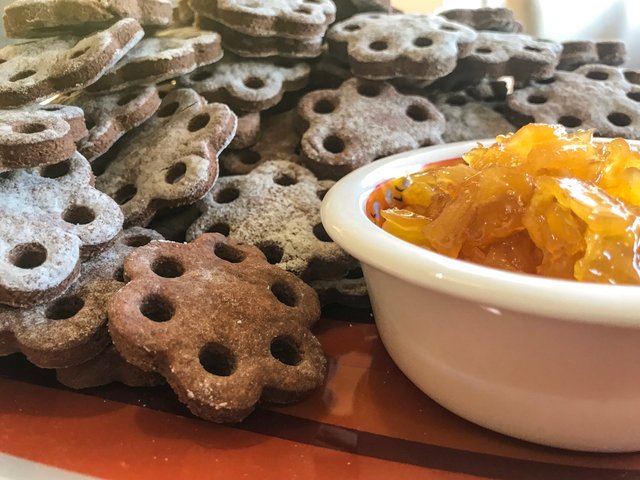 Stay delicious,
Chef Dimitrova