Many restaurants in Hanoi are located behind the door of someone's house, the owner will serve you food in the living room of the family.
Westerners have a great way to eat goods when traveling in Vietnam
Chris and Danika from San Francisco (USA) are famous for quitting, selling out their property for travel. During their round-the-world trip, they visited Vietnam, spending three weeks traveling from north to south, across major cities such as Hanoi, Ha Long, Hue, Hoi An, Ho Chi Minh City and the West. River. Not only did he admire the scenery, Chris and his wife did not forget to do a food tour along the country with the taste of each region.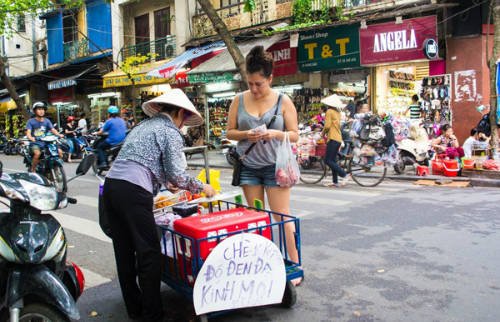 Here is the tip of the tide when eating in Vietnam by Chris and Danika:
I really like the Vietnamese food by mixing very creative sweet, sour, spicy very unique. Wherever we go, we order familiar dishes such as noodles and noodles, but of course each region has a kind of processing with its own spices. This is really interesting, we are lucky to have three weeks to "eat Vietnamese rice, sleep Vietnamese house" should somewhat feel the sophistication and difference.
The Noodle Soup in the North is very different from the noodle bowl in Sài Gòn. The food culture in each place is very different, in Hanoi, where crowded eating is usually the roadside, small, independent. In the Central, we can find more concentrated food markets. In Saigon, the most bustling city, all food can be found on the same street.
We quickly realized that eating in traditional Vietnamese restaurants was very different from eating at American restaurants.
Dare adventure
Many restaurants in Vietnam (especially Hanoi) do not look like a regular restaurant. Occasionally, some restaurants are behind someone's door, and they will serve you food in the living room of your home. Many cafeterias are just around the cart with a grill in the summer. We used to walk in the direction of people who were sitting on plastic chairs eating in the summer, ordering food like them and having a really great meal.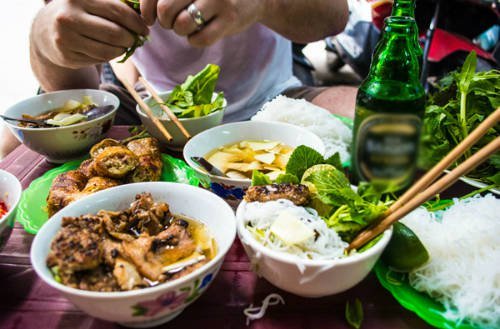 Learn from local people
A golden rule is applied in most parts of the world, especially in Vietnam, that is, never go to only Western restaurants. Such restaurants are usually very clean but expensive but the quality is not excellent. Take the local people bravely, visit a crowded local diner. Do not worry too much because they do not have a menu translated into English, look at the food that looks most delicious, or most people call and speak body language to sellers. These places always have delicious food with native flavor that costs only a fraction of the restaurant for tourists.
Do not expect the menu
Because most of the sidewalk in Vietnam only serve a single item, for example, only sell noodles, only vermicelli ... You usually just take turns to get a chair and in less than 30 seconds will bring someone In front of you something of the restaurant, be it noodle, bun cha, skewer ...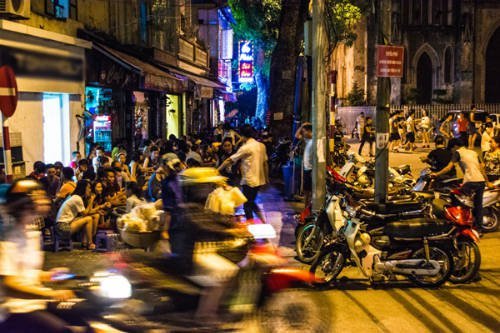 Drink beer
Vietnam is very hot so a beer will help you refreshed immediately. In summer you can see the beer is sold everywhere. We buy beer from an older woman, shop in front of the shop at home. The couple sat next to her on plastic chairs, watching the people back and forth. Beer in Vietnam is very cheap, more delicious.
But do not just drink beer, try beer, a very cheap local beer of Vietnam. These two words mean "fresh beer," meaning we will be drinking beer from the tap, they are out in the morning and sold out in the day, beverages with a lot of ice. The feeling of real beer is in the hot and humid days here.
Favorite dishes of the couple:
Hanoi: bun cha, pho, dum, bread, tea mixed.

Hoi An: high floor, dumpling cake, chicken rice.

Hue: filter cake, duck cake, cake.

HCMC: noodles with spring rolls, noodles, coffee.