A Naughty Bunny Cocktail + Carrot Cake Shooters! 👯🥕🍸 (EASTER RECIPES + VIDEO TUTORIALS)
Hoppy Easter Friends! 🐰
Tipsy Cottontail shakes up a Naughty Bunny Cocktail for grown-up kiddies just in time for Easter Sunday brunch! 😍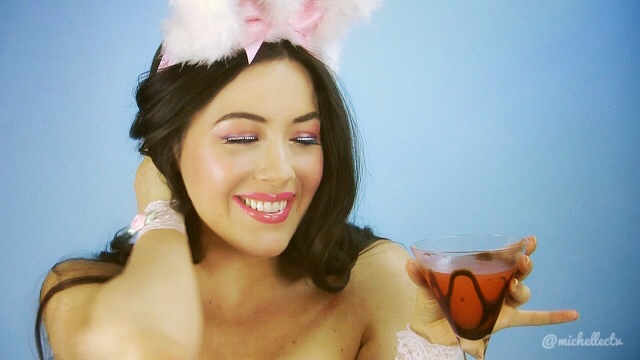 This tempting tipple is like a boozy Easter basket just for adults! A Naughty Bunny is filled to the brim with treats like vanilla vodka, triple sec, carrot strawberry juice, chocolate, and marshmallow bunnies.
Watch How to Make a Naughty Bunny:
Fun Facts
Carrot juice is an excellent source of vitamin A (beta-carotene) as well as vitamins C, E, K & B6. 🥕
In 1953, it took 27 hours to produce just one marshmallow Peep! 🐥 As of this decade, it takes only six minutes. Now as many as 4.2 million Peeps, bunnies and other shapes can be made per day.
---
Tipsy Cottontail shakes up another naughty drink that tastes as easy as it is to make... like a piece of cake!
Learn how to make a Carrot Cake Shooter with Baileys Irish Cream and butterscotch and cinnamon schnapps.
Watch How to Make Carrot Cake Shooters:
💡 Tipsy Tip: If you like your shot to really sparkle, substitute cinnamon schnapps with Goldschläger.
---
Thanks for commenting, upvoting and resteeming this post! I hope my post will inspire you to treat yourself to something sweet! Until next time...
Cheers!
Michelle
xx
---
P.S. If you enjoyed this post (and I hope you did!) FOLLOW @michellectv for more Fun, Food, Drinks, Beauty, Travel & Style! ❤️