Spiced Quinoa with Cranberries Recipe
We all like trying something new and fresh, right? I think that whilst I have cooked a large assortment of grains in my time, I have kept quinoa to a minimum due to my lack of knowledge about how to cook it perfectly. Quinoa was something that I thought was only available in health food stores but after discovering it in the aisle of my local supermarket, it will for sure be making a more regular appearance on the dinner plate.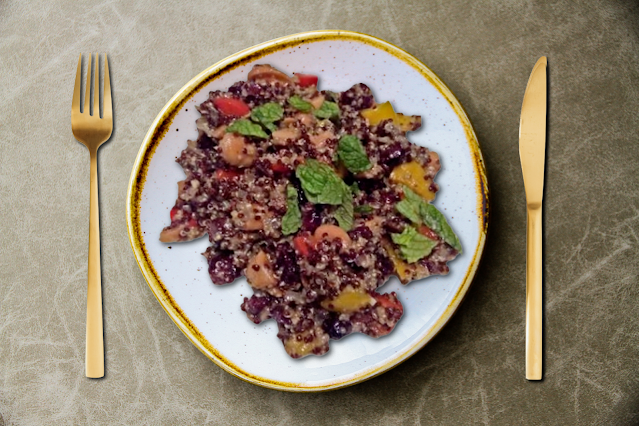 Quinoa is a very healthy grain, it has the advantage that you can combine it with a variety of vegetables, nuts and legumes. It can also be eaten as an aperitif, in salads, as a side dish, or as a main meal. Quinoa has 3 times more protein than rice and wheat and is also a source of fiber, iron, B vitamins, and folic acid.
Of course, one can substitute quinoa with rice and cashews to match that nutty flavour, but if you find the real McCoy then you are on to a winner. It is not only the end result of the cooked quinoa that had the wow factor, it is also the combined spiciness of this wonderfully coloured and aromatic recipe.
Preparation Time:
Cooking Time:
Serves: 4
Ingredients:
180g quinoa
360ml water
2 tbsp extra-virgin olive oil
2 garlic cloves, peeled and minced
½ medium sized onion, diced
2 cups water
1 tsp kosher salt
1 bell pepper, diced
60g dried cranberries, rough chopped
70g blanched slivered almonds
¼ tsp ground cinnamon
freshly ground black pepper, to taste
2 tbsp fresh mint, chopped
Instructions:
In a mesh strainer, rinse the quinoa under running water. Drain and set aside.

Add 2 tablespoons of olive oil to a medium-size saucepan fitted with a lid. Heat the oil over a medium heat and then add the minced garlic and onions. Continuously stir until the onions are translucent.

Add the washed quinoa to the saucepan and add the water and salt. Bring the quinoa to a boil, cover with the lid and reduce to a simmer until all of the water is absorbed, approximately 20 minutes.

Turn off the heat and allow it to sit covered for 5 to 10 minutes to finish cooking.

Taste and season with more salt and freshly black pepper.

Add the bell pepper, cranberries, almonds, and cinnamon to the cooked quinoa, stir to combine.

Add the mint, just before serving gently stir into the quinoa. Garnish with additional mint if desired.