Spaghetti Puttanesca Recipe
It seems like I am on a roll with pasta. As simple as this looks, it is actually very bold in flavours; the acidity of the tomato, the saltiness of the anchovies and the capers and the heat from the chilli flakes. It is the sauce here that offers a real punch to the taste buds.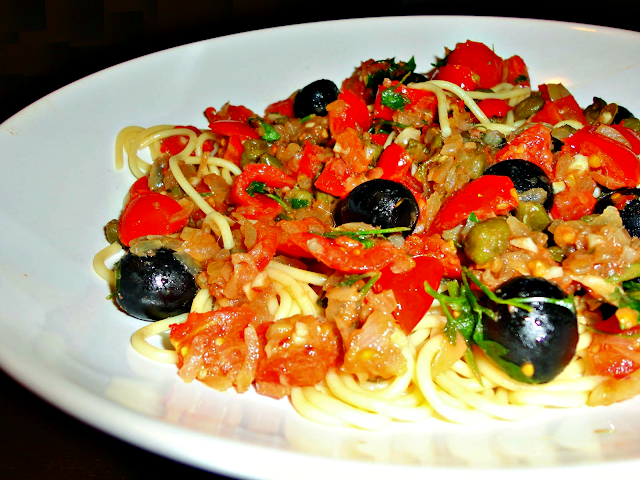 I like it very hot, so I usually make a puttanesca only suitable for the very daring. If you don't like spicy too much, or you don't tolerate it well, I recommend reducing the amount of chilli flakes in the sauce so as not to have any surprises.
Prep Time: 20 min
Cook Time: 20 min
Serves: 4
Ingredients:
4 tbsp olive oil
2 cloves garlic, sliced
pinch of dried chilli flakes
8 anchovy fillets
800g chopped tomatoes
300g spaghetti
100g black olives
1 tbsp capers
fresh parsley
Instructions:
Put water for the pasta on to boil.

Heat the oil in a shallow based frying pan and add sliced cloves of garlic, dried chilli flakes and chopped anchovy fillets in a frying pan with 4 tbsp of olive oil. Stir as it cooks for a couple of minutes until the anchovies start to dissolve

Add salt to the boiling water and cook the spaghetti as per packet instructions.

Add the chopped tomatoes, olives and capers and cook for about 10 minutes. Taste for seasoning.

Add the cooked spaghetti, stir to mix and scatter with chopped parsley.