Sesame Caramelized Chicken Recipe
Do you dare to prepare these chicken breasts with sesame and honey for an unforgettable dinner?
This is a recipe full of many flavours and in addition, it is a very simple dish. The caramelisation of food consists of giving the ingredients a dark or golden colour, as well as giving it sweetness. This occurs when foods with a high degree of carbohydrates or sugar are heated, as in this case honey. The result of this recipe, thanks to this process, will impress anyone who tries it.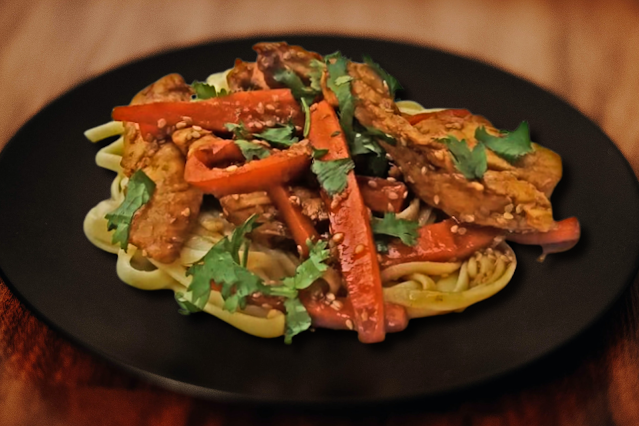 Prep Time: 15 minutes
Cook Time: 20 minutes
Serves: 2
Ingredients:
175g Chinese egg noodles
2 teaspoons of sunflower oil
2 chicken breasts in strips
3 carrots cut in sticks
2 tablespoons of honey
1 tablespoon of soy sauce
juice of 2 limes
3 tablespoons of toasted sesame seeds
1 small bunch of coriander
Instructions:
Cook the noodles according to the instructions on the package, drain and mix with a teaspoon of oil so that they do not become sticky.

Meanwhile, heat the remaining teaspoon of oil in a large wok, add the chicken and sauté over high heat for a few minutes. Add the carrot sticks and cook for 4 more minutes until the chicken is done and slightly crispy on the outer skin.

Quickly add the honey, soy sauce, and lime juice, cook for 30 seconds, add the sesame seeds and the cooked noodles.

Use tongs to mix everything well. Heat briefly and decorate with fresh cilantro before serving.