Risotto with Green Pepper & Cashew Nuts Recipe
On the off chance that you hadn't noticed, I basically love to cook. There is nothing more enticing than standing at a stove simply stirring hot broth into risotto, watching the liquid and flavors absorb as I dream away in a world of my own, and watching the minutes tick by in anticipation of how my guests will take to the outcome of my time spent in the kitchen.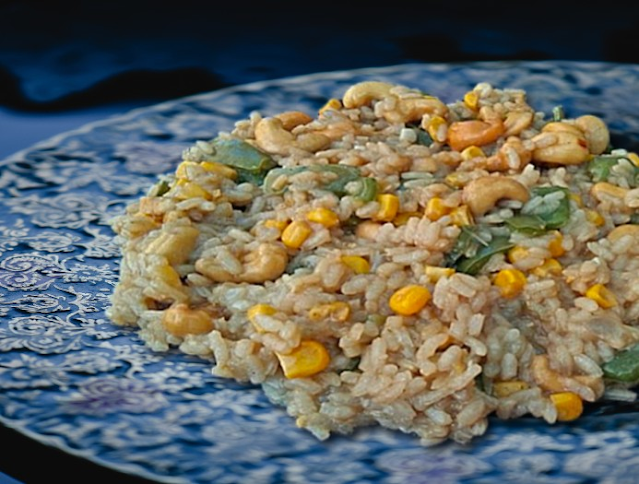 Being able to cook risotto is something that any budding chef should know like the back of their hand but as easy as it is to prepare any kind of risotto, it can take a bit of time and attention. toasting the risotto rice and adding the stock, one ladle at a time. Half an hour of cooking isn't really a lot of time but whatever risotto dish you decide to prepare will satisfy to no end if the easy steps are known. The world is your oyster. Now there's another idea for a new recipe; risotto with oysters...
Prep Time: 10 minutes
Cook Time: 40 minutes
Serves: 4
Ingredients:
2 tsp vegetable oil
1 onion, diced
1 green pepper, deseeded and diced
125g sweetcorn
300g arborio rice
900ml vegetable stock
1 tbsp soy sauce
125g cashew nuts
Instructions:
Heat the oil and gently sauté onion and green pepper for 5 minutes.

Add the sweetcorn and then the arborio rice and cook until opaque in colour.

Add the vegetable stock, one ladle at a time making sure the liquid has been absorbed before you add the next one.

Add the soy sauce and cashew nuts and cook for ten minutes until the stock has been fully absorbed.
Note: I may not have mentioned before on any previous risotto recipe, that density is the first sure sign of a winning plate of arborio rice. The smoothness is subject to the amount of stock and if one uses too much liquid, it will result in a watery mess. Stir continuously, not vigorously after each ladle of stock has been applied. This method adds a creamy texture to the risotto. This will take approximately 30 minutes.