Pumpkin Risotto with Crispy Sage Recipe
In case you've not noticed, I love risottos. I had been wanting to make a pumpkin risotto for a long time. I was able to put to good use the little pumpkin, that has been decorating my kitchen counter. It seems that pumpkin risotto is the trendy one, you can see it on a lot of blogs but I didn't want to stop sharing this with you.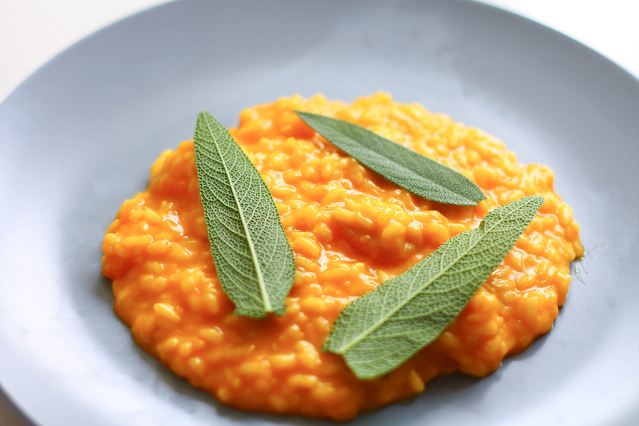 Sage is such a powerful herb, the aroma is intense and it adds a wonderful earthiness to risotto. Shallots also play their part. They have more flavour than onions but are milder than garlic. I can't get enough of them. The result was spectacular; creamy, colourful and delicious. Are you up for it?
Prep Time: 20 mins
Cook Time: 30 mins
Serves: 4
Prep Time: 20 min
Cook Time: 30 min
Serves: 4
Ingredients:
For the Risotto:
570 ml vegetable stock
2 shallots, chopped
10 fresh sage leaves, finely chopped
2 tbsp olive oil
170 g arborio rice
250 g pumpkin, diced
50g butter
salt and ground black pepper
For the crispy sage:
12 fresh sage leaves
2 tbsp sunflower oil
Method:
Bring the vegetable stock to the boil and keep on a very low heat. In a separate heavy saucepan sweat the onion gently in the oil until soft but not brown and add the chopped sage and cook for a couple more minutes.

Add the arborio rice and coat the grains with oil. Add one-third of the vegetable stock and simmer gently. Cook until almost all the stock is absorbed. Add the pumpkin and a little more stock, and continue to simmer until the stock is absorbed. Continue to add more stock a little at a time, until the pumpkin is cooked.

When the risotto is almost ready, heat the sunflower oil in a small frying pan and quickly fry the sage leaves until they are crispy. This will only take a few seconds so be careful not to burn the leaves.

Stir the butter into the risotto, and season well with salt and pepper. Keep stirring on the heat until the butter has melted and the risotto is smooth and creamy. Divide into four servings and top each portion with a few crispy sage leaves. Serve with grated Parmesan if desired.