Parmesan Chicken with Basil & Mustard Salsa Verde Recipe
I haven't much time to myself for many months now but I am back full force. This dish will get things off on a good start again.
If you´re in a hurry then check this out quick and easy recipe. It is so straightforward that anyone can fit it into their busy lifestyle. Go on...it´ll only take a half hour.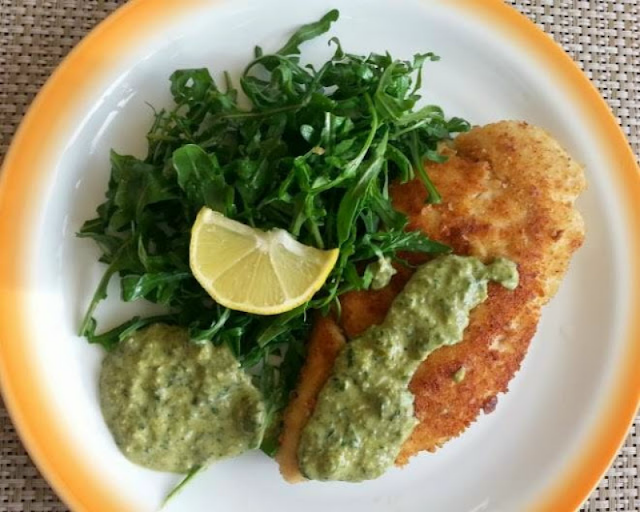 Prep Time: 10-15 mins
Cook Time: 5 mins
Serves: 4
Ingredients:
3 eggs
30 g fresh basil
2 tbsp capers, rinsed
1 tbsp Dijon mustard
2 tbsp freshly grated Parmesan
185 ml olive oil
100 g dry breadcrumbs
4 chicken breasts
150 g rocket leaves
lemon wedges to serve
Instructions:
Place one egg in a saucepan of cold water and bring it to the boil and cook for one minute. Remove from the heat an refresh under cold water. Peel the egg and place a a food processor with the fresh basil, capers, Dijon mustard and 1 tablespoon of the Parmesan cheese, until combined.
Gradually add 60 ml of the olive oil and process until you have a coarse sauce. Do not over-process.

Beat the remaining eggs together with 1 tablespoon of water. Combine the breadcrumbs with the remaining Parmesan on a plate. Pound each chicken breast between two sheets of plastic wrap or cling film with a rolling pin until 5 mm thick. Dip the chicken in the egg mixture, then coat in the breadcrumb mixture. Place on a plate an refrigerate until necessary.

Heat the remaining olive oil in a large frying pan over a high heat and cook the chicken breasts in batches for 3-4 minutes until golden on both sides and cooked through.

Serve with the salsa verde, rocket leaves and lemon wedges.